RENT MANAGEMENT
Ranging from monthly rent management, non-pay reminding, repair bills and organizing receipts for your income tax return. Ken Corporation offers a disbursement management package that takes care of all the monetary issues.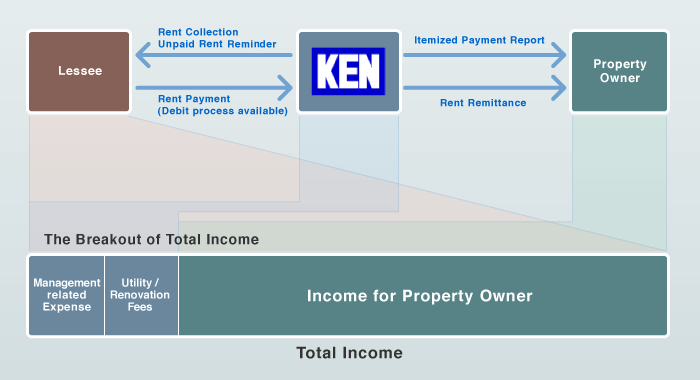 Rent management
Monthly rent from the Lessee is remitted to a Ken Corporation account to manage collectively. All transactions are monitored and recorded. And for the convenience of the Lessee, there is also a direct debit service provided.
Non-pay notification
Non-pay notification is also another reassurance as Ken Corporation takes care of the hassle of having to remind non-pay tenants. All unpaid rent is tracked and recorded in a data tracking system.
Itemized payment report
An itemized slip is sent monthly to the owner informing deductions and current income.
Expenditures
Utility bills (during vacancies) and expenses for renovations are deducted from the rent and clearly stated in the monthly report and sent with all related receipts.
*Services described in this page are provided in management agreement.For details of business outlines and fees, please contat us via inquiry form.
Leasing Management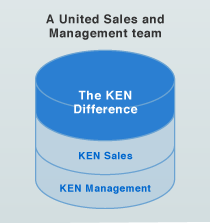 As of March 2022 the current number of properties managed are 16,900.
A wide variety of property ranging from one privately owned apartment to an entire apartment building, from brand new buildings to houses 20 years old. How does Ken Corporation manage to keep the vacancy rate as low as it does? The secret is a tight knit abundant information source plus a strong sales and maintenance group in the main wards of Tokyo. Ken Corporation's sales record is not something that was built over night. Over 50 years of applying a sales approach that puts the client first speaks for the record of approximately annual 5,000 contracts. This is why even an older property can be renovated into a profit yielding investment and what makes Ken Corporation different.
KEN Tenant Support Center
The reason Ken Corporation has the best credibility for expatriate hi-grade rental apartments and houses is the bilingual day-to-day support for the tenants.
Many of the expatriate tenants are not adjusted to their new surrounding and are not able to communicate in Japanese. The tenant support center provides multilingual service (mainly English) 24 hours/7 days a week to assist tenants with maintenance issues and queries regarding their residence.
KRS(KEN Rapid Services)24 hour service and support
Immediate and at all times is the standard level of service for high-grade rental apartments and houses.
The KEN management policy is ON-SITE. This is a big reassurance for the tenants.
Handyman Service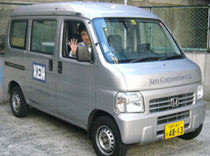 The handyman service rotates on two schedules to allow a wide time frame to suit busy schedules. This is a big reassurance to the tenants to know that someone will come right away. You can count on someone to help you with the light bulb in a high place or a loose screw, stopped up toilet etc., free of charge.
* Cost for consumable items are the tenants responsibility
KRS24 (24 hour support desk service)
KRS24 is a 24-hour service provided to handle emergency issues. Emergencies that happen late at night, early in the morning and during holidays are always a worry for tenants and owners. The staff is able to make quick and efficient judgment, arrange for assistance and have vendors on site to take care of the situation. The solution to some problems is not always to send a repair service. Some issues are quickly solved with proper advice.
Owners are not always sent expensive repair bills but the situation is properly evaluated and the necessary arrangements are made. This is a big reassurance for the owner too.