At Ken Corporation, all agents are specialized in their own category; office leasing, housing, purchase and sale, investment, and management. While our agents in Office Leasing Dept. are mostly native Japanese speaker, we assign specialized agent for clients who prefer multi-language communication for their office search. Backed up by plenty of resources and information from other agents, your agent will offer perfect choices for your new office. If you have question about where to move, our agents can propose potential area and choices of office after hearing of your business and requirements.
Other strong point of our agents is possession of business network which is necessary to run business successfully in Japan. We can refer affiliated interior decorator to set up business, and we internally have the expat housing team for executives (the International Leasing Dept.), the sales professionals of business/wholesale real estate (the Corporate Sales Dept.) that support purchase and investment of business properties. If you need promotional campaign to Japanese customers, we can introduce our subsidiary media company (Shibuya Television Co., Ltd.) that has 9 huge promotional TV monitors on the Shibuya Crossing and other locations. For employees' benefit, our hotel networks in Okinawa, Hokkaido and other locations may be a great choice.
All such benefit comes with inquiry to us. If you are seeking good office and good business opportunity, our agents and network will be surely your help.
KEN provides wide-ranging support.
For foreigners seeking to set up an ideal office in the heart of Tokyo, your ideal partner is right here.
Are you worried or uneasy about any of the following when it comes to opening a new business center?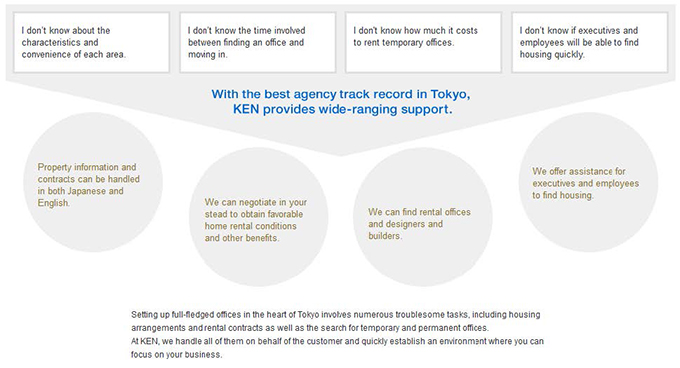 Support