Living and Working Under One Roof
The Enriching Lifestyle That Awaits A Step Away From The Parkhabio SOHO Yoyogi Koen
In response to the growing number of people working from home, rental homes equipped with working spaces have started to attract attention. The Parkhabio SOHO Yoyogi Koen, situated next to Meiji Jingu, is a residential building with a co-working space on the first floor, bringing daily life and work under one roof.
Unlike other similar properties, planning for the building began in January 2019, before the start of the COVID-19 pandemic. As a project that is ahead of its time in reflecting on the meaning of working and living in the future, the resulting property is awash with features and attractive elements that set it apart. We toured the property immediately after completion.
---
A Style Lounge that makes clever use of time, space and money
The Parkhabio SOHO Yoyogi Koen is situated a four-minute walk from the East Exit of Sangubashi Station on the Odakyu Line, in a location across the street from Meiji Jingu. This is the second building in the new "The Parkhabio SOHO" series from Mitsubishi Estate Residence following the first property in Otemachi, and there are plans for a third property in the series just a minute's walk from the East Exit of Yutenji Station on the Toyoko Line in May 2023.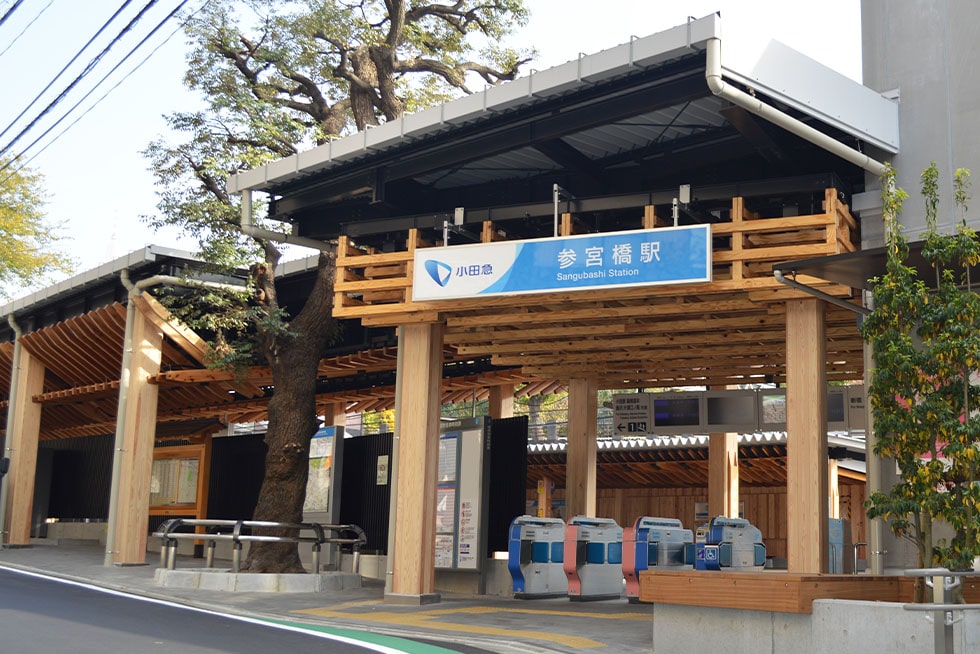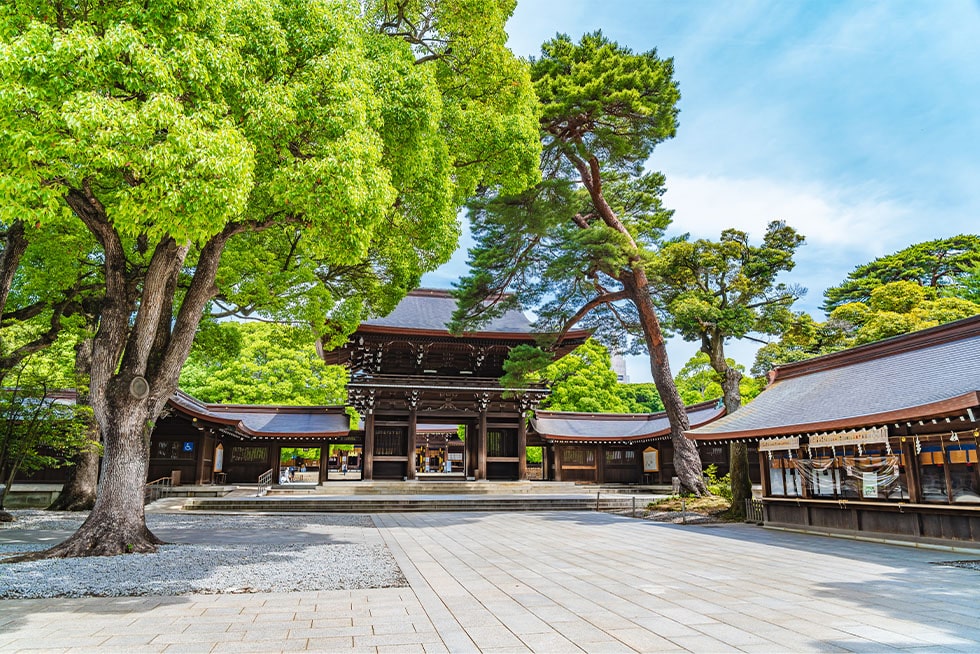 A feature of this new series is the consolidation of living and working within a single building, enabling residents to make smart use of their time, space and expenses. The Style Lounge, located on the first floor, was created for this purpose.
Since you live on one of the upper floors, there is no commute time. A space equipped with office-grade equipment is ready for you the moment you step out of your apartment and head downstairs, providing a stress-free transition into work mode. As the space can also be used for corporate registration, those thinking about a start-up company, side business or multiple businesses won't need to double up on rent payments.
Moreover, the space is picturesque and pleasantly spacious enough to be called a "Style Lounge," such that it appears to be a cafe from the outside. It wouldn't be that strange for someone to mistake the space for a cafe and try to go inside.
---
Giving shape to a proposal that is ahead of the times
What triggered the creation of this abundant workspace was a new business proposal system set up within the Mitsubishi Estate Group. Kazuya Fukui, the staff member who developed the proposal of a resident requiring no commute time in the name of workstyle reforms and envisaged a business that sits between office and residential, was previously in charge of for-sale condominiums.
"With for-sale condominiums, it's standard to outfit a lounge by the entrance with high-priced sofas and to create spaces such as libraries, but depending on the property, these are seldom used. I thought this might be because it was never clear what the space was to be used for, and it seemed a waste to go to the trouble of creating these spaces that would not be used. I always wondered if it would be possible to create a space that would satisfy residents even more."
Meanwhile, the problem of death from overwork was a hot topic at the time. Fukui thought that eliminating commute times would be a good way to change the way people work. The answer to that was work at or close to one's own home. Around that time co-working spaces were rapidly springing up for that purpose, but people didn't seem to be taking advantage of them that much. Research showed that it took time for people to travel to a co-working space outside their company or away from their home. This made it the same as commuting, and another factor was that these spaces were not always that comfortable as places to work.
The question, then, was what kind of place could eliminate commuting times and allow people to work and live comfortably? Fukui conducted hour-long interviews with 28 people working at IT companies and companies allowing telework, and also conducted a web-based questionnaire of almost 500 people. Fukui identified the issues people had when working from home, at cafes, and in co-working spaces, and also the issues encountered through freelance work. The result of considering a residence that met all of those requirements was the new series, The Parkhabio SOHO.
Considering that fact that back in January 2019 when this concept was proposed the words "telework" and "work from home" were not even mainstream, Fukui's idea was surprisingly visionary. The actual property was not completed until three and a half years later due to the thorough planning process that began with the purchase of land and continued down to the fine details. Visit the actual property, and you will be amazed by how elaborately it has been planned.
---
A stylish workplace with attention given to various factors
Let's take a look at the actual property. As you walk from Sangubashi Station, the glass-walled first floor of The Parkhabio SOHO Yoyogi Koen stands out. A long at narrow building along the Odakyu Line, it commands a presence that makes you want to peek inside. This is intentional, says Fukui. "We want to show it to the outside, and that's what we try to do." This means the aim was to create a space that will be admired from the outside.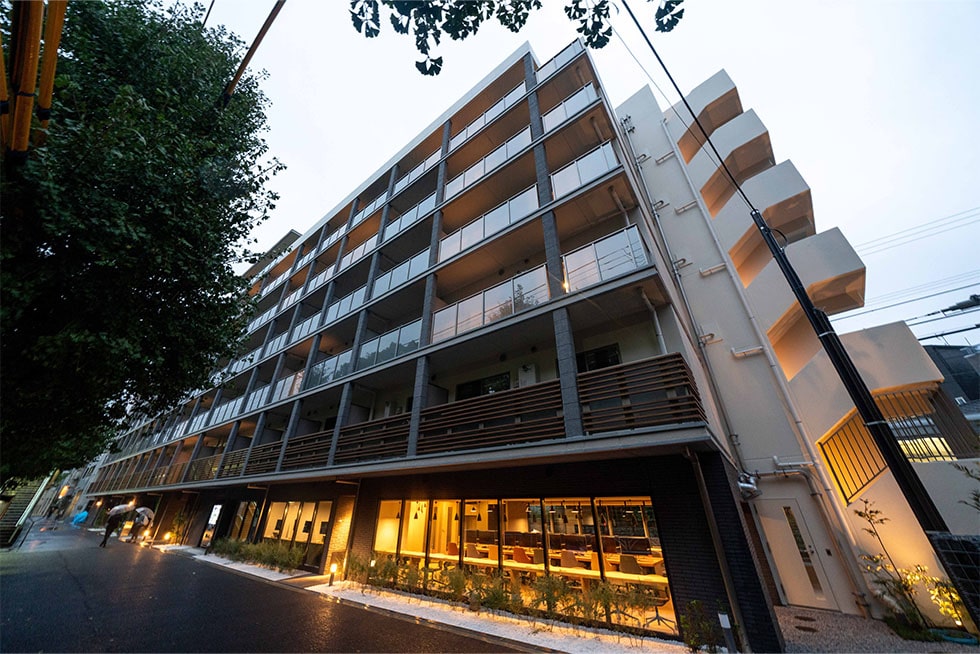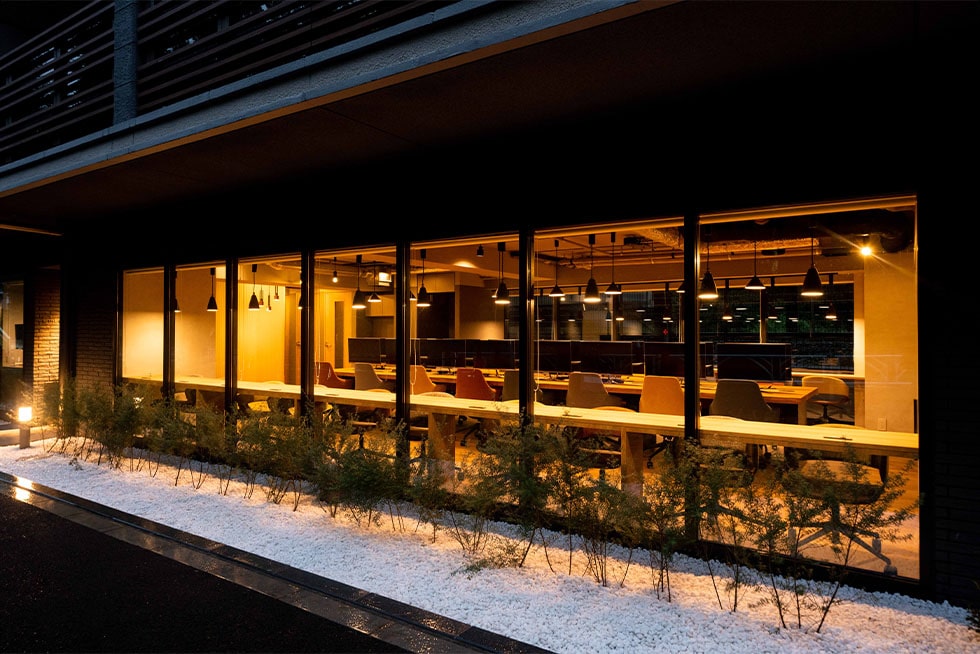 The entrance at the center of the building produces the feel of a gallery with conifer wall art at the front. Being close to Meiji Jingu, greenery and trees are used throughout, suggesting a mark of respect for the location.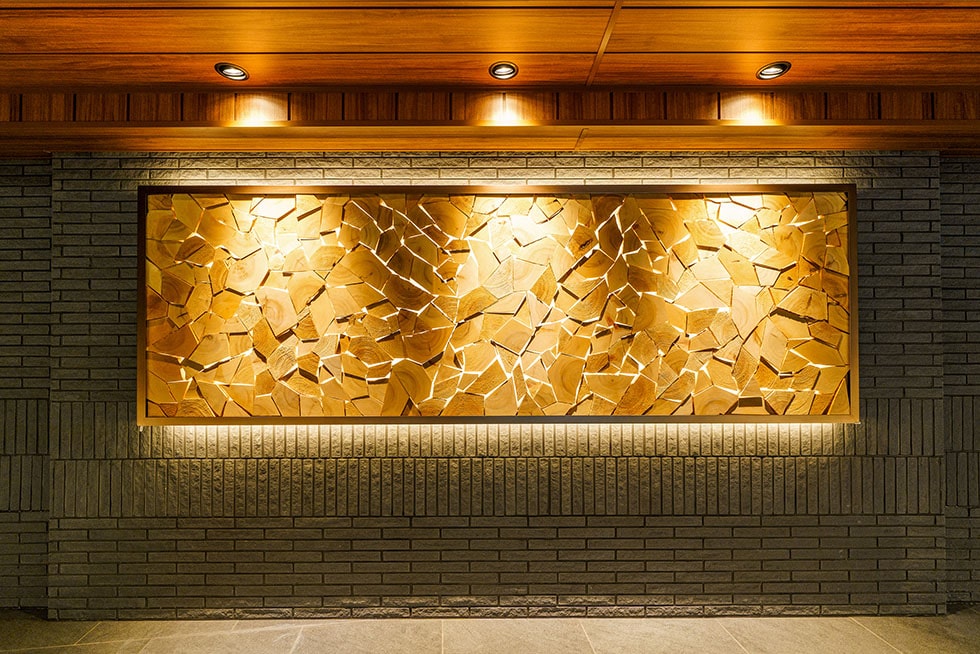 The Style Lounge, which is accessible 24 hours a day, has two styles of seating, open and closed. Four rooms along the wall facing the public street immediately at the entrance are private rooms for one person each, and the seats on the Meiji Jingu side of the public street are worth mentioning. When you sit in these seats, the greenery spreads out before your eyes.
The desks include large 27-inch monitors that can be used in either portrait or landscape orientations, so you can get your work done efficiently. The desks feature hooks on the side, and other user-friendly features not found anywhere else, such as lighting that only illuminates the hands.
The private rooms on the opposite side are enclosed by walls, and area ideal for when you really need to concentrate. These spaces will be useful when you need to organize something in a short period of time.
Near the entrance are two meeting rooms that hold eight people and include large 50-inch monitors. These meeting rooms can also be used by people coming from the outside. An interesting feature is the whiteboards made from. The keywords of greenery and trees have been thoroughly embraced.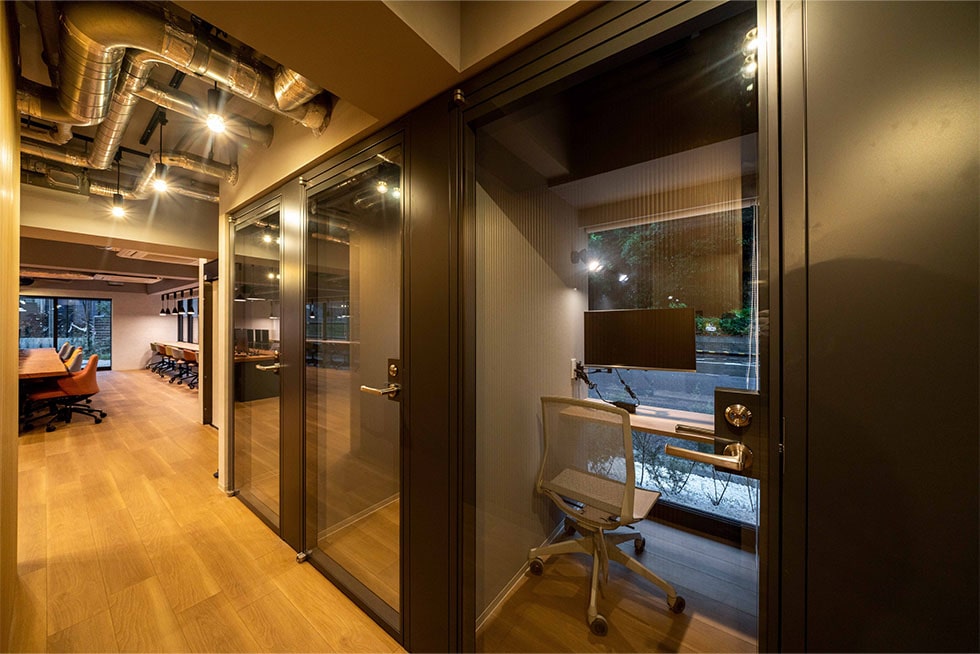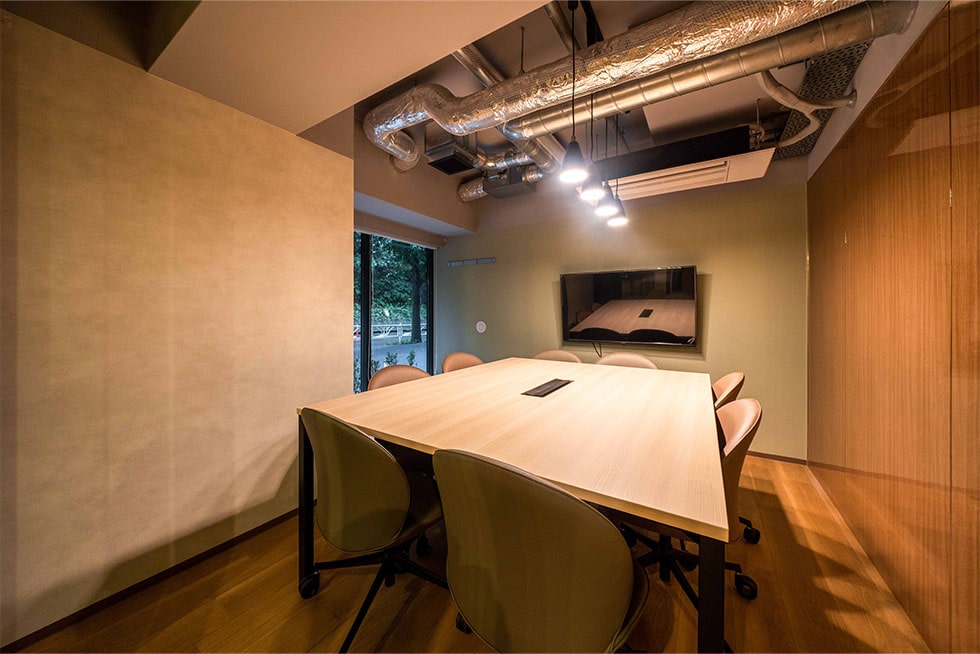 Open seating is available on both sides facing the public road and the tracks as well as in the center of the space, with 34 seats in total. The seats in the center are equipped with 27-inch monitors. The center table is six meters long, and was custom-made from a single piece of wood. The soft-colored seats are produced by Okamura, and fatigue-resistant office-grade products from Kawajun are also used.
The color scheme conjures up images of a resort hotel, and attention was given to creating a high-grade space that would appeal to those who value time with themselves and their own sensibilities, explains Fukui. "Everything from the furniture and color scheme to the lighting and other details, we came up with everything by ourselves, without cutting corners." That attention to detail extends to the background music and toilet interiors, and I encourage you to verify this with your own ears and eyes when you visit.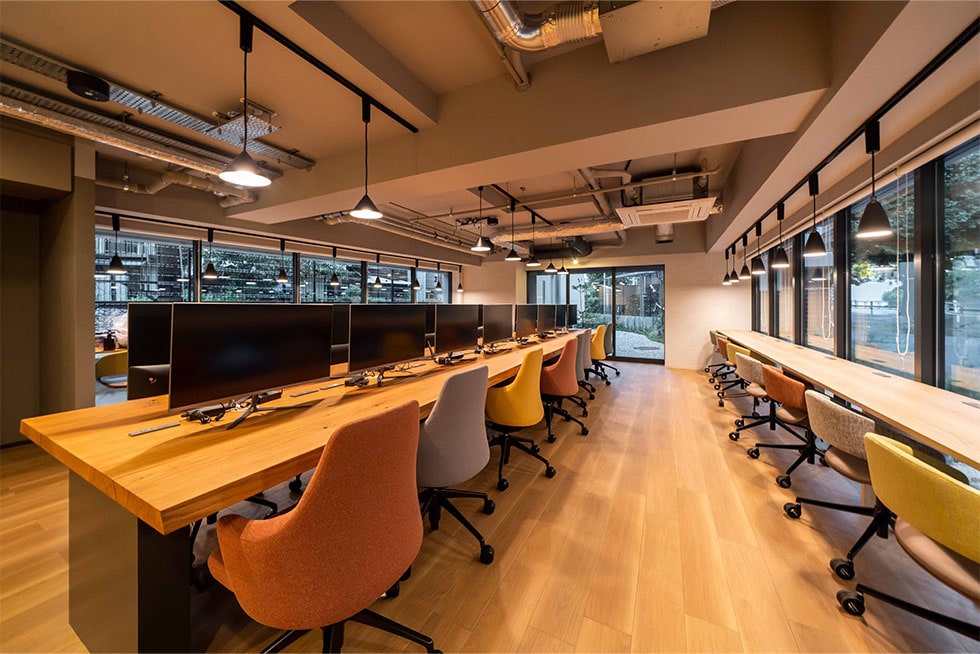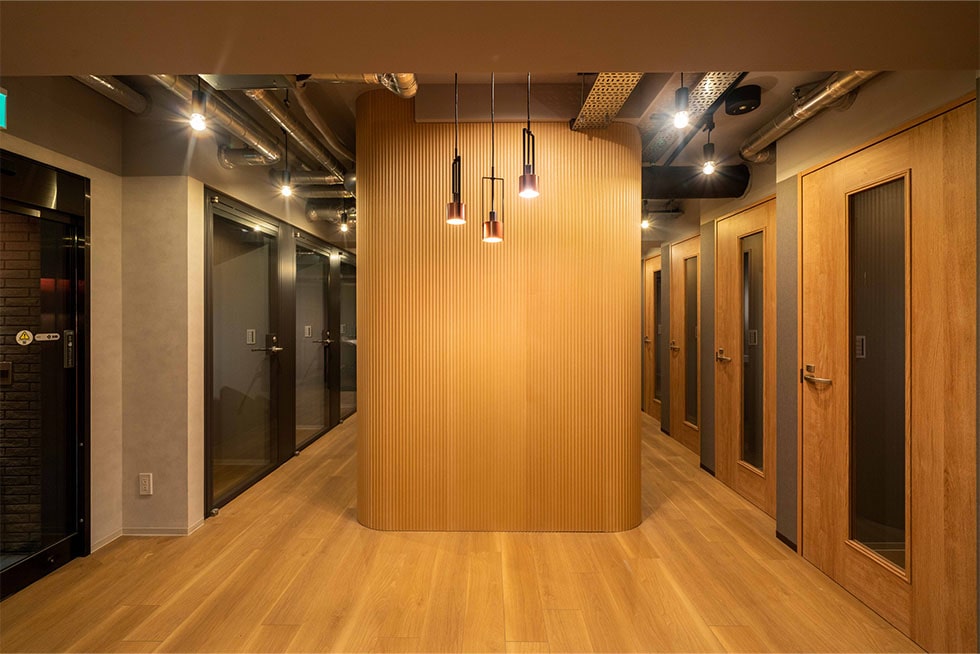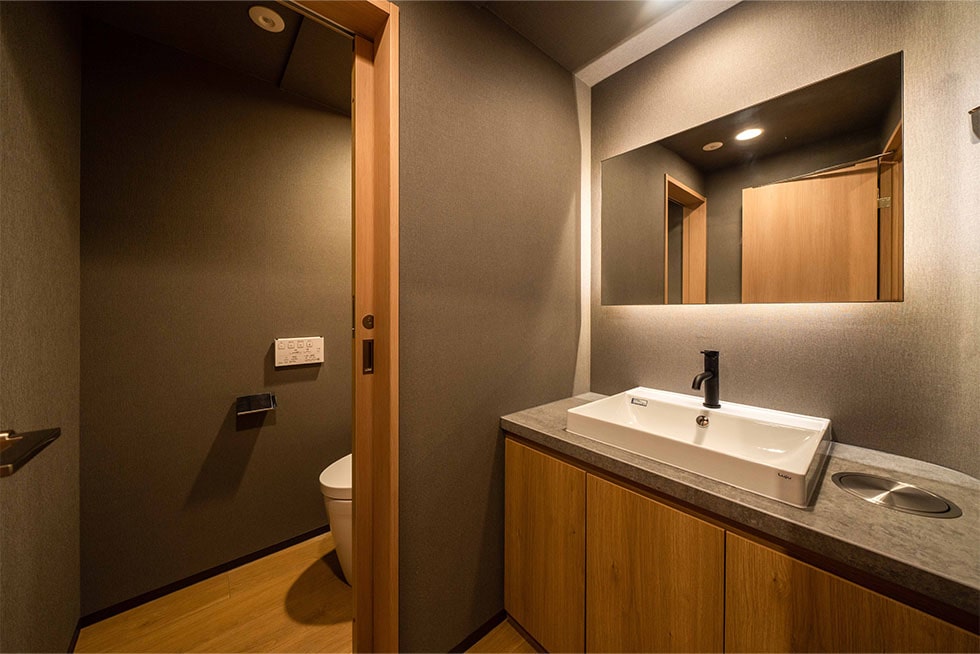 An attractive Sky Lounge for residents to enjoy views of Shinjuku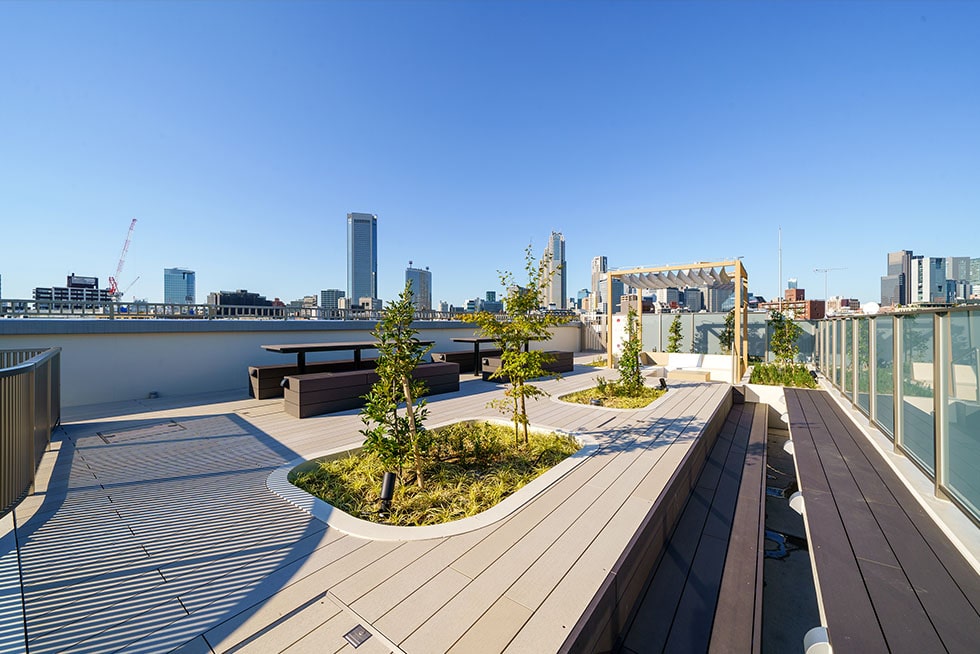 After the Style Lounge, the next attractive feature of the property is the rooftop space dubbed the Sky Lounge. The Sky Lounge includes a terrace area where you can relax under pergolas, sunken kotatsu style seating that makes it easy to work or enjoy lunch, a roof terrace area with tables, and a lawn space with furniture for lounging, and a sky terrace with a dog run. Each space can be used depending on your mood and what you want to do on the day.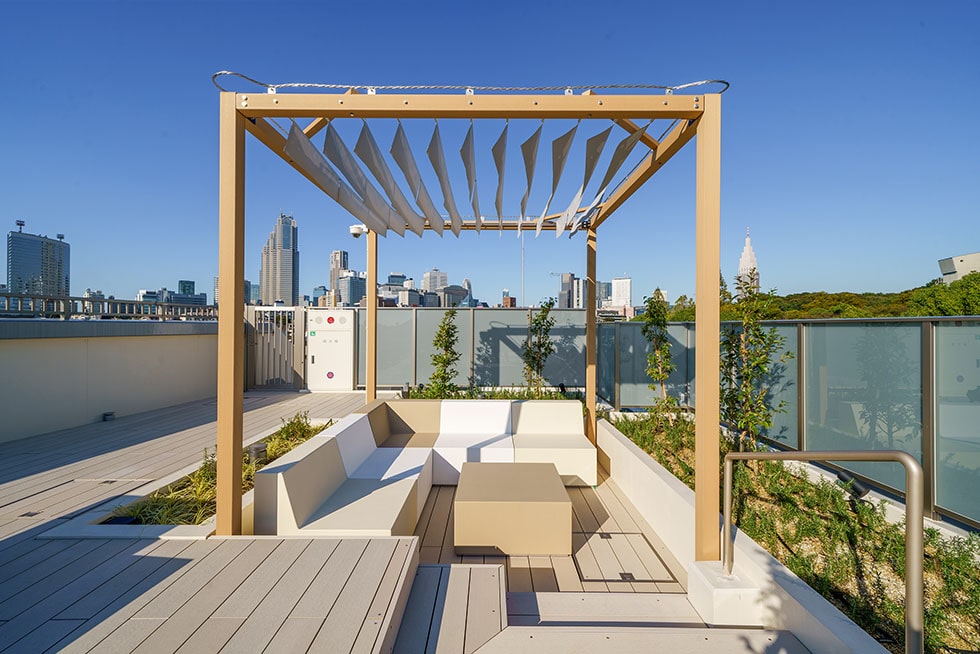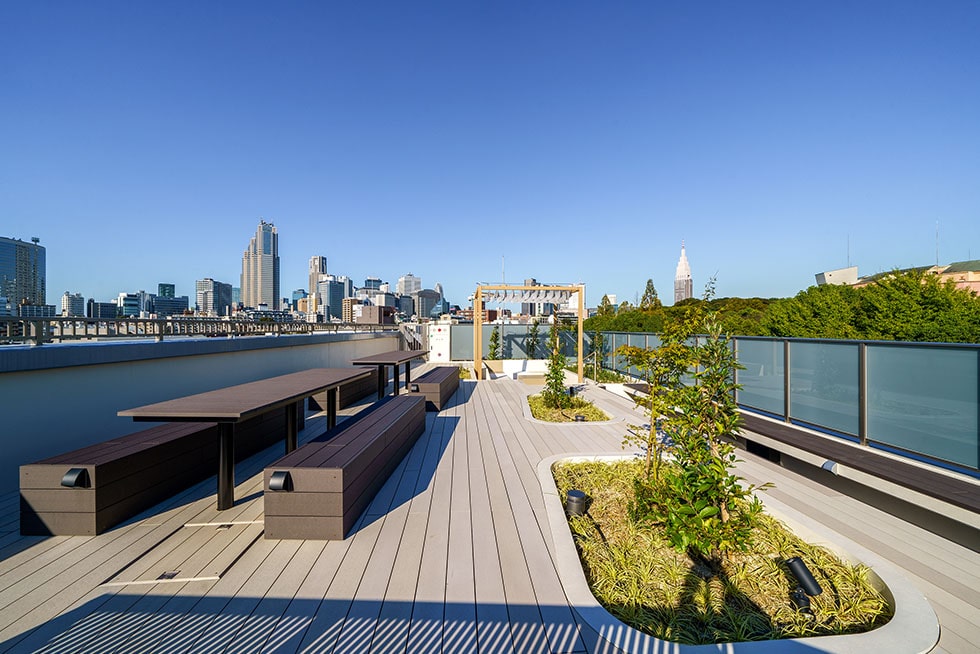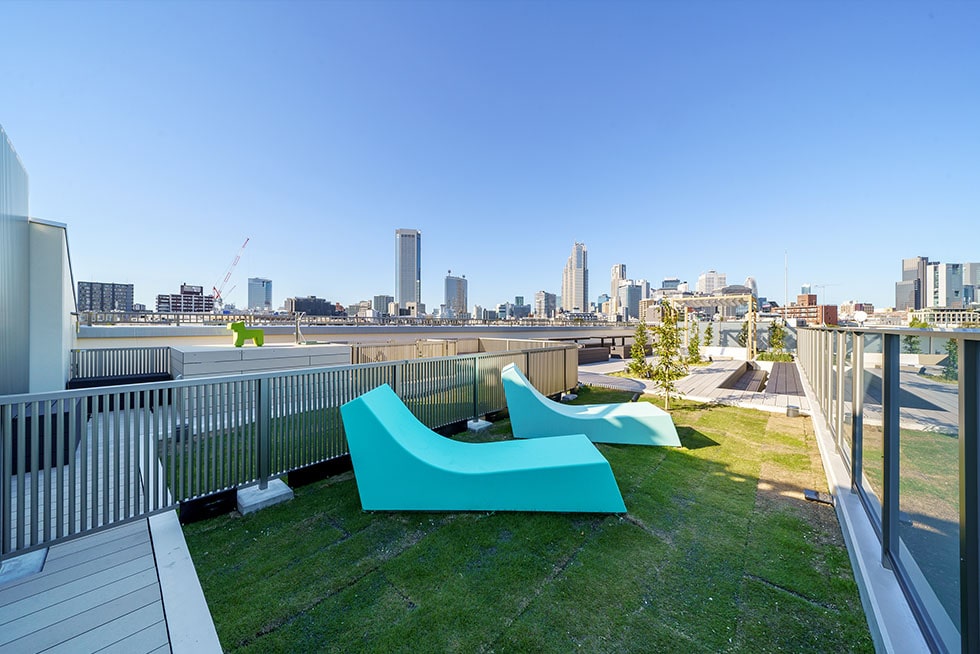 As the roof terrace has a Wi-Fi connection and 13 power outlets, it can easily be thought of as a second workspace. On top of that is the fabulous view of Shinjuku. Being a rooftop space, it of course has an open feel, but the view from the Sky Lounge in particular is, in a word, stunning. Even if you are busy holed up at home concentrating on work each day, going up to the rooftop will revitalize your mind and refresh your spirits.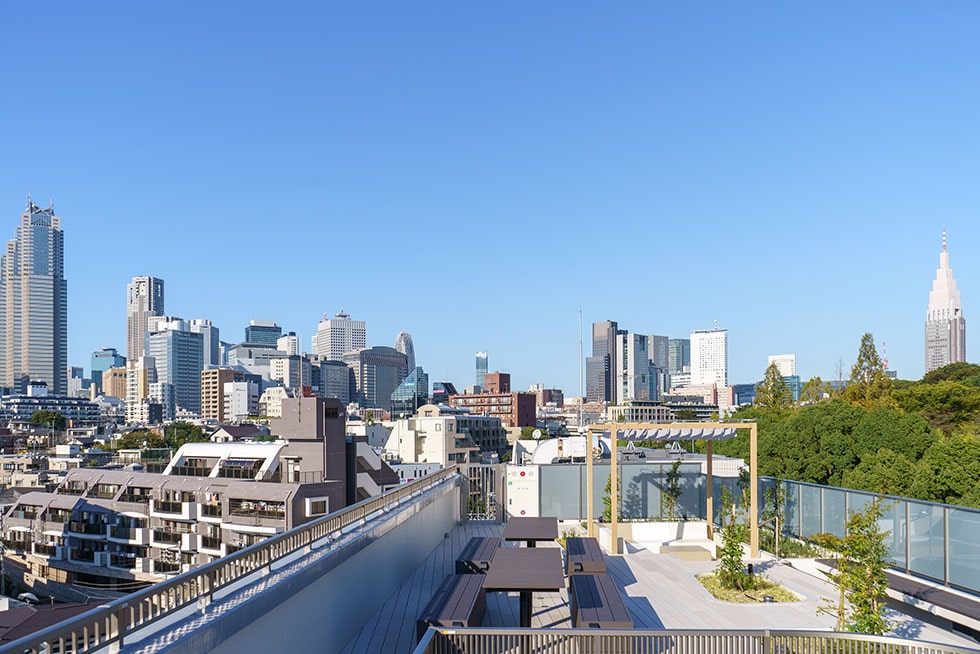 The dog run is also a welcome feature for pet owners. "The location is close to Yoyogi Park which is famous as a place to let dogs run around, and the property allows pets. We thought it would be convenient to install a dog run that residents can use when they are too busy to go to the park."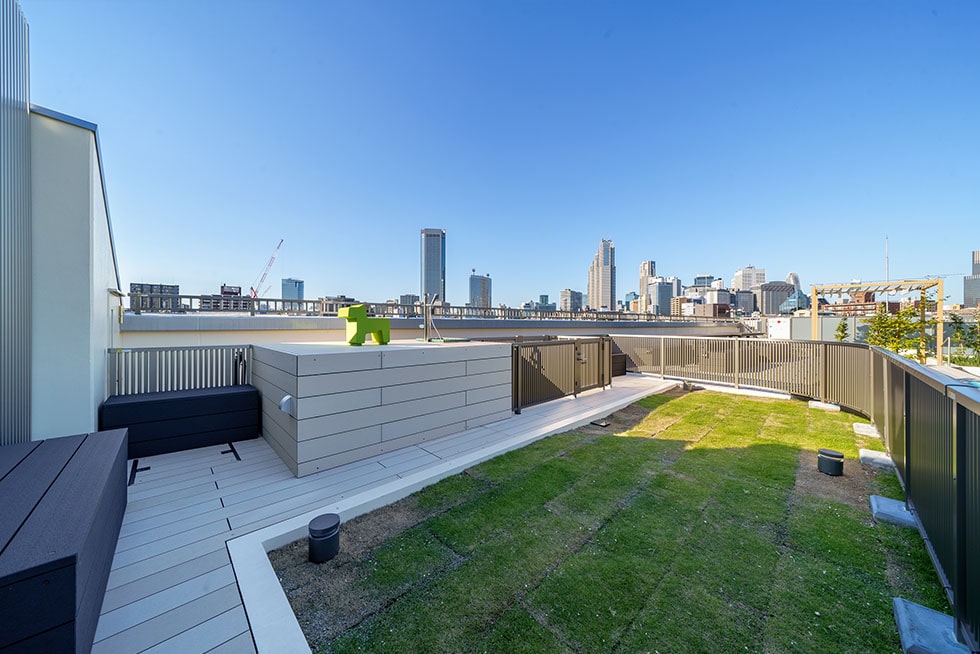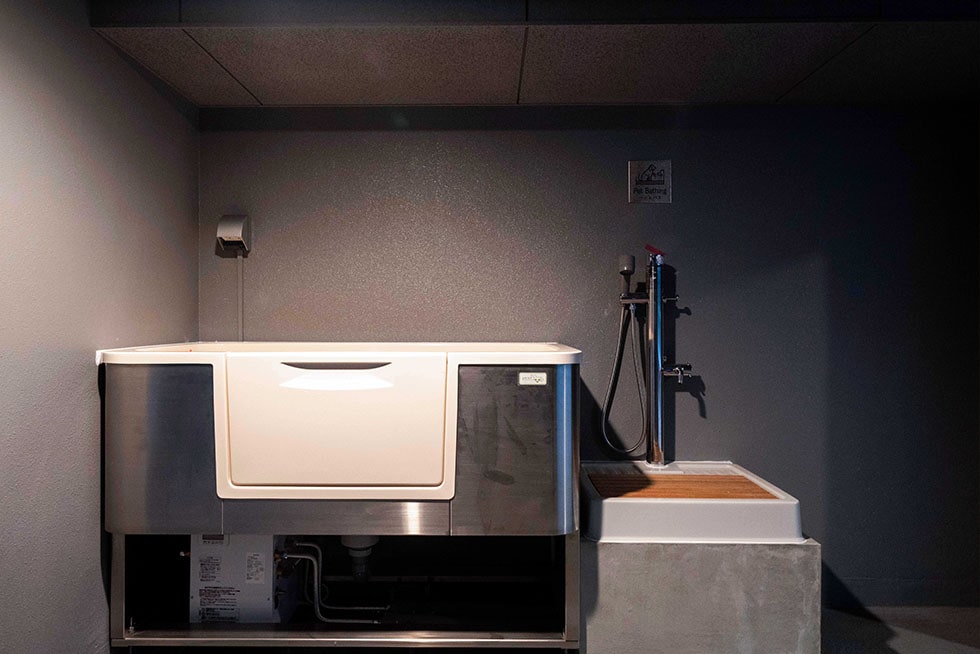 Pet bath
Pet bath located on the first floor. Many properties that allow pets have paw washing stations, but few are equipped with pet baths.
In terms of the pet-friendly environment, the dedicated pet bath on the first floor is a rare facility you almost never see. This was installed because even if you have a small dog, shampooing them at home can be difficult.
A power outlet is also available to the side of the bathtub so residents can bring their own hair dryer and dry off their dog before returning to their unit. Next to that are locker where dog owners to stow hair dryers, towels and other items in advance. They can also be used to store items before going running, for example.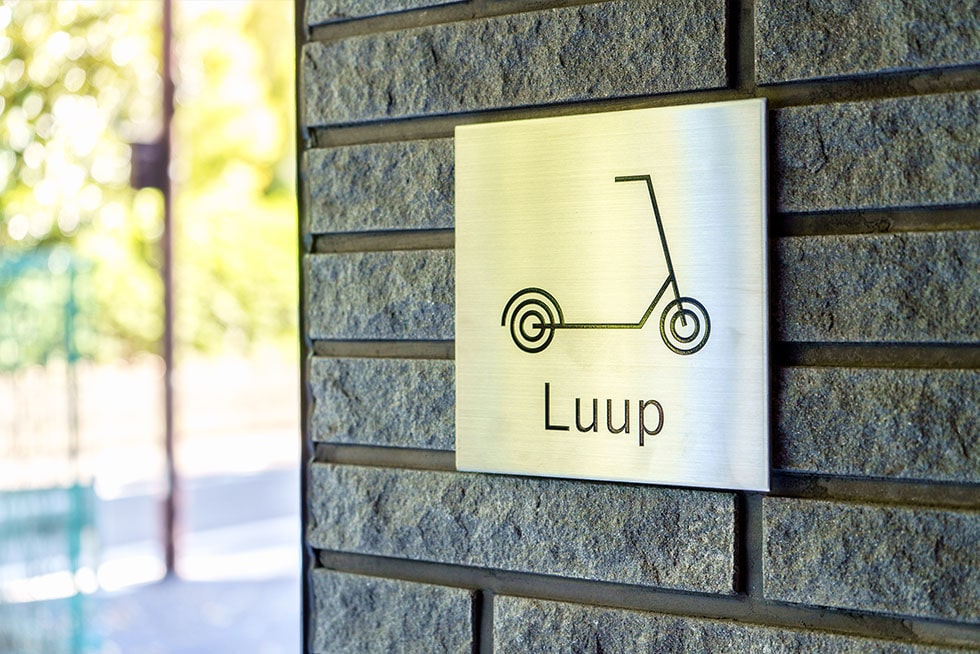 LUUP
Electric kickboards. The first floor has ports for the LUUP service that allows the shared use of electric kickboards and electric-assist bicycles
Another feature on the first floor is a common sight in the city center recently: ports for the LUUP electric kickboards and electric-assist bicycle shared service that provide convenient short-distance transportation.
As these can be used whenever you think of it, they will certainly come in handy for shopping, lunch outings and recreation.
---
Open units with thoughtful ease of use
The attention to detail of course extends to the residential units. The building comprises 81 units ranging from 22.23m² 1K+SIC units to 35.68m² 1LDK+WIC+SIC units, designed for single occupants to DINKs. Some units also include lofts, and there is even a penthouse unit.
I looked at several units, and the biggest feature they shared is the lack of a building in front. Most of the units offer a few of the greenery of Meiji Jingu, with some units have greenery that takes up all of the windows, making it very hard to believe you are in the city center. There were also rooms I thought you wouldn't need to have curtains at all.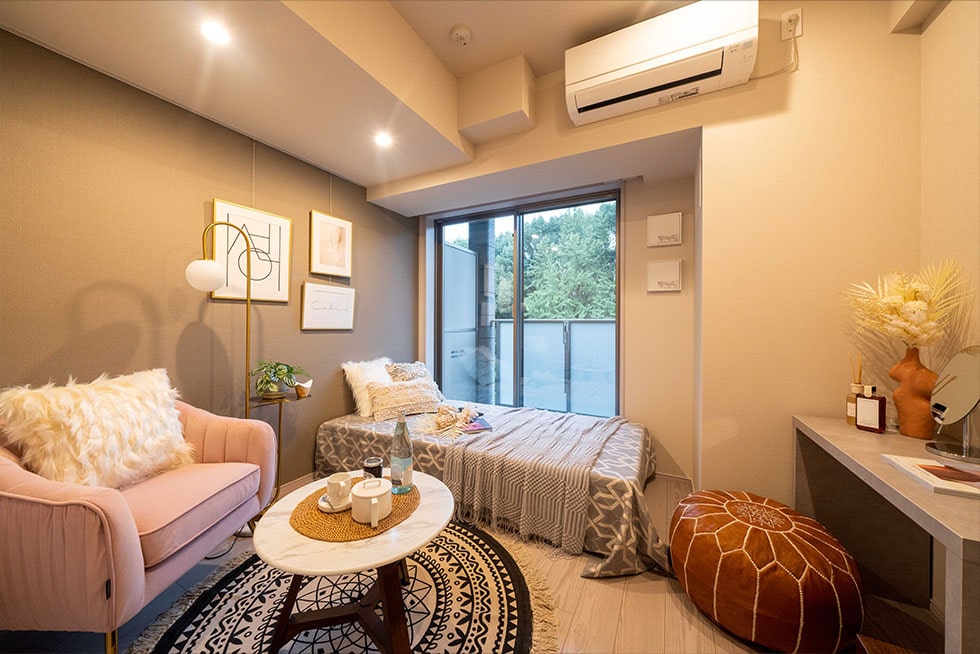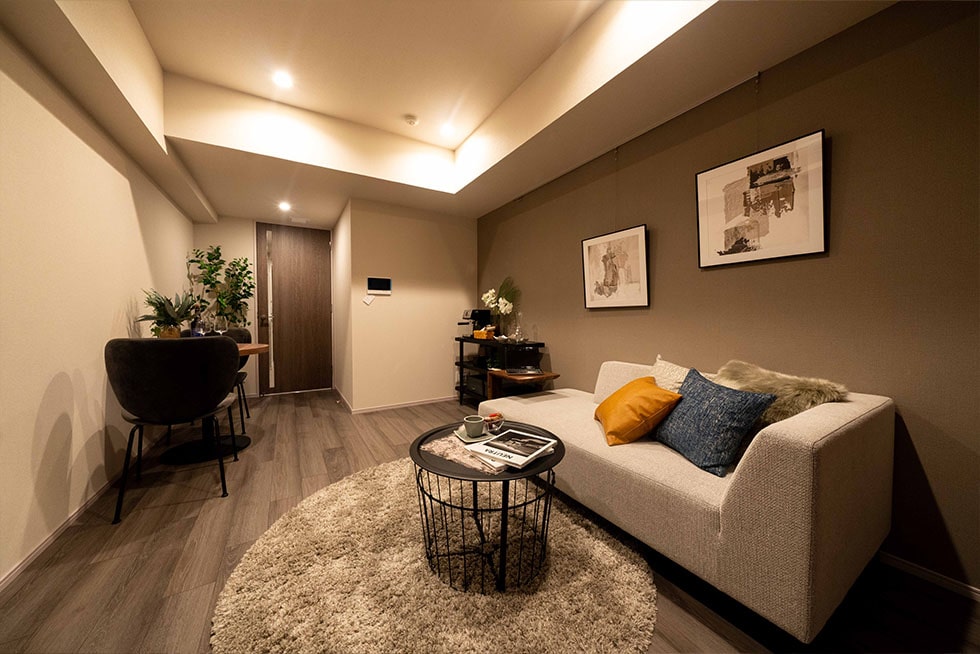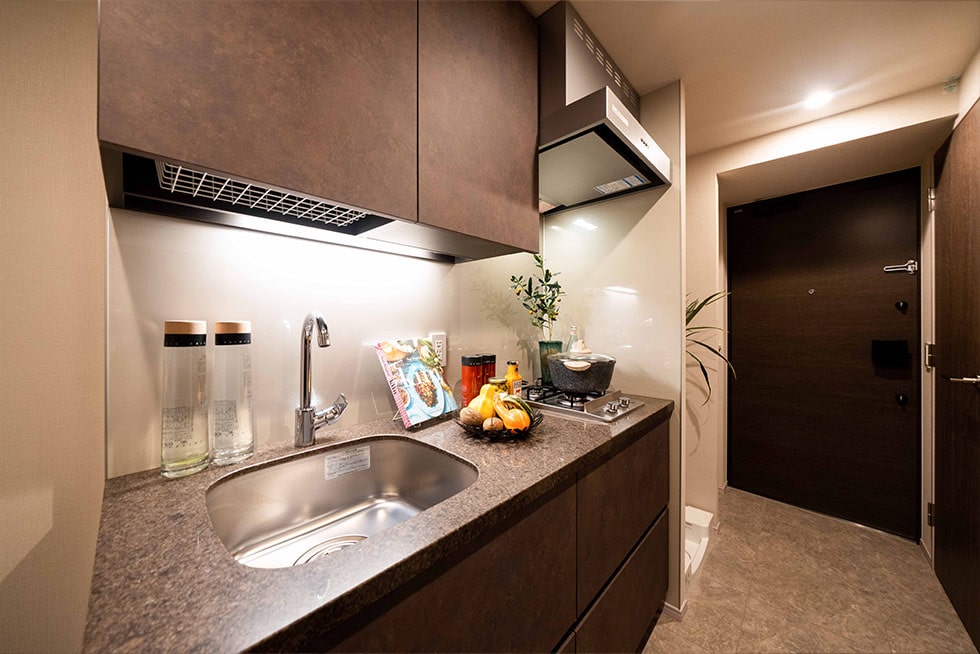 The thorough design developed from the standpoint of residents was impressive, including the creation of storage space with ease-of-use considerations even where it must have been difficult to construct. Even in locations where storage is usually only available partially, often the storage extends nearly to the ceiling, surprising you into thinking, "I can even put stuff here!" Thinking how hard this must have been to construct, I take my hat off to the developers.
The model rooms are designed with specific residents in mind, arranging things that would be convenient or nice to have based on that person's lifestyle. Perhaps as a result of thoroughly considering ease of use and arranging things with good sense, but the level of perfection in the model room was such that I would be happy to live there as-is. This is one of those important point that you should see with your own eyes when touring the property.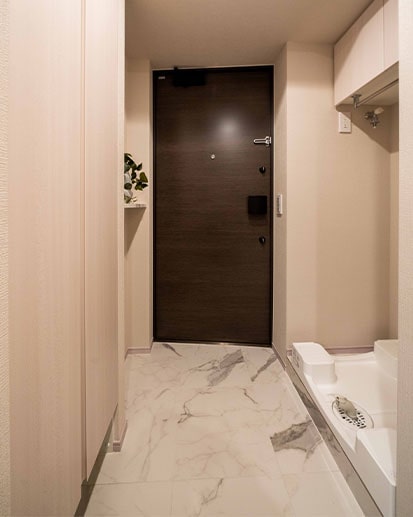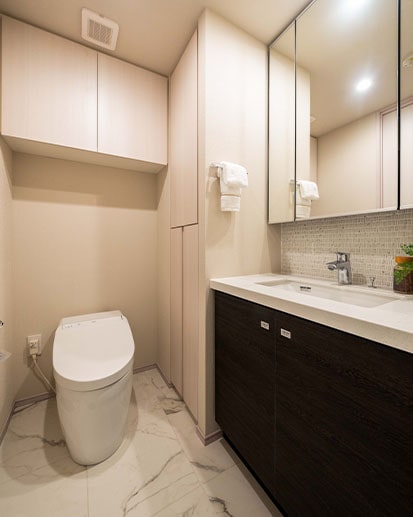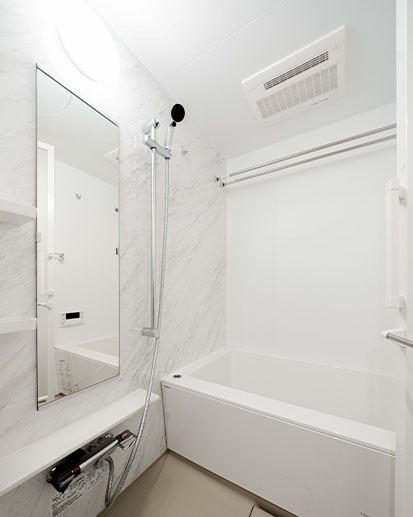 Another thing that surprised me with how much care was taken was the design of the indoor corridors. The slightly recessed entrances to each unit give a strong sense of independence, and strengthen familiarity towards your own home.
Be it matching the colors of the upper walls with the skirting to produce a sense of unity, or affixing sheets to fire doors and other elements to eliminate any sense of bluntness, I can see all these things that are rarely done in rental apartments.
Things might appear normal at first glance, but there are elaborate innovations and considerations in every corner that just shout "thoroughness."
Properties that simply add workspaces are an increasing trend in the industry, but if I was going to live at one of these properties, I would want to live that at the one that gave this in-depth consideration and was created with love.
---
【COLUMN①】Units with a loft and a generous sense of openness
On the sixth floor there is a loft unit with a ceiling height of 3.75 meters, allowing residents to enjoy an overwhelming sense of openness. In particular, the AL type corner units feature a large utility space near the entrance where you can store your clothes in a decorative way, something that might appeal to fashion lovers.
The loft, complete with black railings that lend an accent to the interior, is 8.1 jo (12.4 square meters) in size, and is equipped with lighting and a power outlet. The wall is also fitted with a catwalk for your pet cat, but this can of course be used for storage as well. With all this space, you might not be sure how to use it all.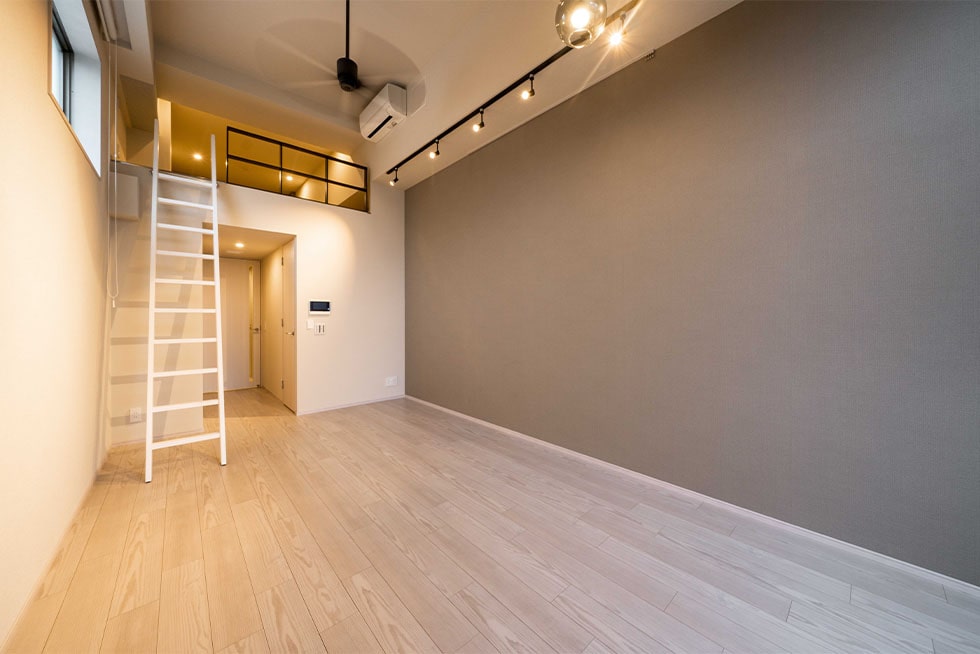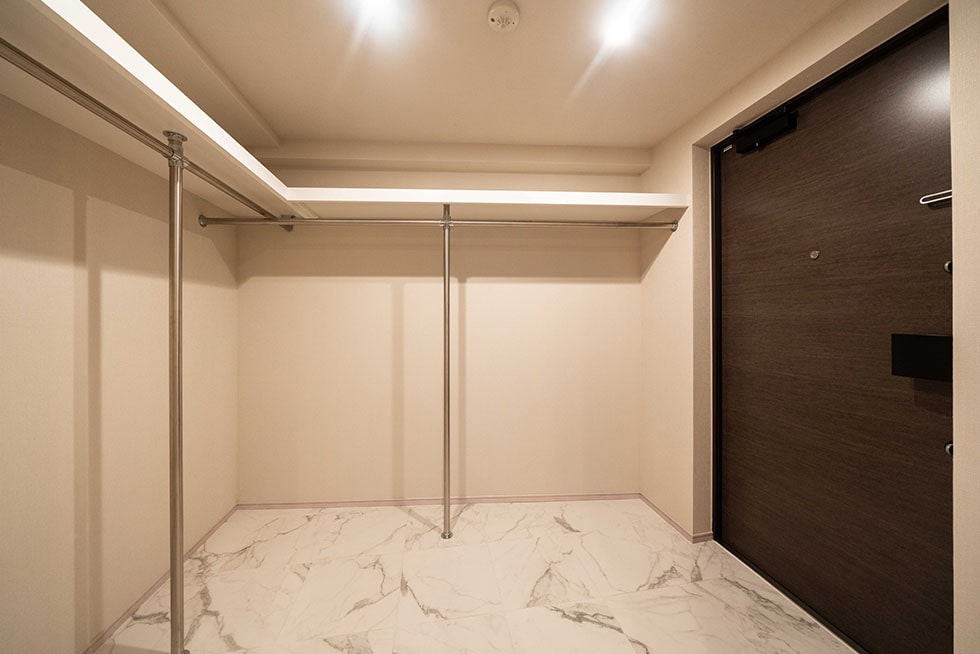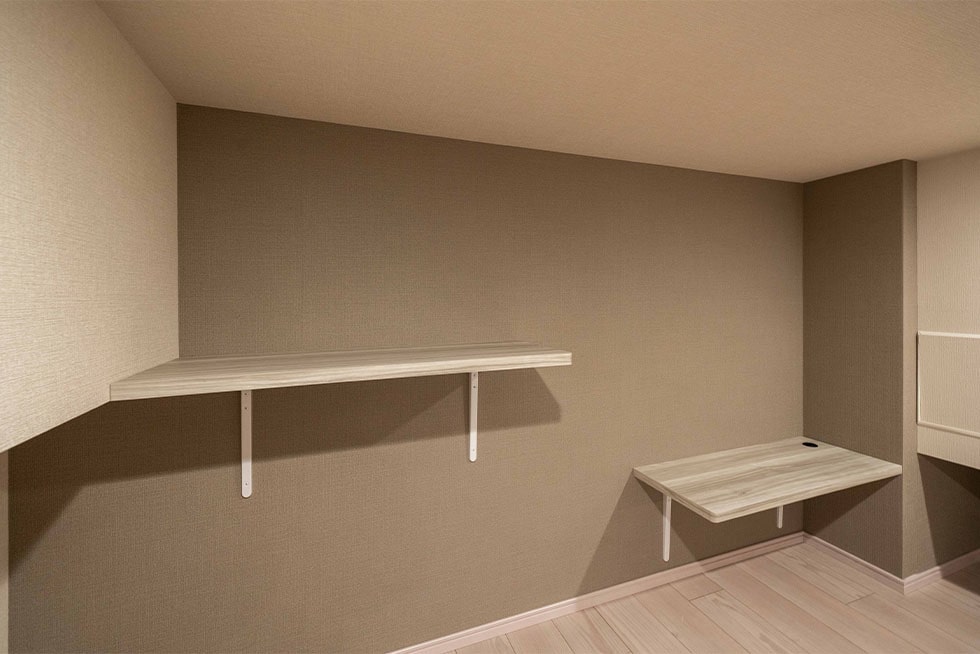 ---
【COLUMN②】Viewing the penthouse unit with a dedicated roof balcony, one of the best units in the building
There is one penthouse unit on the seventh, topmost floor. Designed with home parties in mind, its biggest feature is the living room. Equipped with a large kitchen, the living room opens out into an expansive roof balcony complete with outdoor furniture. Designed to allow residents to enjoy moving indoors and outdoors, it also presents the greenery of the Meiji Jingu grounds below. And as you look up, you can enjoy the view of the city center.
The 4.3m large kitchen also has a non-standard 1-meter width. You can picture a group of friends cooking around the kitchen and enjoying great conversation. The living room side of the kitchen includes storage and is also equipped with a dishwasher, three-burner gas stove and space to place a rubbish bin.
Areas outside the living also boast extra specifications. The bathroom has double sinks, and the shower room is equipped with a mist sauna. The dedicated elevator hall also connects to the Sky Lounge. These are special qualities for someone who wants to live life to the full. The world "special" truly fits this unit.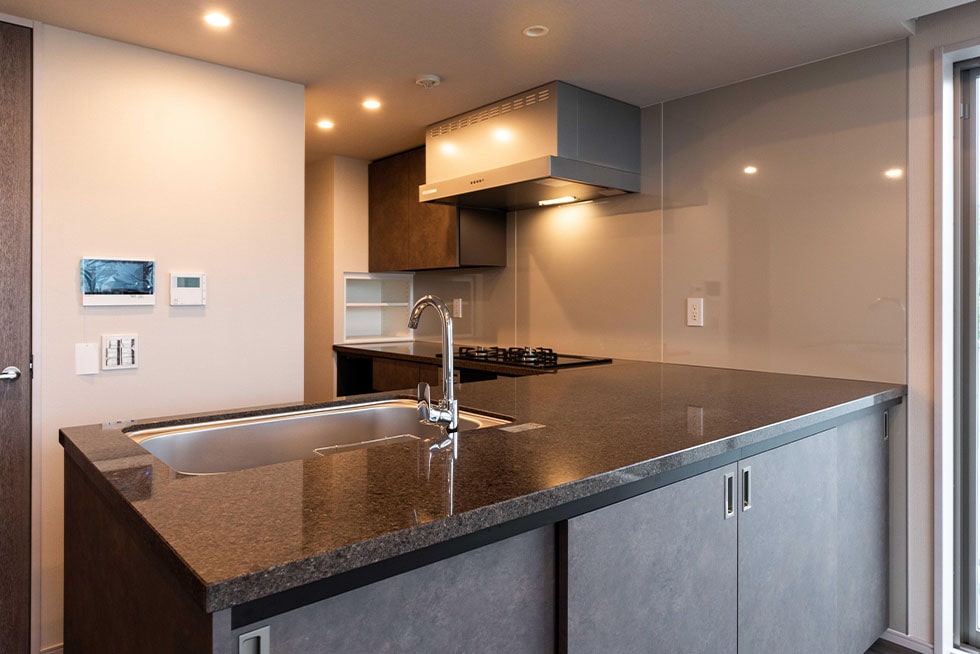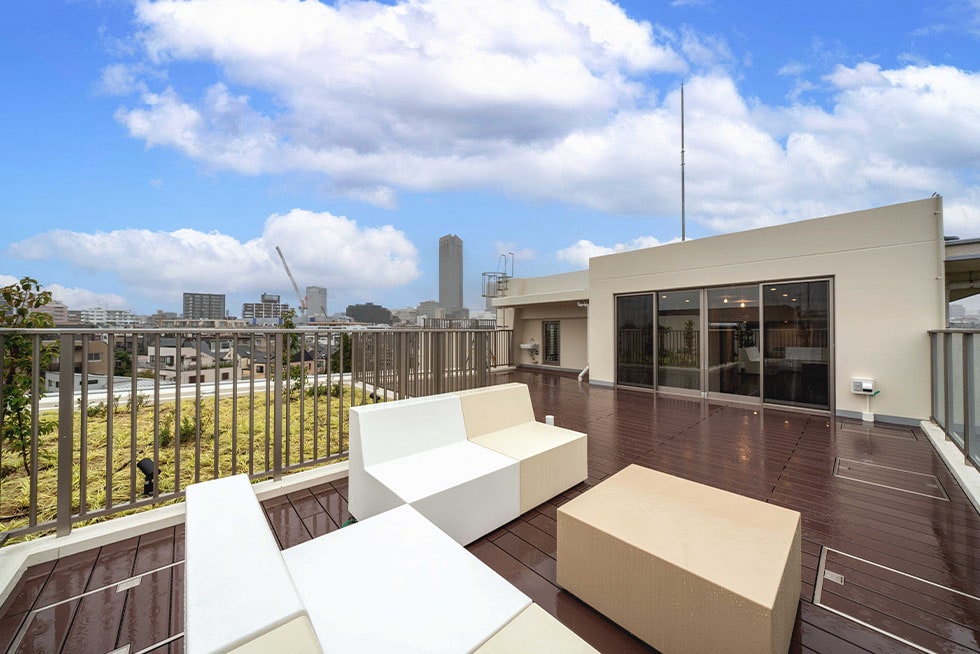 Interview cooperation: Mitsubishi Jisho House Net Co.,Ltd.
Author: Hiroko Nakagawa
For more than two decades, Nakagawa has been involved in editing magazines, books and websites on living-related issues such as purchasing, leasing and building. Nakagawa has lived in Omotesando for many years, and is keenly aware of the comfort of living in central Tokyo.
Nakagawa is the author of an All About Guidebook titled Sumiyasui Machierabi: Shutoken (Finding a livable town: Tokyo metropolitan area).