Toranomon Hills Residential Tower: A New Residence Striving to Integrate Hard Product With Amenities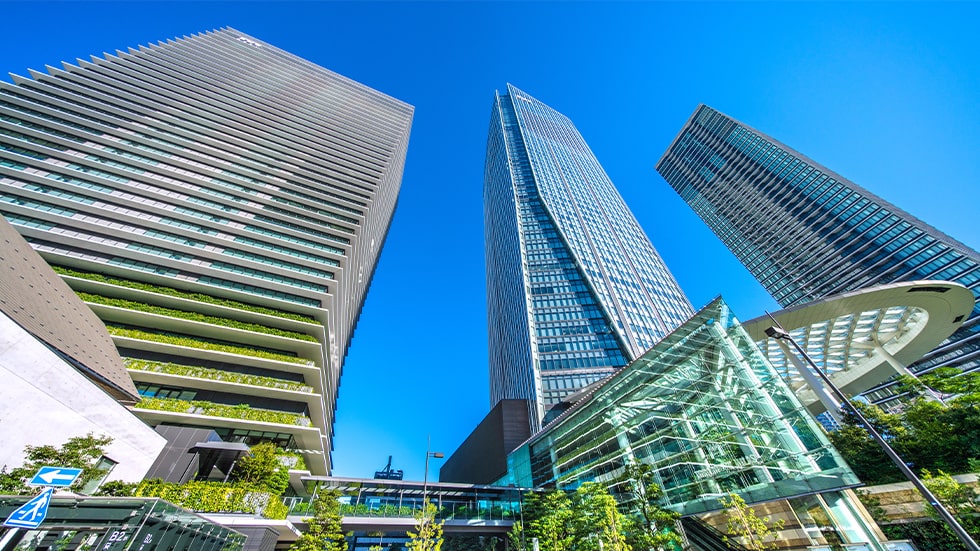 Toranomon Hills Mori Tower
At the center is Toranomon Hills Mori Tower, completed in 2014, with Toranomon Hills Business Tower (completed 2020) on the left, and Toranomon Hills Residential Tower, newly finished in January 2022, on the right, completing the three-tower complex and extensively landscaping of the Toranomon Hills area.
Following on from the opening of the Toranomon Hills Mori Tower and Business Tower in 2014 and 2020 respectively, the third building is now complete. Toranomon Hills Residential Tower. I took a tour of the interior of the building which, perhaps owing to the lush array of greenery, seems as if it has been there for a long time despite being a new construction.
Pursing an integral comfort between hard product and amenities, the first floor features a restaurant that is exclusively for residents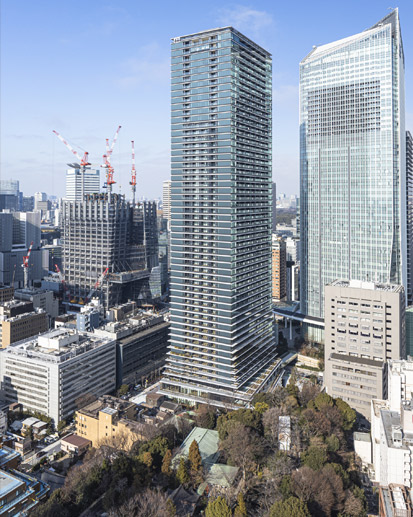 Toranomon Hills Residential Tower
In the enter stands the Toranomon Hills Residential Tower. On the right is Toranomon Hills Mori Tower, with the Station Tower under construction on the left. The area of green stretching out from the base of Toranomon Hills Residential Tower is the Atago Shrine
Unlike the other two completed buildings or the Station Tower that is currently under construction, as the name suggests, the primary purpose of this building is residential.While some residential spaces are available in the Mori Tower, they are mainly 1BR and 3BR units that are comparatively compact, better suited to lifestyles that experience the more active aspects of urban living.
On the other hand the Residential Tower offers a wide variation of units from 1BR to 4BR, designed to cater to the lifestyles of various age demographics and family structures. Perhaps you could describe this residence as being oriented towards lifestyles that place a greater weight on urban affluence and serenity than activeness, as the tranquil appearance of the building speaks for itself.
As Mr. Taichi Tsukamoto(Business Promotion Unit) explains, in the construction process Mori Building aimed to "develop residences of unprecedented quality" to make that lifestyle a reality. "We paid careful attention to many different elements, but the biggest one would be how we sought to provide comfort to residents in terms of both the hard product and amenities."
One of the results of that thoughtful consideration of resident comfort in terms of both hard and soft aspects is Toranomon Hills Kitchen, a dedicated restaurant on the first floor for residents with seating for around 40 guests. This is a service that is only available to residents and guests accompanying them, and is also where residents of the serviced apartments take their breakfast.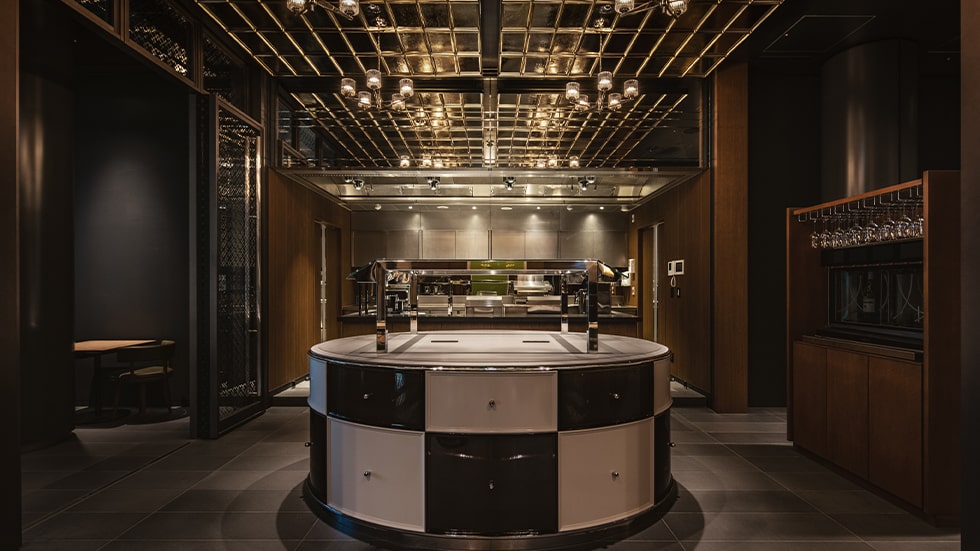 Kitchen
Toranomon Hills Kitchen, for the exclusive use of residents and their guests located on the first floor. The space is modern yet relaxing.
Operating hours start from 7:00 a.m. with breakfast service (from June 1, 2022), with lunch, tea time and dinner services running until 10:00 p.m. each day. Whenever they are so inclined, residents you can enjoy light refreshments or a full meal here. The menu is quite extensive, including alcoholic beverages such as natural wine. Dishes with a focus on high-quality natural foods as ingredients are also served. Room service is also available, not only for individual units but for the building's common living and dining areas as well as guest rooms.
Kitchen
The seating featuring an arrangement of wooden tables has capacity for around 40 guests. Dishes with a focus on ingredients and natural wines are offered. Private rooms are also available with the use of partitions.
"We have done similar things in the past, such as setting up a lounge serving food as an adjoining facility to the Hills Spa, but this restaurant for the exclusive use of residents. We considered how to create a space that is physically open but which has a sense of privacy, and this involved not only thinking seriously about the space itself, but considering tangible and intangible in parallel, such as what menu items should be made available for residents, and how we should select ingredients. We aim to not only serve delicious food, but to become a restaurant known for its hospitality that residents will want to keep coming back to."
Kitchen and library on the first floor, living room overlooking Tokyo on the 41st floor, and more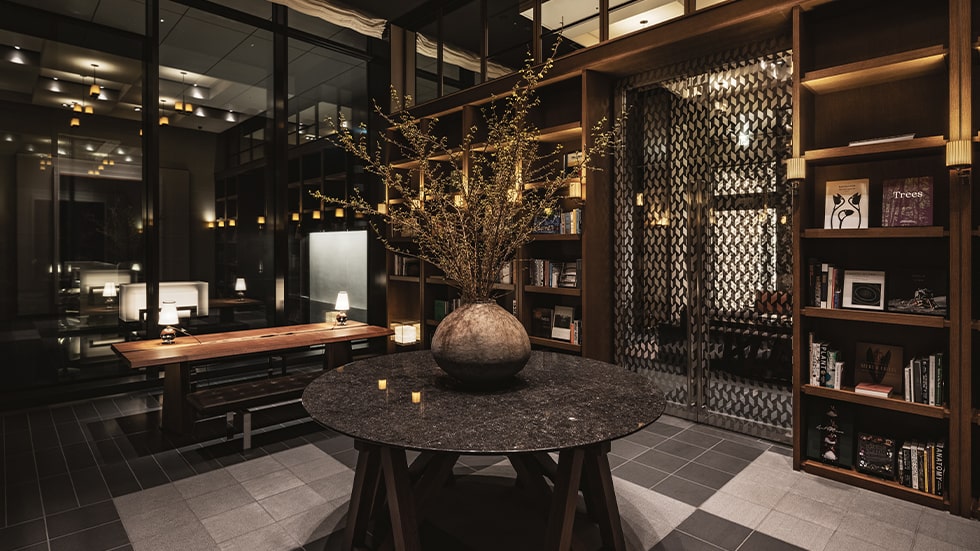 Library
Library located at the rear of Toranomon Hills Kitchen. The library features various beautiful photo books from Japan and abroad, and just looking at their spines can enrich one's mood.
Other common areas have been given the same treatment, reflecting a desire to incorporate hard and soft elements as one. Let's take a look at each of them. We start with the first floor. At the back of Toranomon Hills Kitchen is a library. This space is like a home library that residents can freely use. The array of books includes collections of photographs highly specific to certain interests, from architecture and music to Japanese culture, wine and cuisine. In consultation with Academy Hills, which is based at Roppongi Hills, the assortment of books was designed to appeal to the diverse range of interests held by residents.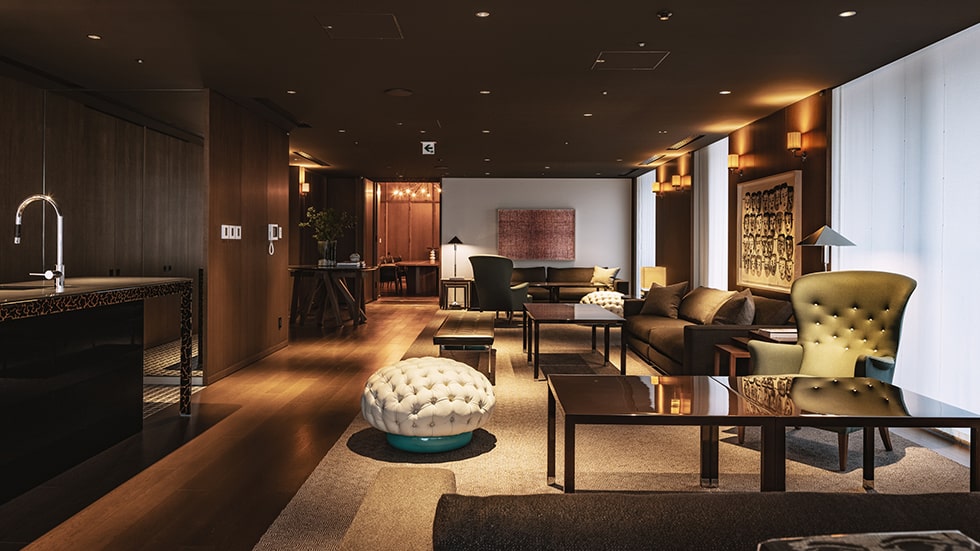 41st Floor Common Area: Living Room
The living space on the 41st floor is an expansive 160 m2. The space can be used free of charge from 9:00 a.m. to 10:00 p.m. daily, except when being rented out. Users are limited to residents and their guests.
Common spaces on the 41st floor including living and dining rooms, and two guest rooms, one in traditional Japanese style and one in Western style. The 160-square-meter living space and 60-square-meter dining space with attached kitchen can be rented out. When these spaces are not being rented out, they are open to residents free of charge from 9:00 a.m. to 10:00 p.m. daily. Wi-Fi is also available.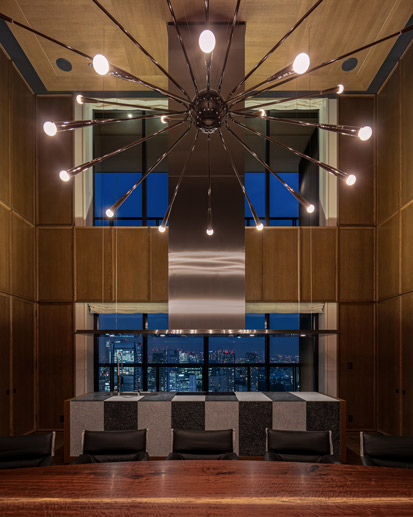 41st floor Common area: Dining room
The dining area with attached kitchen is 60m2 in size. Combined with the living area, this creates a space of 200m2 which can be rented out for parties and other events. When rented out, food and beverages including alcohol can be brought in, and room service from Toranomon Hills Kitchen is also available.
The best feature, however, is the view. You can see the entire city from Tokyo Bay to Tokyo Tower. There are few places in Tokyo where you can see all of Tokyo Tower from bottom to top. Another scene that will put the heart at ease is the glimmering surface of the pond nestled in amongst the greenery of Atago Shrine, which spreads out before you.
A back kitchen is also set up beside the dining area. It has been outfitted with custom specifications in anticipation of users enjoying foods prepared by a chef when the dining space is rented out. With facilities able to handle everything from casual room service requests to full dinners, usage options and equipment have also been integrally designed.
These living and dining areas, as well as Toranomon Hills Kitchen on the first floor, were created as if the entire building was one house. It will be enriching to think about the various spaces throughout the building as extensions of your own home, broadening the scope of your daily life.
Guest Room A
This is the Japanese-style guest room. The room is available to residents and their guests. Both the Japanese and Western rooms have capacity for two guests. Use of the guest rooms are by reservation only, with a limit of twice per month.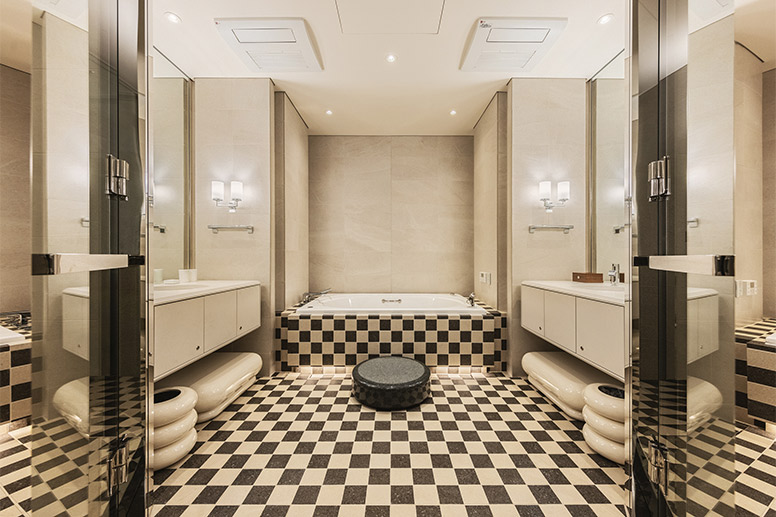 Guest Room A
Bathroom in the Japanese guest room. With abundant space, it is on par with a luxury hotel in the city center.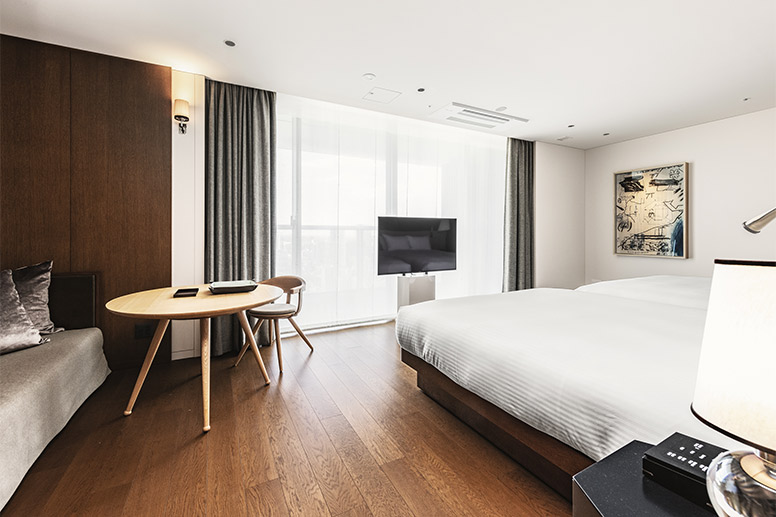 Guest Room B
One of the guest rooms is Western styled. Check-in is from 3:00 p.m. with an 11:00 a.m. checkout, with use for up to seven consecutive nights.
The guest rooms not only offer different Japanese and Western styles, but also feature different views. Even if guests choose the one that suits them best, they'll probably have a hard time deciding. The guest rooms are for two adults, and are available by reservation.
Hills Spa complete with 25-meter pool and a health consultation office ideal for families with children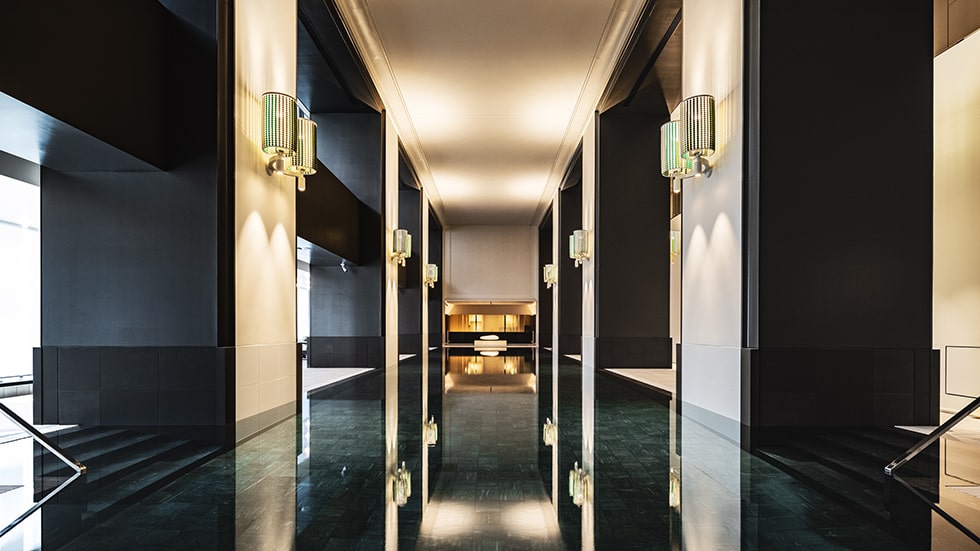 Spa & Pool
The second floor of Toranomon Hills Space, featuring a 25-meter pool with a Jacuzzi. The interior was overseen by Tony Chi, who was also responsible for the interior design of other common and private areas throughout the building.
The building also has several other facilities. On the second and third floors a branch of the popular Hills Spa (paid membership-based) facility combining a fitness gym, beauty salon, pool and other features is open. Of all Hills Spa locations, the Toranomon Hills Spa branch is the largest at around 2,000 m2, and also boasts a 25-meter pool on the second floor. Users will be able to get plenty of physical exercise here.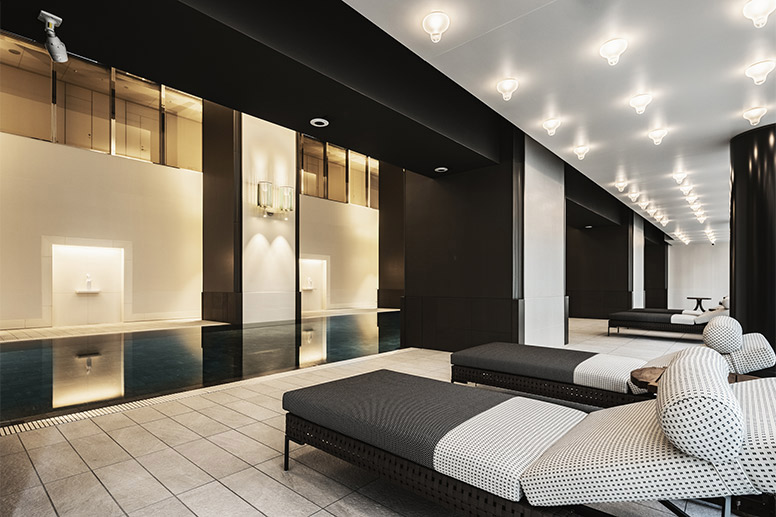 Spa
At approximately 2,000 m2 in total, this is the largest Hills Spa location, and includes locations for users to relax and unwind throughout.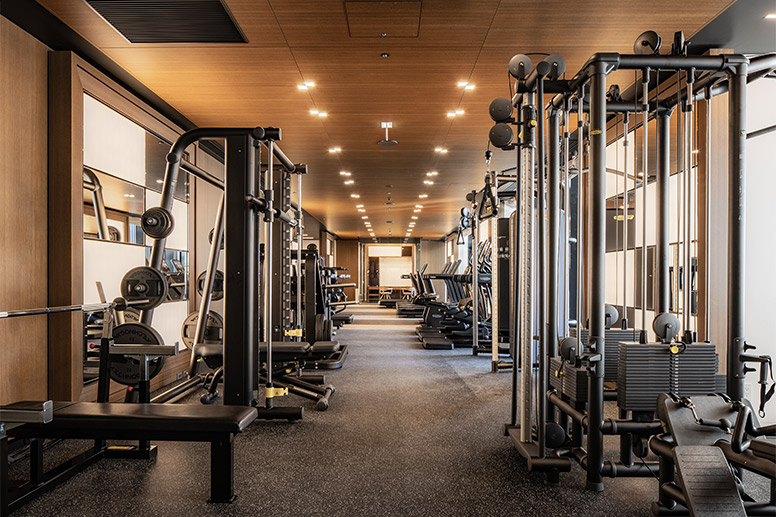 Spa
The machine training area is equipped with machines from Technogym, Europe's largest fitness machine manufacturer. A counseling room where users can consult over the training and exercise regimes is also available.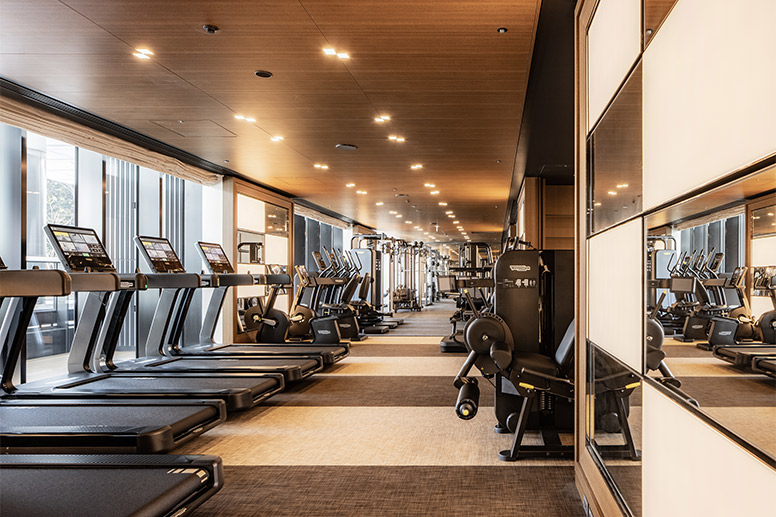 Spa
In addition to the machine area there is a studio and paid private lessons will also be offered in the future. Users will be able to enjoy exercising in various ways.
In Autumn 2022, a health consultation office operated in collaboration with The Jikei University Hospital will open on the second floor. In addition to regular health consultations from physicians and bilingual nurses, the office will also handle urgent matters such as patients who feel ill or are injured, making it a reassuring presence for families with children or elderly members.
Additionally, in February 2022 the three Michelin starred Japanese restaurant Kanda opened on the first floor following a relocation. This is a useful restaurant to have nearby when entertaining guests.
Moreover, at the end of August 2022, EtonHouse International Pre-School Toranomon will open. It appears that there are many inquiries from families regarding this facility. Other locations set to open on the second floor starting Summer 2022 including La Maison Jouvaud, a Chocolatier whose main store is located in Hiroo, and a 7-Eleven convenience store branch.
The carriage porch spaces for cars on the first floor and second basement level where valet services are offered also sets the residence apart. An increasing number of properties are introducing valet services recently, but there have been problems seen with the intermingling of people and cars due to car entry and exit taking place from the same location. Another issue has been the limited standby space on carriage porches for chauffeur-driven vehicles, forcing them to wait outside, resulting in longer waiting times for passengers.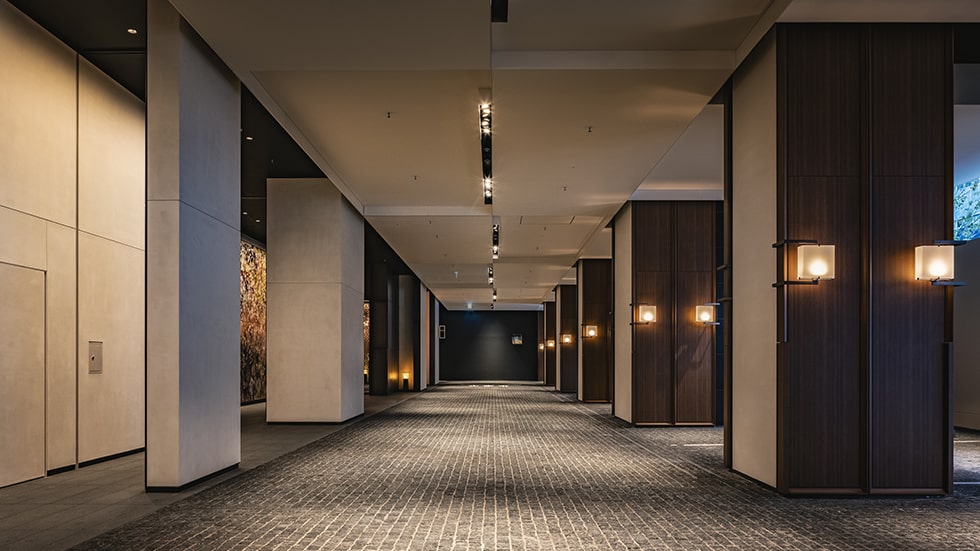 Carriage Porch
Entrance carriage porch with ample space for vehicle pickup. The wall on the left is decorated with a large painting that adds color to the gravitas of the location.
To address this, the Residential Tower has set up another carriage porch on the second basement level in addition to the first floor. The second basement level is devoted to vehicles leaving the premises, and the ability for vehicles to enter both floors resolves the issue of complications. Waiting space for several vehicles has also been set up, making it rare for a vehicle to have to wait at a remote location for pick-up. Setting up carriage porches in two locations requires additional personnel in addition to space, but this greatly improves the convenience of residents when using vehicle transportation.*This service is not provided at all times.
Other features designed to enhance ease of transportation are a service where staff will bring a resident's car out of the parking facility if they make a reservation 30 minutes before leaving, and having taxies waiting at the first floor during the busy morning rush hours on weekdays (weekdays from 7:00 a.m. to 10:00 a.m.). *This service is not provided at all times.
Surprising and enjoyable common areas with art scattered throughout
In addition to the appear of restaurants, the library and living spaces, common areas inside the premises are sprinkled with eye-catching art work adorning each space.
The first thing welcoming visitors when they enter the building is a five-meter tall, ten-meter wide ceramic transfer of a painting by the New York-based artist Sam Falls on the wall of the carriage porch. Depicting natural flowers and branches, the piece was commissioned for the Residential Tower, as were the other works. The original is here.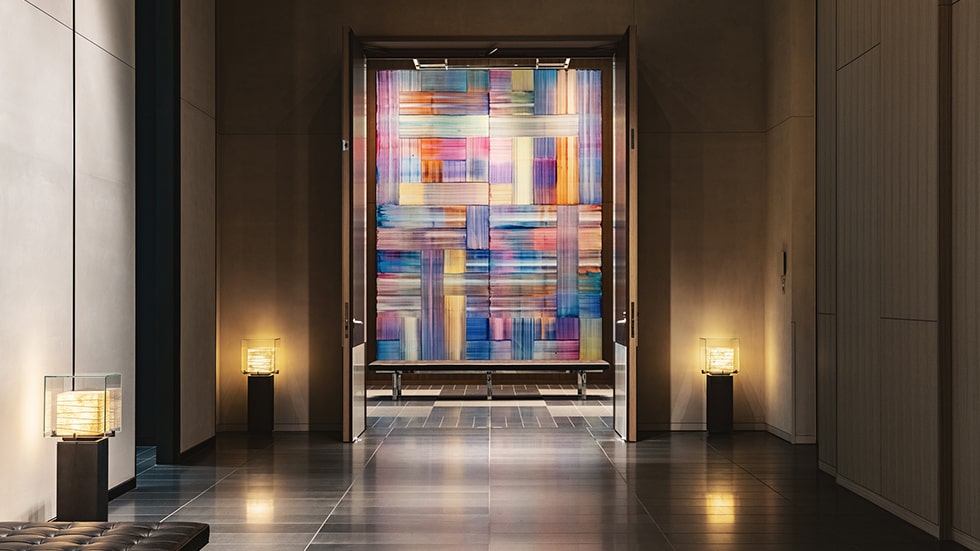 Entrance
This painting is in front of you when you go through the main entrance. The museum-like appearance impresses visitors.
The moment one goes through the entrance, it is an abstract painting from Paris and Berlin-based artist Bernard Frize that captivates the attention. The beautiful work with intersecting vertical and horizontal lines of varying color gives a warm feel to the entire space.
In the entrance hall, an object sculpted by the Cambodia-based artist Sopheap Pich is on display. This three dimensional piece woven from thin bamboo and rattan cane features a lively sense of dynamism and an Asian feel. Four such pieces were created for the Residential Tower, and they are so impressive that once you lay eyes on one, you will want one for your own home.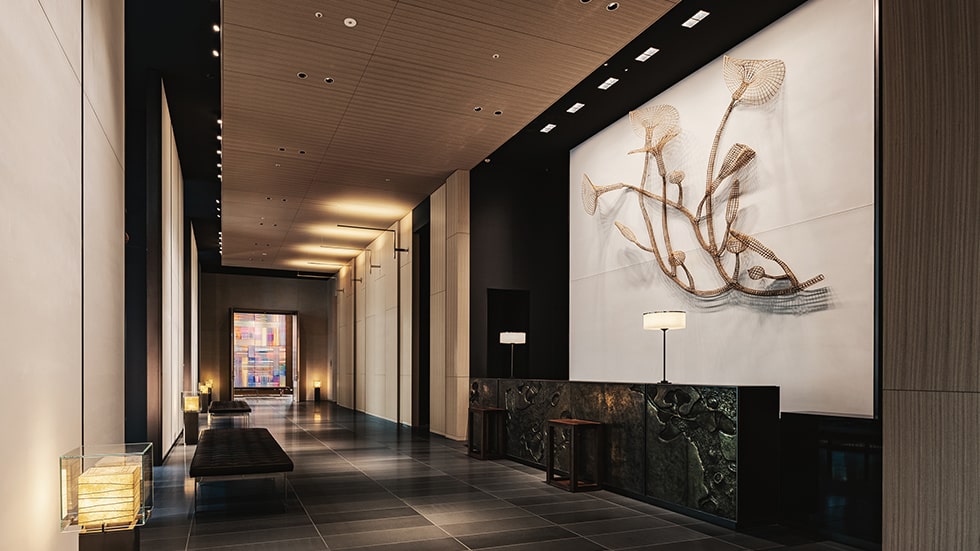 Front
An object sculpted by artist Sopheap Pitch adorns the wall. The property is festooned with works of art that come in various sizes and materials, adding fun the process of discovering your favorite.
The first floor entrance hall leads to Toranomon Hills Kitchen and the library beyond. The shared corridor on the second floor is also decorated with many paintings and sculptures which are curated by the Mori Art Museum, which opened in 2003 and has continued to present multi-national, non-genre-specific contemporary art to the world. Hearing this further underscores the high quality of the artworks arranged here.
Careful attention to detail transforms even practical spaces into art
These artistic flourishes are not limited to works from renowned artists. The front counter, elevator lobby lighting, shelf tops in common spaces and other locations throughout the building are adorned with small and quaint sculptures and artistic components. This attention to detail is thanks to interior designer Tony Chi. The Japanese have the saying that "God is in the small details." Seeing that meticulous attention to detail even down to the smallest few centimeters is amazing in such a large building as this.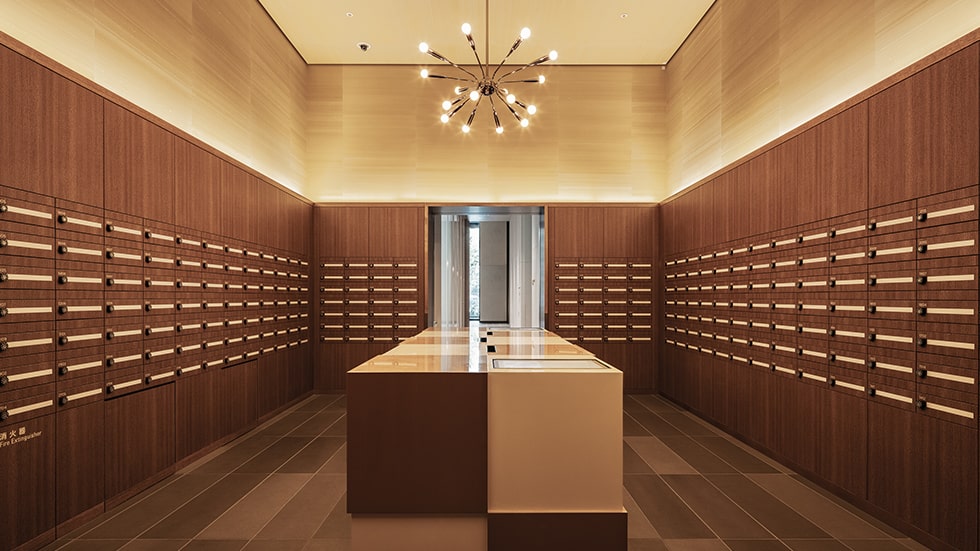 Mailbox
The surprisingly beautiful cluster mailbox area. The ichimatsu checker motif used throughout the building is also employed here.
A cluster mailbox area is generally a practical space in an apartment building, but in the Residential Tower, this is also a place of art. The caramel and beige colored ichimatsu check patterned box in the center of the space surrounded by wooden mailboxes is for residents to discard unwanted flyers. These are essentially trash receptacles, but it is surprising how beautiful they have been made.
Additionally, the touch panels set on top is for displaying notices. As wall-mounted notice boards tend to look messy, a new format has been adopted in the interests of maintaining the look of the space.
Incidentally this checker pattern is also used in other places, and serves as a design motif permeating the entire building. While an ichimatsu check pattern does evoke Japanese images, it is not done in a way that shouts "Japan" as something aimed at tourists would, and is instead integrated into the design in very natural ways.
Residential units of various sizes and layouts combined with extensive safety considerations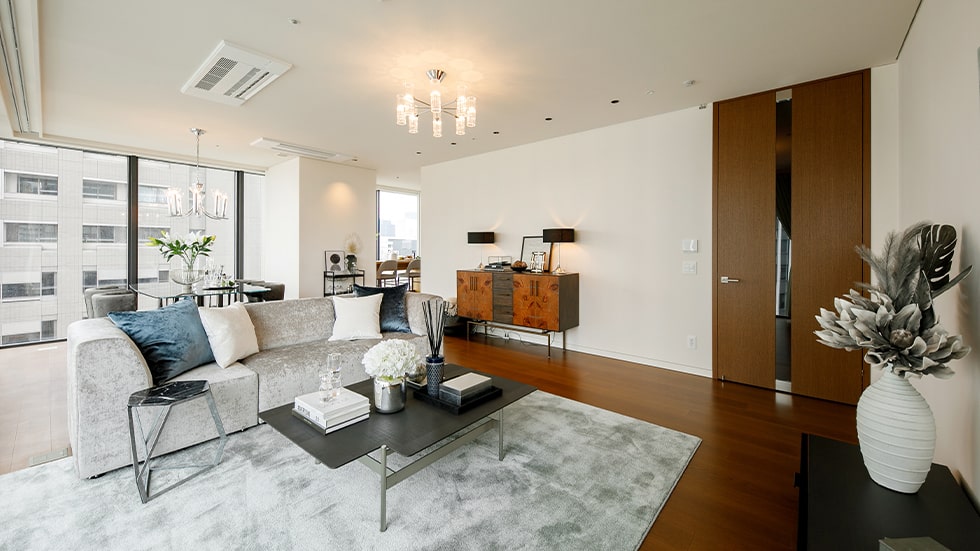 Show apartment
112.78-square-meter two-bedroom residential unit with a spacious 29.3 jo (48m2) living room. The 2.5-meter-high ceiling give an even greater sense of spaciousness than the floor area.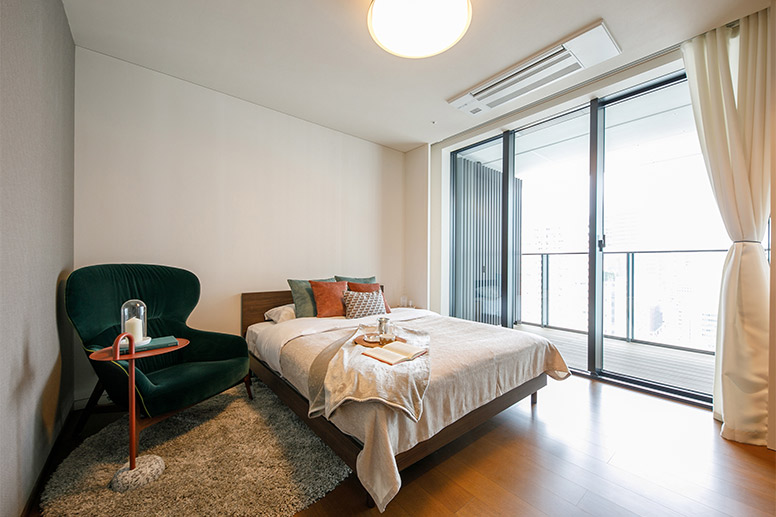 Show apartment
Main bedroom in the same residential unit. The 9.6 jo (15.5 m2) features an interior with a dark aesthetic. The interior is completed with a subdued color scheme.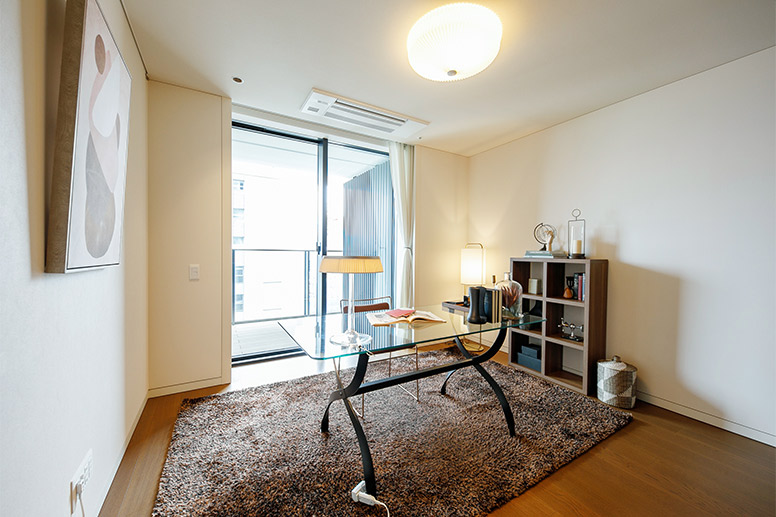 Show apartment
The other bedroom is 8.4 jo (13.6 m2) in size. Both bedrooms feature balconies.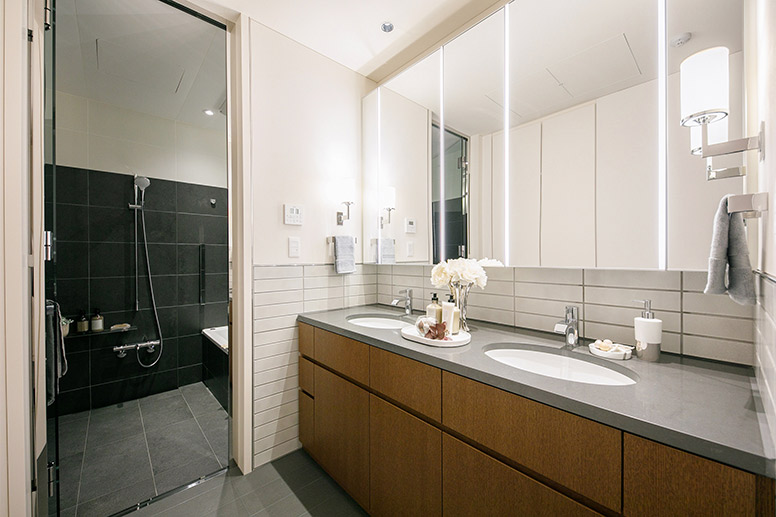 Show apartment
Dual vanity powder room. The basins are space far apart, offering ample room for use. The bathroom at the back is 160 cm x 200 cm size.
Now let's take a look at the residential units. I toured the 112.78-square-meter model room. This is a two-bedroom corner apartment with a large 29.3 jo (48 m2) living room placed in the corner. The interiors have two patterns, light and dark, and this model room is of the dark variety. It has a subdued color scheme.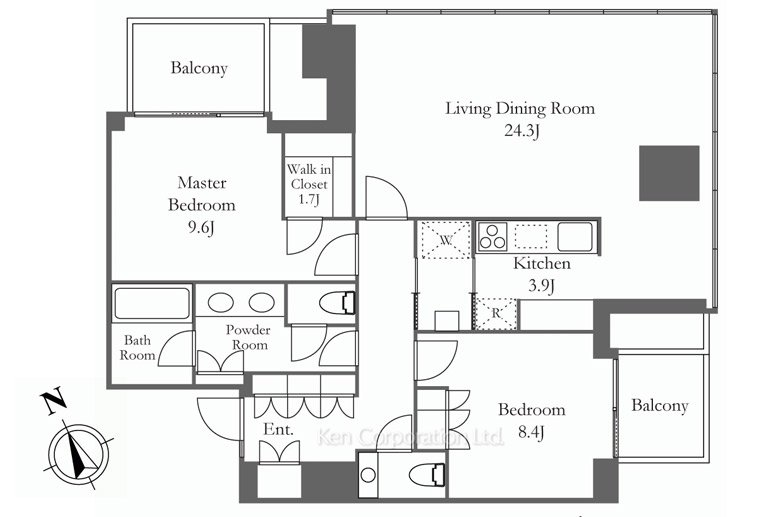 Floor plan
The layout is designed for ease of use, consolidating the kitchen and laundry spaces in the center.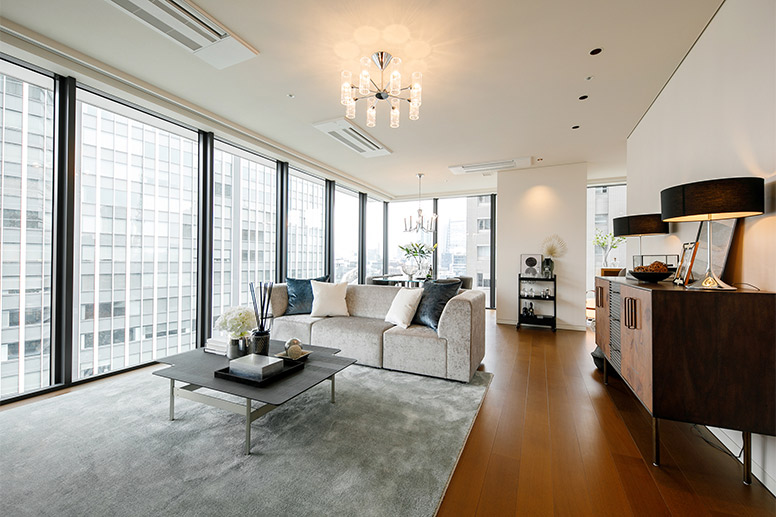 Showapartment
Wide view of the living room. For corner units, the corner parts are all glass, giving a bright and spacious feel.
A feature of this room is how the corner portion is made from glass that extends from the floor to the ceiling. All of the corner units feature these same specifications, enabling residents to make full use of positioning inside the unit, with the 2.5-meter-high ceiling providing even greater openness and appeal. Outside the level room, the bedrooms feature balconies with a generous two-meter depth.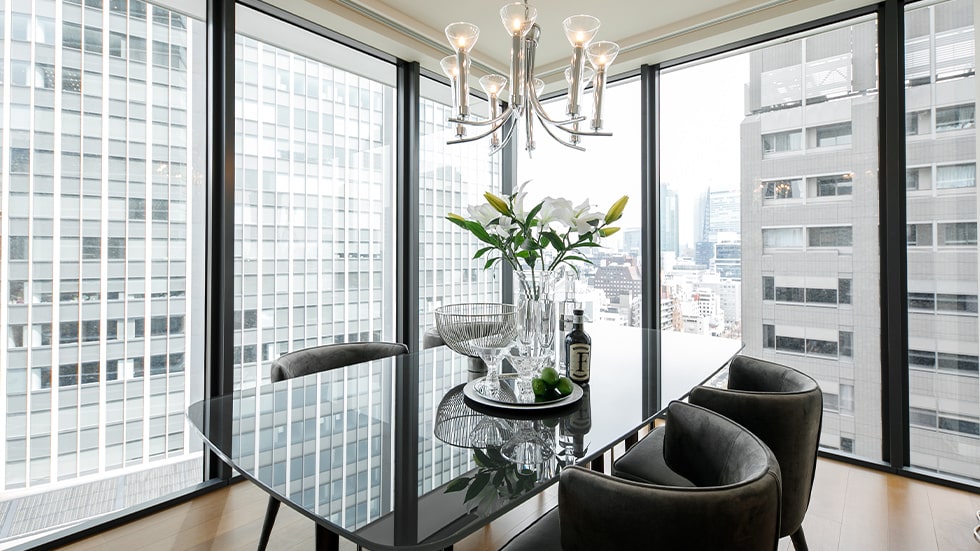 Show apartment
View from the corner. The space has a floating feel, perhaps owing to the large windows. When the sun goes down, the lights of the surrounding buildings should sparkle.
In addition to excellent equipment specifications including a kitchen fitted with a Miele dishwasher, crescent window locks are set high up to prevent accidental opening by children, and the lavatory features a rarely seen well-designed hand washing basin. These little surprises in every corner reflect the design sensibility of the entire building. The units are not only safe and comfortable, but are designed for an enjoyable everyday life.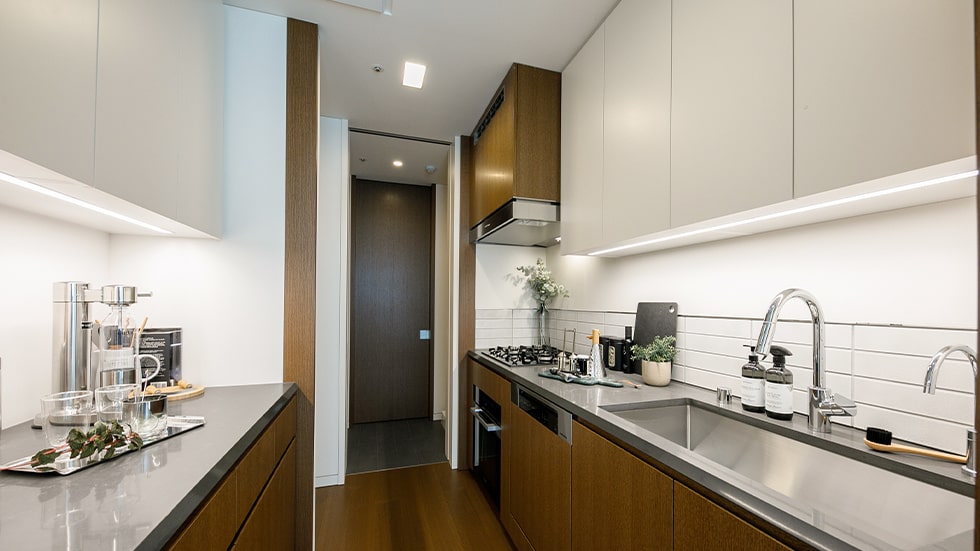 Show apartment
The spacious 3.9 jo (6.3 m2) kitchen features an array of equipment to make housework easier, including a fridge-freezer, oven, dishwasher, disposer and purified water dispenser.
There are 547 residential units in total, 160 of which are operated as serviced apartments in addition to the other rental and for-sale units. Layouts range from 56.56-square-meter single bedroom units to large four-bedroom units, providing an extremely wide range of variation. There is a particularly wide variety of single-bedroom layouts that suit couples and single occupants, making it easy for residents to find a layout that suits them. To people thinking of a place to live based on a variety of factors such as tranquility and comfort in addition to convenience, this location will surely offer the chance to savor the real charm of living in the city.
Hiroko Nakagawa
For more than two decades, Nakagawa has been involved in editing magazines, books and websites on living-related issues such as purchasing, leasing and building. Nakagawa has lived in Omotesando for many years, and is keenly aware of the comfort of living in central Tokyo.
Nakagawa is the author of an All About Guidebook titled Sumiyasui Machierabi: Shutoken (Finding a livable town: Tokyo metropolitan area).