A Future Life Where Home Appliances are Controlled by Voice or Phone, Seen at The Parkhabio Azabujuban
We've come to hear the word "smart home" quite frequently. This refers to a home offering a more comfortable living through having equipment and appliances within the home connected to the internet and controlled by cell phone apps or by voice. But is this actually possible?
We visited The Parkhabio Azabujuban, which has implemented the HOMETACT comprehensive smart home service developed by Mitsubishi Estate Co., Ltd. and where you can experience the life of the future, and were shown around by Yudai Sugai of Mitsubishi Estate Residence Co., Ltd. and Tatsuya Kawakami of Mitsubishi Jisho House Net Co., Ltd.
The air conditioner and TV are switched off and the robotic vacuum cleaner starts moving with, "I'm leaving"
There are three types of smart home devices introduced in each of the rooms at The Parkhabio Azabujuban. First is NinjaLockM, a smart lock produced by Linough, followed by LS Mini Next, a device used as a remote control for IR-operated air conditioners, TVs, and more produced by LiveSmart, and finally, Google Nest Hub, a smart display that features Google Assistant.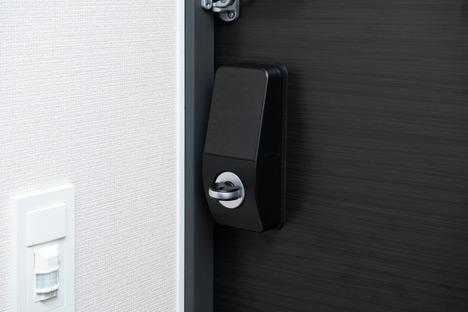 NinjaLockM
which can be readily unlocked by the person using it.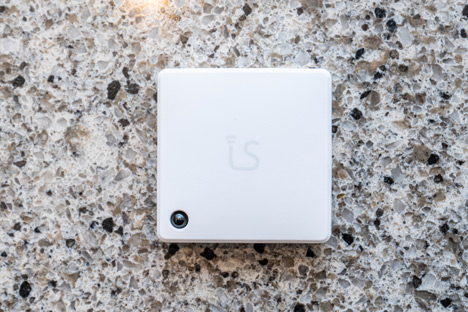 LS Mini Next
which controls devices within the home as an IR remotet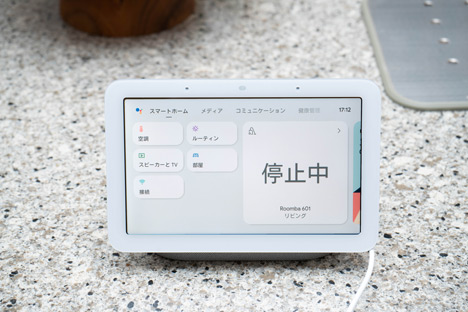 Google Nest Hub
which can control your smart home while allowing you to enjoy music, movies, and more
HOMETACT
an app developed at the end of October 2021 to be easy to use for all generations
By using the HOMETACT comprehensive smart home service developed by Mitsubishi Estate Co., Ltd., it becomes possible to control various devices from an app while away from home and with the app and by voice with the Google Nest Hub while at home.
"The main feature of HOMETACT is that it gives you the ability to centrally control a variety of residential equipment and appliances through a cell phone app or by voice. Up until now, there have been apps that control air conditioners or TVs individually, but it was necessary to set up different apps for each device, and while appearing convenient, it was actually inconvenient. This is where HOMETACT comes in - easy and simple, allowing control of multiple devices across multiple manufacturers all on one app."
We first visited a one-bedroom (SC type) model room to see an actual example of the operation of multiple devices. You can register what you want to do with the app based on the situation, and we were shown a presentation of this.
A Bedroom of Type SC
The three standard types of devices were set up in this 26.27 sq.m. one-bedroom apartment (SC type). The room features a clean, spacious-looking white color scheme
The first situation was leaving home. When you speak to the Google Nest Hub and say, "I'm leaving," the air conditioner, TV, and music speaker (*1) automatically shut off, and the robotic vacuum cleaner (*2) started cleaning. You will save some effort if you set up daily repeated behaviors like this.
The next situation was bedtime. You can set the alarm automatically by having the Google Nest Hub ask what time to set the alarm upon hearing you say, "Goodnight." You can also fall asleep comfortably if you have your music speaker play healing music at the same time.
It could also be good to set it up so that your favorite music wakes you up in the morning. It will also be helpful when planning your outfit for the day if you set the Google Nest Hub to tell you the weather and temperature for the day. For people who watch the same TV program every morning, you won't miss the program if you set the TV to turn on at a certain time.
"The situations can be set up freely, so you can make your own settings to match your lifestyle. You can also turn on certain situations from the app, allowing you to control multiple devices in the room from outside."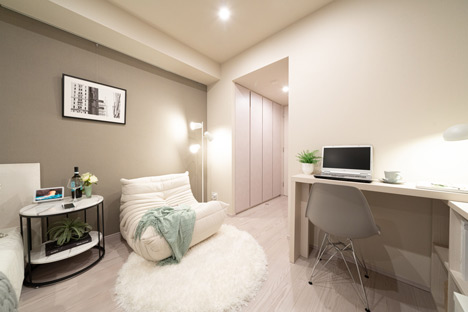 The Bedroom of Type SC
The same one-bedroom (SC type) apartment, with a 12.5 sq.m. model living room. A desk is installed in the corner, providing clues as to how to use the room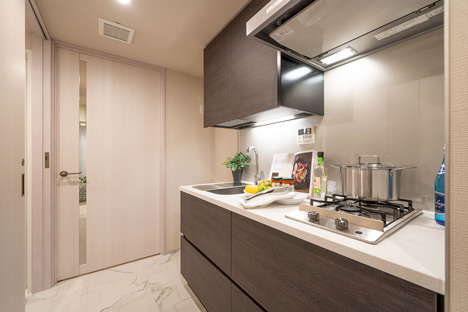 The kitchen of Type SC
A kitchen with two stove burners and ample work space. A refrigerator suitable for a single person can be installed here, as well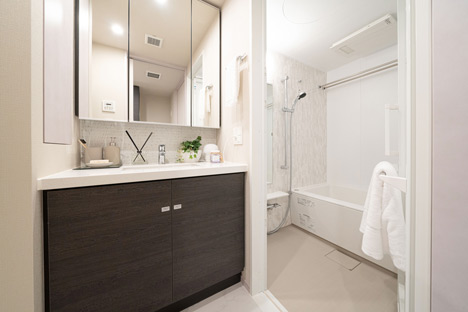 The Bathroom of Type SC
A 1.92 sq.m. bathroom. The lavatory has ample storage, featuring a linen closet in addition to the space below the sink
Rooms where the lights, bathtub, and curtains can also be controlled by app or voice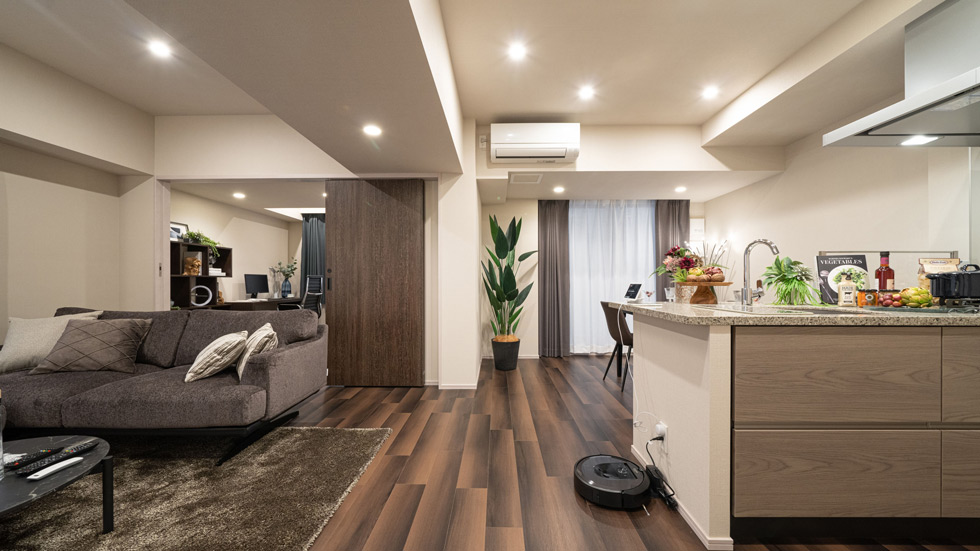 Living Dining Ketchem (Type SA)
A 67.26 sq.m. two-bedroom (SA type) model room. In addition to the three standard types of devices, this room also features additional functionality for lighting, the bathroom, and curtains. The room features a chic dark color scheme
We next visited two-bedroom (SA type) and one-bedroom (NH type) model rooms. It is possible to control the lighting and bathtubs in these rooms, in addition to the standard equipment from the previous room.
"We set the system up so that the lights come on, the bathtub is filled with hot water, the room is warmed up, and music is played when you get home. By setting it up to active the same operations when you pass the nearest train station using GPS, you can be welcomed to a warm, bright room instead of a cold, dark room."
If you think specifically about how you can use this technology, you can get a sense of the convenience, for example, you can turn off lights with your voice without having to get out of your warm bed in the cold of winter, or you could set up the bathtub to be ready for you once you finish watching a movie or a TV show.
The opening and closing of curtains in this room can also be incorporated into a situation.
"You can start your day comfortably by basking in the morning shine if you set the curtains to open automatically with music. The room itself wakes up when you say, 'Good morning'."
Tenants have to supply their own curtains, but any curtains can be used, so you are able to buy the curtains you want when you move and use them without issue.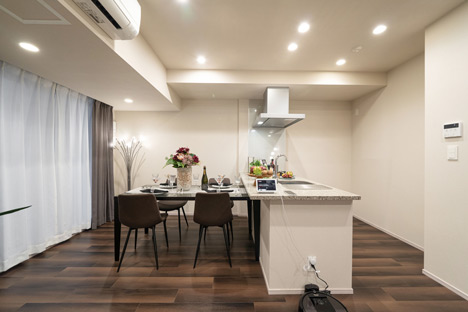 Dining Kitchen (Type SA)
Lighting is connected by wire from the gateway above the ceiling, and the lights can be turned on and off without having to move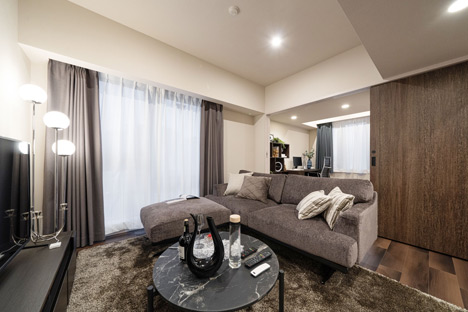 Living Room (Type SA)
A motor is installed on the side of the curtain railing, and it rolls up the curtains. To keep the monitor from view, it's best to have curtains that are 16 cm wider than the curtain rail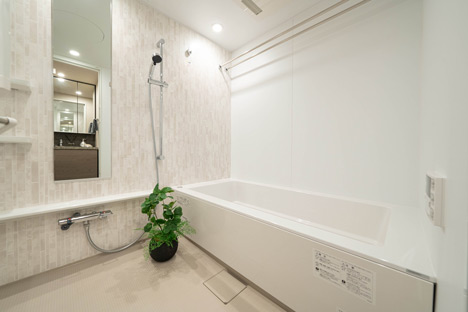 Bathroom (Type SA)
The bathtub can be set to be ready for use at the optimal temperature just as you get home. There is plenty of space to stretch out in the 3.2 sq.m. bathtub
For a morning where you wake up to the smell of freshly-brewed coffee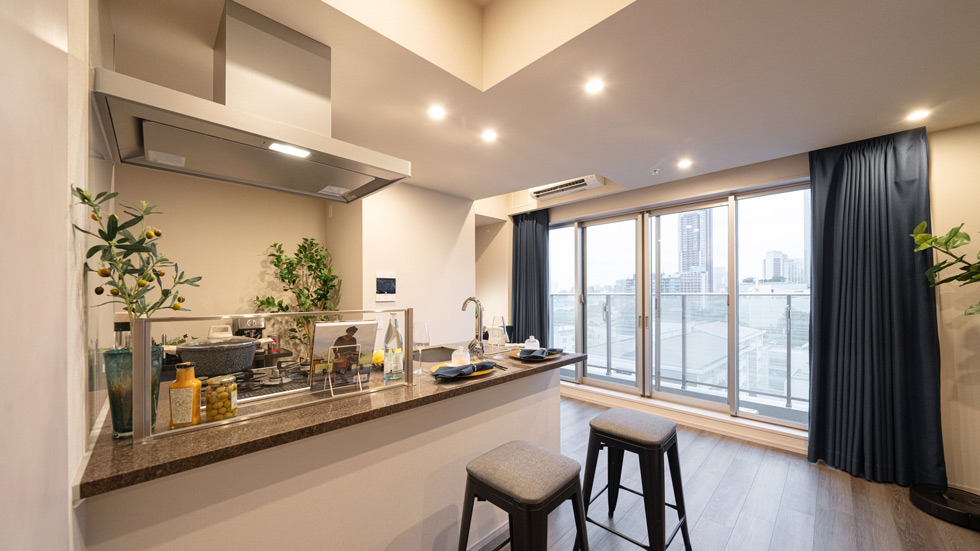 Dining kitchen (Type NH)
A 48.75 sq.m. one-bedroom (NH type) model room. The three standard types of devices plus others can be used in this room, and the room features a relaxed, medium color scheme
When you think about a comfortable morning, a covetous feeling emerges. Is it possible to set the coffee maker so you wake up to the smell of freshly-brewed coffee?
"HOMETACT is currently limited to devices with high usage needs, but we want to add more compatible devices in the future. If there are more types of devices that can be used, it will create layers of convenience. We want to make it into a platform that will change life itself in the end, used not just at our own properties but at properties managed by other companies, as well."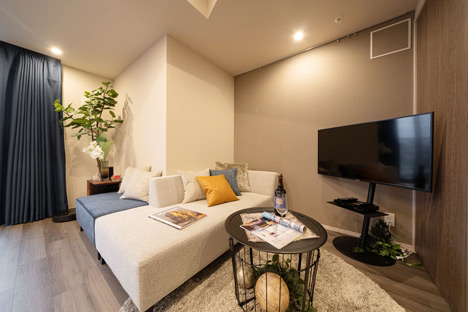 Living room (Type NH)
Furniture is placed to match the floor plan of the model rooms at The Parkhabio Azabujuban, with many visitors saying that they want to rent the rooms with furniture. The L-shaped sofa in the living room is also popular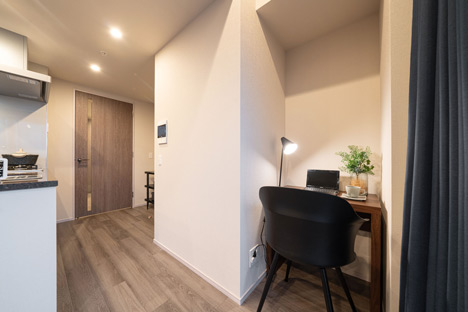 Work Space (Type NH)
A perfectly-sized desk is placed using the small nook. This kind of ingenuity is gaining attention as the opportunities to work from home are on the rise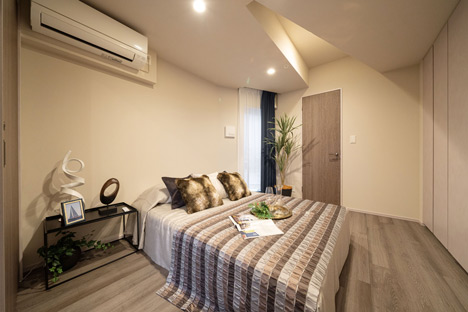 Bedroom (Type NH)
The interior design matching the color hues and tones of the room is widely praised for making the room look spacious
Acting as a test for the popularization of smart homes in Japan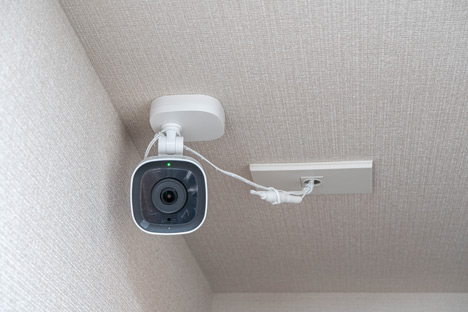 Indoor Camera
A camera installed in the entrance ceiling. It is useful when checking on visitors, but it is up to the tenant on whether or not they use it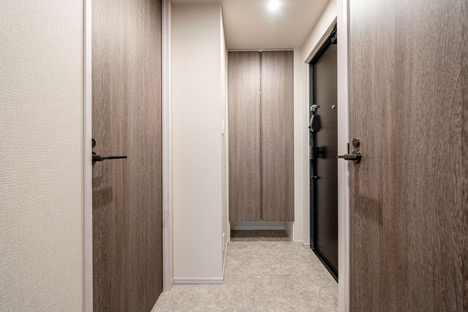 Entrance (Type NH)
The entrance areas were created to be relaxed spaces regardless of the floor plan, and some floor plans feature multiple shoe boxes
Another reason for this initiative is to see if there is demand for smart homes in Japan.
"Smart homes have become popular in the US because homes there are large. There is demand for controlling the inside of a home without having to move. We are running practical tests at The Parkhabio Azabujuban to see if there is the same demand in Japanese homes."
These tests refer to cameras (*3) installed in the entrances to some of the rooms. Smart locks at The Parkhabio Azabujuban can be opened in a variety of ways, including physical keys, security codes, and apps. These locks can be opened with other methods if your phone runs out of battery, and the locks can also be controlled from outside the home.
You can let guests in to your home even while you are away by locking or unlocking the door from outside the home using the app. This can be useful when friends or family visit or when using housekeepers or pet sitters, but this can also be used to have packages dropped off (*4) inside your home when delivered.
"It is already normal in the US to use a smart lock to unlock the door when a delivery is made, have the delivery left inside, and then lock the door again. To ensure safety, cameras are installed at the entrance to check on people's movements in real time. But there are people in Japan who are resistant to having someone enter their homes.
"So we installed cameras in some of the rooms. Use of these cameras is of course up to the resident. The thought is that cameras can be left as is even if a resident doesn't want to use the cameras, and those that want to use the cameras can use them."
Recently, a variety of smart locks have come on the market, but The Parkhabio Azabujuban features battery-powered smart locks that are installed on the door. They can be used even during blackouts. You can also check remaining battery levels with the app.
You can enter both the building and your own room without any keys as the shared entrance area uses products made by the same manufacturer (*5)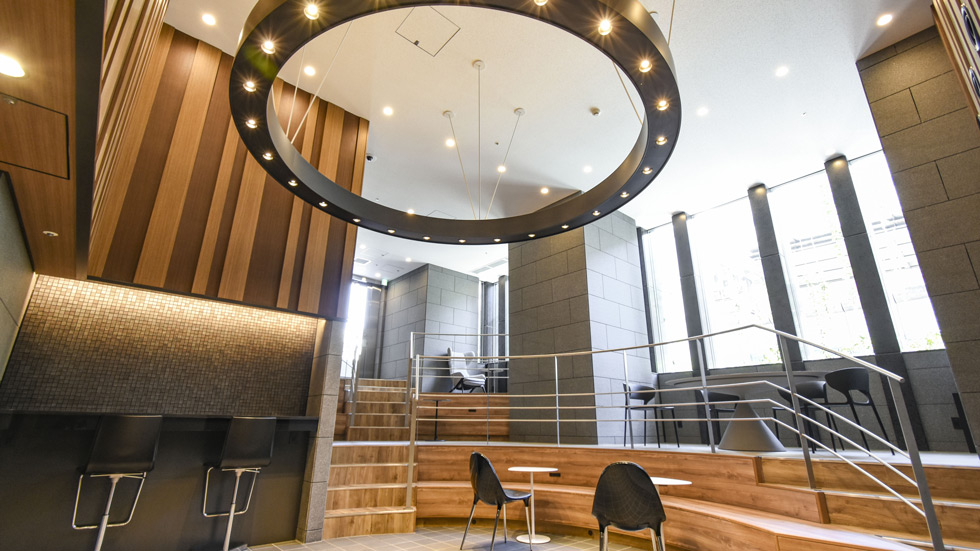 Enrance hall
Wi-Fi can be used in the entrance area, and the area can be used as a work space. Furniture by Cassina ixc. was adopted to match the interior design that makes use of natural materials
A future that goes beyond real estate, promoting this evolution through residents' voices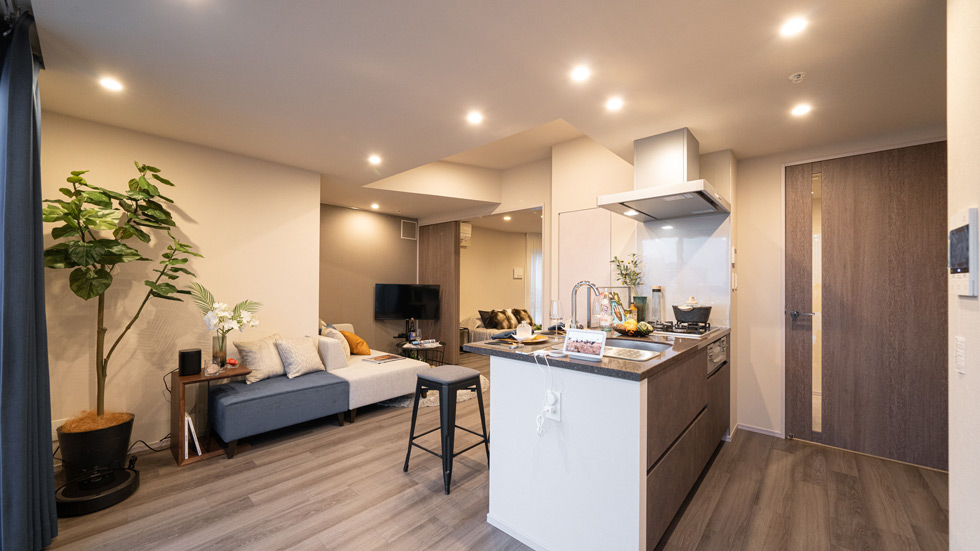 Living dining kitchen (Type NH)
A large, 24.6 Sq.m. NH-type model living room. There are a variety of new experiments hidden in this comfortable-looking room
HOMETACT makes it possible to control appliances with a single cell phone, eliminating multiple remote controls. There may be people who are worried that they won't be able to get comfortable with this set up as they are not used to it. For this reason, they have an explanatory pamphlet and have set up a special call center just for HOMETACT so you can easily ask about anything you don't understand.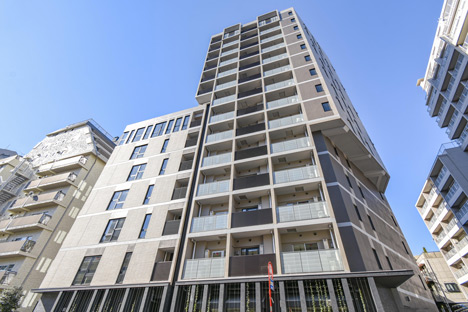 Exterior
A useful location both for car use and for train, with three stations available for use: Azabu-jūban Station on the Tokyo Metro Namboku Line and the Toei Oedo Line, Roppongi-itchome Station on the Tokyo Metro Namboku Line, and Roppongi Station on the Tokyo Metro Hibiya Line.
There are also plans to update the app based on surveying residents, real estate companies, etc.
"It is important to continue to evolve when you consider that smart homes will become a type of infrastructure that will greatly change lifestyles, going beyond the boundaries of real estate in the future. We believe it is necessary to listen to the voices of a wide range of consumers and continue to develop the app in order to pioneer this unknown world."
Prior to our trip, they had a gathering of people at an early private viewing from a wide range of ages and jobs who were mainly interested in the evolution of IoT.
"There were a wide range of people who came out. I think they were aware that this property is the first step towards changing lifestyles."
There were similar experiments known as "home automation" during the economic bubble period, but at that time, there were no smartphones and no one thought that the internet could do this. But now, with the spread of the internet and Wi-Fi, we are in a time where things that seem like a dream are becoming a reality. The life realized today at The Parkhabio Azabujuban will be gradually improved in the future, and it may become a living witness to the evolution of lifestyles if it becomes more and more convenient. It is something you'll want to experience.
Hiroko Nakagawa
For more than two decades, Nakagawa has been involved in editing magazines, books and websites on living-related issues such as purchasing, leasing and building. Nakagawa has lived in Omotesando for many years, and is keenly aware of the comfort of living in central Tokyo.
Nakagawa is the author of an All About Guidebook titled Sumiyasui Machierabi: Shutoken (Finding a livable town: Tokyo metropolitan area).