Characteristics of towns in the Tokyo Bay (WANGAN) Area (Part 1)
In central Tokyo, it is no longer possible to find many sites for housing construction. By contrast, housing construction is still booming in the Tokyo Bay (WANGAN) area. Considering the possible repurposing of the Tokyo Olympics athletes' village as private housing, high-rise apartment buildings will be constructed successively in this area over the next few years. Did you know that the Tokyo Bay area comprises towns that differ from one another in terms of convenience, the environment and other particulars?
Let us look back at the history of the Tokyo Bay area and identify the characteristics of each town.

Waterfront development expands inward to central Tokyo
In general, the development of housing land expands outward from the train stations. This inevitably results in poorer convenience in terms of access and shopping. Interestingly and contrarily, the development in the Tokyo Bay area is expanding inward to central Tokyo. In around 1990, the development in this area began with Tsukuda, mainly Okawabata River City 21 that is near central Tokyo. This was followed by Tsukishima and then Shinonome and Ariake, the outermost areas. Furthermore, the development continued expanding inward to Toyosu. Recently, numerous buildings have been constructed in Harumi and Kachidoki, which are areas that are within walking distance of Ginza.
With some exceptions, the newer the buildings are, the nearer they are to central Tokyo and the more convenient they are. This makes the Tokyo Bay area different from the rest. As the Tokyo Bay area gains in popularity, housing prices and rents in this area are also increasing.
"In terms of rents, properties in Jiyugaoka and Kichijoji may sound more expensive because many of them are large in size. In terms of unit prices per tsubo (3.3 square meters), however, properties in the Tokyo Bay area are bought and sold at much higher prices. Properties in Jiyugaoka and Kichijoji are generally priced at less than 10,000 yen per tsubo, whereas those in the Tokyo Bay area exceed 12,000 yen. Characteristically, the Tokyo Bay area is booming, with a continual increase in the number of young people and families with small children. Currently, the proportion of residents aged 65 years or older is the smallest in Chuo-ku among the 23 wards (ku) in central Tokyo," (Mr. Takaaki Tanabe, manager of Wangan Branch, Ken Corporation.)
On the back of the population increase, all the towns in the Tokyo Bay area are becoming increasingly livable. One example is Kachidoki, where a shortage of commercial facilities was identified a decade ago. The town now has three supermarkets. Tsukishima 2nd Children's Park, which is located near the train station, turns into a venue for a marché (market), arguably one of the largest of its kind in Japan, on the second weekend every month. There are no problems finding where to shop, and purchases can be made directly from the producers.
Aside from the overall trend, Wangan is also interesting in that it offers multiple choices even within the limited area.
"If you don't know much about the area, you would simply generalize it as 'Wangan.' However, no one would compare Toyosu with Kachidoki in selection, even though these towns are adjacent to each other. Tsukuda and Shinonome each have distinct characteristics, and it is safe to say that they are completely different from each other, although these towns have been developed for many years." (Mr. Tanabe)
Let us now take a closer look at the six towns in the Tokyo Bay area, starting from the outermost town and moving inward to central Tokyo.
Shinonome and Ariake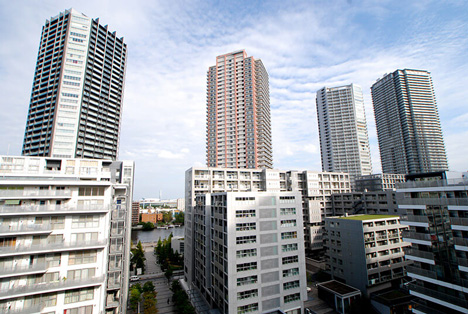 Having been developed for some time, a large number of good properties has good shared areas.
Shinonome Canal Court, the center of Shinonome, was initially the site of a plant of Mitsubishi Steel Mfg. Organizations such as Urban Renaissance Agency and Mitsubishi Group began to redevelop the area around 2000. Characterized by an impressively high level of sophistication in the design of the streets, Shinonome won the Good Design Gold Award in 2005.
"Because it has been quite some time since the area was developed, the prices of properties in this area are 120% to 130% of what they were immediately after the construction of the buildings was completed. That being said, they are less expensive than those in other areas of Wangan. Even rental rates in Shinonome are nearly 20% lower than those in other areas. In addition to the reasonable prices, the town has easy access to Tatsumi Station on the Tokyo Metro Yurakucho Line and Shinonome Station on the Rinkai Line. Depending on where you live, you may also find Toyosu Station on the Yurakucho Line easily accessible. Because of these advantages, a lot of people stay there for many years." (Mr. Tanabe)
The development of Ariake started after 2009, later than Shinonome. The nearest train stations include Kokusai-tenjijo Station on the Rinkai Line and Ariake Station on the Yurikamome Line. Many residents in Ariake commute by bus, and the area is popular among people who have been transferred.
"Ariake is not particularly convenient in terms of transportation. However, the town mainly consists of large properties with good shared areas. Characteristically, these buildings allow for an enjoyable life inside. There are spacious, comfortable plots throughout the area. Rents and housing prices are relatively reasonable in this town." (Mr. Tanabe)
Toyosu
A comfortable place for women and children, Toyosu is a popular town
The development of infrastructure such as roads and parks in Toyosu began in 2003, and the town was opened in 2006. The supply of housing began here in around 2007. Today, Toyosu is especially popular among women, and is regarded as one of the main towns in the Tokyo Bay area. Aside from the broad availability of essential facilities such as a park and large commercial complexes, the town has been developed with consideration for safety and diversity. This is a major reason for the town's popularity. The nearest train station is Toyosu Station on the Tokyo Metro Yurakucho Line and the Yurikamome Line.
"With an increase in the number of cram schools and other childcare-related facilities, the child-raising environment in Toyosu keeps improving. It is an easier place for families with small children to live. All the initial town development plans have been completed, and I am looking forward to seeing how it grows into maturity." (Mr. Tanabe)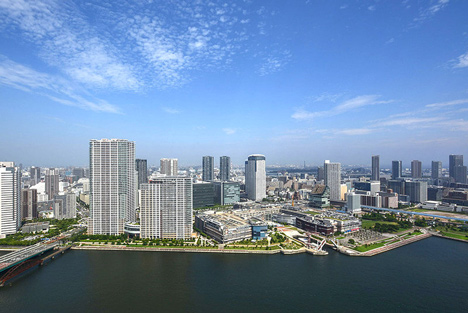 In addition to houses, offices, large commercial facilities, schools and a park are available. Toyosu is highly reputed for its livableness. (This photograph was taken in 2016.)
Harumi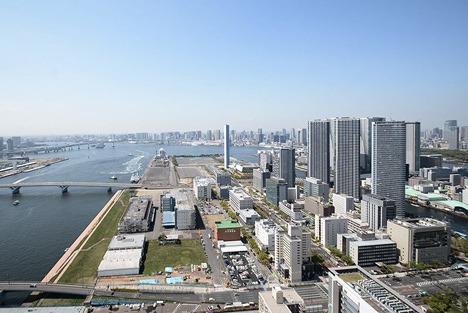 Compared with the other areas, Harumi has more unused land and its development is eagerly anticipated. (This photograph was taken in 2016.)
Constructions will be completed in succession. Look forward to seeing how it looks after the Tokyo Olympics.
Many buildings in Harumi were constructed from 2009 onward, with the exception of Harumi Island Triton Square, which was built prior to this as part of a project for rebuilding then existing residential complexes. Some of the buildings are still under construction. Like Kachidoki, Harumi is another town in the Tokyo Bay area that will continue changing significantly. The nearest train station is Kachidoki Station on the Toei Oedo Line, but it is well within walking distance of Ginza. Many residents of this town commute by bicycle or bus.
"With the athletes' village for the Tokyo Olympics scheduled to be constructed there, Harumi is expect to look completely different in several years from how it is now." (Mr. Tanabe)
Kachidoki
Building supplies will continue increasing in this promising area, located within walking distance of Ginza.
Kachidoki is located closer to central Tokyo than Harumi is. Cross the Kachidoki Bridge from the town, and you will reach Tsukiji. Despite its proximity to central Tokyo, Kachidoki remained undeveloped for many years prior to 2008, when a rush of constructions of high-rise apartment buildings commenced there, which is still ongoing. As mentioned above, the increase in the number of houses has attracted more commercial facilities, and more children can be seen in the town today.
"People line up in the round-the-clock supermarket even in the middle of the night. Many companies are interested in opening a shop in Kachidoki. Unfortunately, however, the number of shops is not increasing so much in the town due to space constraints." (Mr. Tanabe)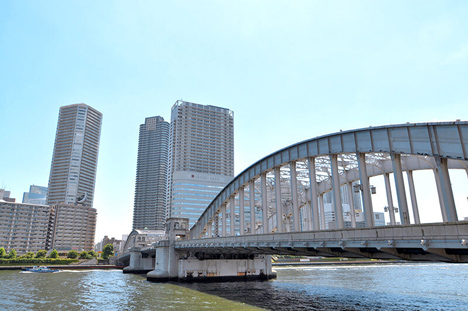 Cross the Kachidoki Bridge from Tsukiji and you will reach Kachidoki. More people have been crossing the bridge by bicycle recently, showing an increase in the number of residents in the town. (This photograph was taken in 2012.)
Tsukuda and Tsukishima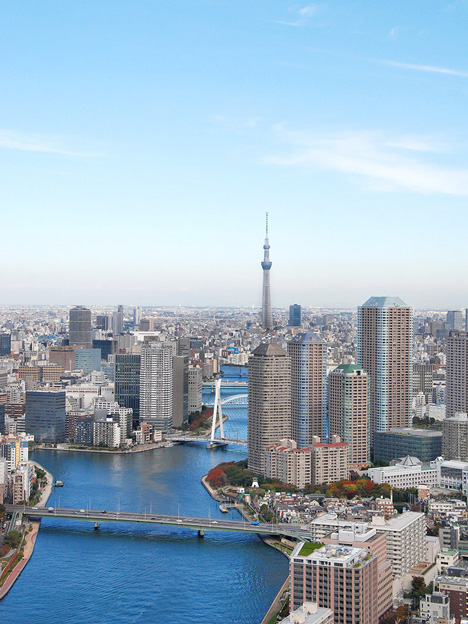 This is a view of Tsukuda and Tsukishima from Kachidoki. The coexistence of traditional streets and shrines with a high-rise tower near the city center is a rare sight. (This photograph was taken in 2012.)
The historical areas have remained popular for a long time.
While the Tokyo Bay area mainly consists of recently developed towns, only Tsukuda and Tsukishima clearly leave traces of shitamachi (traditional merchant and residential districts). Tokugawa Ieyasu allotted this place to the fishermen he had taken from Settsunokuni Tsukudamura (currently Tsukuda, Nishi-yodogawa-ku, Osaka-shi). In fact, Tsukuda is the origin of tsukudani, which is a traditional Japanese preserved food boiled in soy sauce. Subsequently, Tsukuda became the site of a plant of Ishikawajima-Harima Heavy Industries (now IHI Corporation) before the redevelopment in this town commenced around 1990.
The redevelopment also extended to Tsukishima, which was once the town of the plant workers, leading to the construction of a forest of high-rise apartment buildings around Tsukishima Station on the Tokyo Metro Yurakucho Line. And most of all, many people associate Tsukishima with monjayaki (thin, savory pancake with various fillings), which is by far the most well-known food among the good cheap eats in Japan. Today, Tsukishima is also a bustling tourist destination.
"Despite being located in the Tokyo Bay area, Tsukishima has retained its old alleys, shrines and festivals, enabling visitors to appreciate both its history and convenience. This rarity makes the town attractive. Tsukishima has remained popular since right after its development, and the prices of properties in the town also remain high." (Mr. Tanabe)
Shibaura
Highly regarded due to its location in Minato-ku and near Tamachi Station
Wangan area spans three different wards, or ku. Shinonome, Ariake and Toyosu are located in Koto-ku. Harumi, Tsukuda, Tsukishima and Kachidoki are in Chuo-ku, and Shibaura is in Minato-ku. Shibaura is very popular in terms of location. This is also because of its proximity to the Tamachi Station on the JR Yamanote Line. House prices in this area have risen continually in the last decade. They rose as much as those in central Tokyo did a few years ago, and have remained almost equal to those in central Tokyo in the last one or two years.
"Ten years have passed since the development of Shibaura Island. During that time, another high-rise apartment building was constructed in its neighborhood in 2015. The number of high-rise apartment buildings has not increased in Shibaura, however, so the existing properties remain as competitive as they were before. In other words, Shibaura Island dominates the area and remains very popular." (Mr. Tanabe)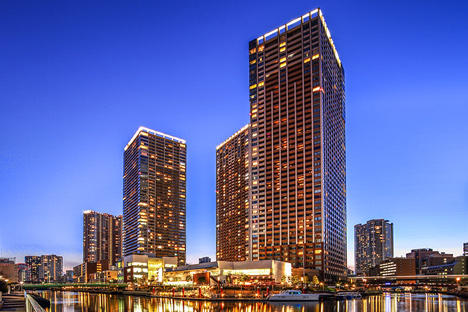 Following the improvement of the canal area, you can see people taking a walk while enjoying the night view around Shibaura Island. (This photograph was taken in 2017.)
So far, you have seen an outline of each of the towns. the Tokyo Bay area is changing continuously.
In Part 2, you will see the future plans and topics regarding the development in the Tokyo Bay area.
Hiroko Nakagawa
For more than two decades, Nakagawa has been involved in editing magazines, books and websites on living-related issues such as purchasing, leasing and building. Nakagawa has lived in Omotesando for many years and is keenly aware of the comfort of living in central Tokyo.
Nakagawa is the author of an All About Guidebook titled Sumiyasui Machierabi: Shutoken (Finding a livable town: Tokyo metropolitan area)