Exploring renovations to a luxury rental property.
The intent behind the newly updated Roppongi Green Terrace

Roppongi Green Terrace, which lies in a quiet residential neighborhood a block away from the noise of Roppongi, has undergone major renovation work to its common areas. How have developers sought to transform this beloved property that boasts many long-term tenants? We posed this question, and also asked about the difficulties in carrying out renovations with tenants still present.
Renovating property with an eye to the trends and growing popularity of the area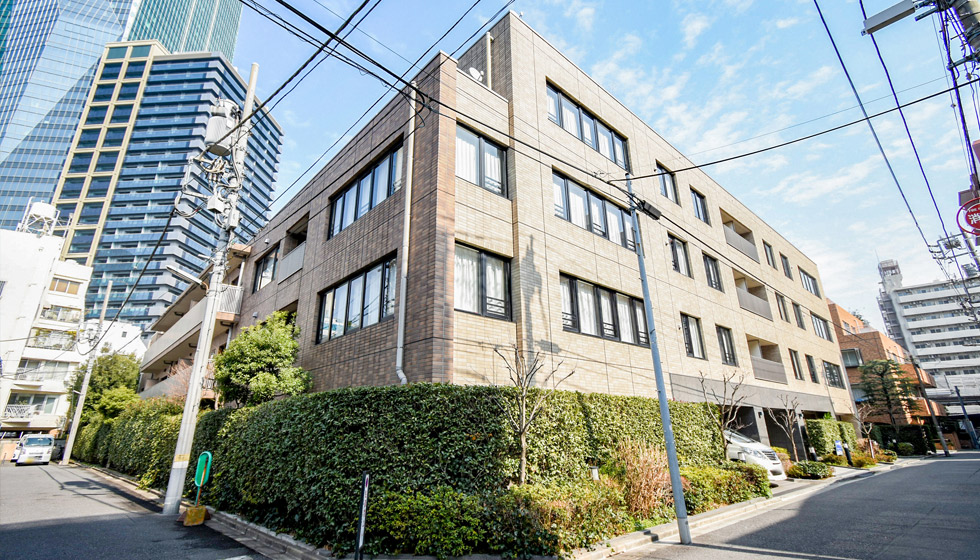 Roppongi Green Terrace
While Roppongi is known for its lively atmosphere, when it comes to living in the area, many people are looking for a calm environment, and since its completion Roppongi Green Terrace has continued to attract such people. Its many long-term residents are testament to this reputation.
"Roppongi Green Terrace was completed in 2002, which makes it 17 years old this year. It was designed and built by Kajima Corporation, and thanks to its solid skeleton structure and spacious units averaging over 170m2, it has maintained its value even with the passing of time. Unfortunately, however, trends in interiors and design are ever-changing. The existing interiors comprise bright tones with white keynotes and pop-like colors for extra effect, but looking at it now, it appears slightly dated. That's why the property's operating company Premier REIT Advisors and the PM company R.A. Asset Management joined forces to undertake substantial renovation work.
"This isn't limited to this property; we generally perform major renovations on the properties we own after about 12-15 years, but what sets this renovation apart was our aim, which was to actually increase its value. Back when the building was completed, beige and white interiors were in style, giving an overall bright and pale-colored impression. With the passing years, that doesn't fit with the profoundness of the exterior as much as it used to, and current trends favor finishes with woodier, calmer tones. That may partially explain why many prospective tenants come to inspect the property but end up not signing, and this bolstered the argument for major renovations," explains Yuuki Watanabe from the Operations Department, Investment Management Group at Premier REIT Advisors Co., Ltd.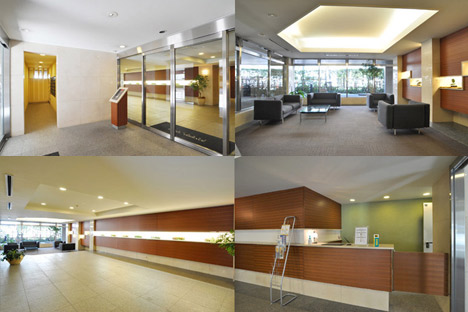 Common area before renewal
The renovations covered everything from the existing windbreak room to the front desk, lounge and other areas. Despite giving off the hotel-like warmth, the space also evokes a sense of light airiness. It was here that the renovation introduced a sense of profoundness and relaxation with wood finishings while also incorporating a resort feel in a nod to recent trend.
"The changes occurring to Roppongi itself were another factor in deciding to undertake this renovation. When the property was first built, Roppongi did not enjoy the same recognition as a residential area that it does today, and that has change significantly over the last dozen or so years. High-grade high-rise apartments have been constructed as part of redevelopment projects, boosting the residential stock of the area, and as a result, the number of competing properties has also increased.
"The other point is that Roppongi once made a strong impression as a busy downtown area, and in terms of its demand as a residential area and its image in terms of luxury residences, it had opened up a handy lead over areas like Azabu, but recently its popularity as a place to live has skyrocketed. Because more and more people are choosing Roppongi, our desire to have them choose this property was another factor in our decision to renovate." (Watanabe)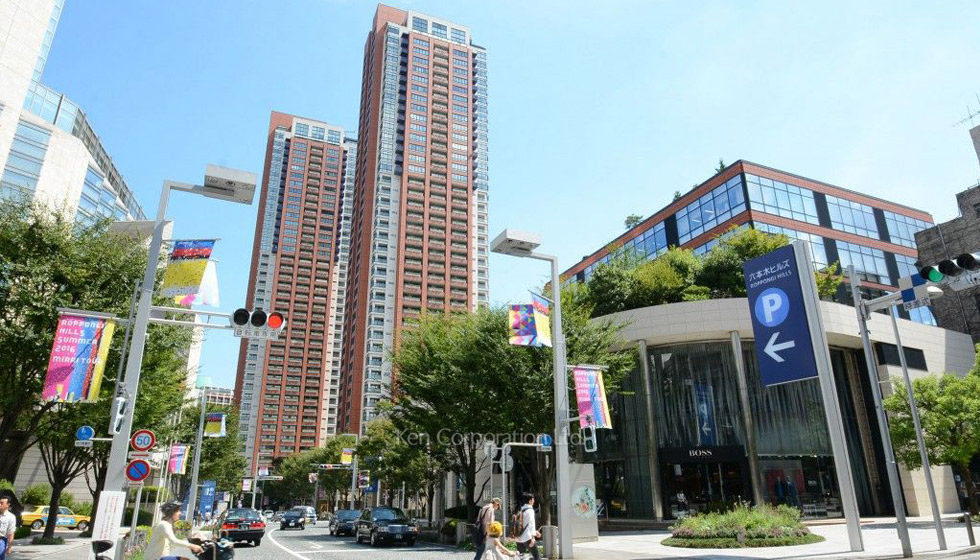 Roppongi (Keyakizaka)
Roppongi didn't previously give off a strong impression as a residential area. Today, it enjoys heightened recognition as a place to reside and live one's life, and an increasing number of people are proactively choosing Roppongi.
Renovation theme:the sense of profoundness with use of wooden tones materials in the relaxing color scheme
Then, in what theme the renovation was performed?
"For this renovation work we haven't made any changes to the layout, but almost all of the interior elements in view have been changed. To cater to the needs of people who want to be located in the city center but in a calmer low-rise atmosphere, we aimed to produce an interior that evokes status and comfort. The lounge of a resort hotel might be a close analogue. At 40%, the grounds have a high proportion of greenery, and in recognition of the property's "Green Terrace" name, we made extensive use of wooden tones throughout, and employed motifs of plants and vegetation to evoke images of nature as an accent." (Watanabe)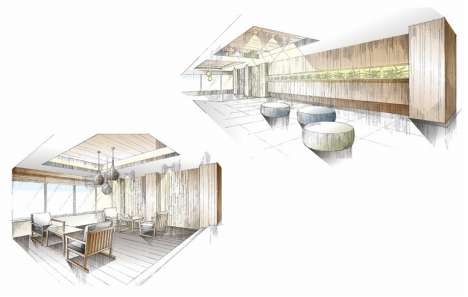 Image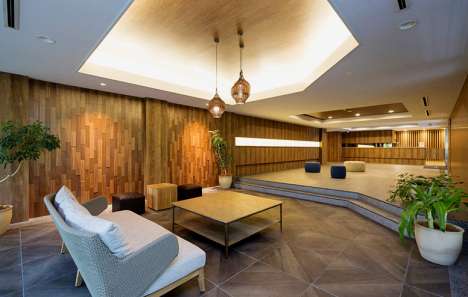 Lounge and hall after renovations
The theme is a resort mood, and presents the feeling of relaxation that one has returned home. The gently shaped pendant lights and indirect lighting of walls featuring plant motifs draw attention to the skillful use of light. The pendant lights are also LED units with integrated background audio, with showers of sounds floating down from the ceiling.
Hints of wa, Japanese harmony, are also offered here and there. The front of the entrance and rear of the front desk feature wooden lattices, while the side tables placed in the lounge also echo that aesthetic and underscore the gracious beauty of wa. This is in recognition of foreign residents, who account for roughly half of the tenants at the property. The same consideration was given to the plaster finishing on the walls, with the textures and shadows extoling the virtues of hand-crafted work.
Indirect lighting was also actively incorporated into the latest renovation. Recently it has also become popular for hotels to take down direct lights to give off a calmer appearance. This aspect was also given attention to create a space that facilitates a peaceful, relaxing mood.
At the same time, a sense of individuality that remains faithful to the property was also taken into account. The elevator lobby was previously carpeted in a bright solid color and was not very distinctive. It has now been re-upholstered into a neater space with overall chic tones. Wooden blinds have also been installed in the lobby and elevator lobbies on each floor, completing the resort-like mood and allowing the individuality of the common areas to shine.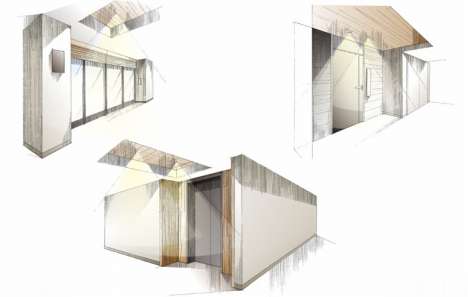 Image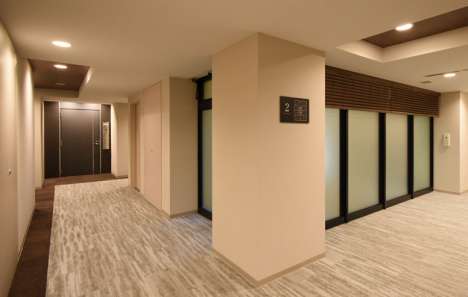 Common hallway after renovation
The area around the entrance to each unit. Overall chic color schemes are used to create high-grade yet understated spaces. The wall surfaces on the side of the entrance to each unit are accented with stone-like panels to provide visual variation, as well as to protect the areas around entrances which are prone to scratching.
Attention to detail in many unseen areas as well
Areas that remain out of sight have also gotten a makeover. Recently a growing number of properties place an emphasis on energy-saving performance, and this property also used the latest renovations as an opportunity to go green with the use of materials and equipment that are energy efficient and have a minimal environmental impact. The property also earned three stars for Green Building Certification awarded by the Development Bank of Japan for real estate properties that consider the environment and society.
The DBJ Green Building Certification has gained increasing prominence as one of the indicators investors use when judging a property, and it is mainly office buildings that currently hold the certification. There are still few examples of an existing property, not to mention a residential property that is several years old, actively working to earn this certification.
The assessment system evaluates properties on a range of items including disaster prevention and community considerations, and enhancements on the non-physical side can also work in a property's favor. Given this, moving forward the property is considering further additions to the current range of concierge services it offers in order to further boost tenant satisfaction.
Moreover, while the latest renovation work only involved the common areas, tenant units will also be upgraded each time a tenant moves out, and with the installation of water-saving toilets and other innovations the overall environmental performance of the building will be improved a little at a time, transforming the entire building into an environmentally-friendly residence.
Expertise are required to perform renovations to a property with current tenants
The latest renovations took place over about three months starting in July 2019, but carrying out the work while tenants are still at the property requires a certain degree of know-how. As the property included many families with small children, care needed to be taken to prevent children from touching freshly painted walls. The construction schedule was also updated as needed, safety cones were placed on-site to warn residents, and important matters such as construction schedule were explained to tenants in detail over the phone and through letters in both Japanese and English. As a result, the construction work was completed without incident. As some residents have sensitive reactions to noise and odors, extreme care is required.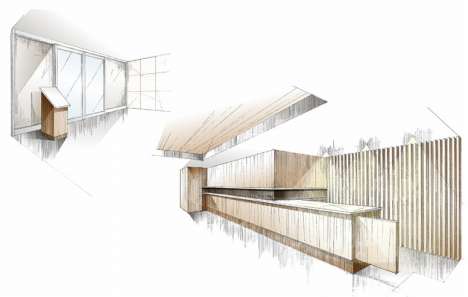 Image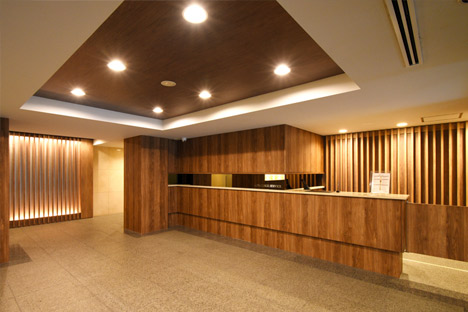 Entrance hall after renovation
The wooden textures and high-grade feel are a consistent feature throughout. In particular, the ceiling above the concierge desk reinforces the woodgrain tones to bolster this impression. The hints of Japanese wa produced by the vertical lattice are another key point.
"Updating rental properties as needed while paying attention to market changes and trends, such as with this kind of renovation work, is something needed to maintain and improve a property's value, and right now with a healthy market and relative ease in securing budgets for improvement work, it was a good time to carry out renovations.
"While rental prices have already risen, we think the demand and rents in Roppongi still have room for growth. Particularly for properties such as this one where some years have passed since they were built and their competitiveness has started to slip, it is very important to bring back their original potential and catch up with the market level. We implemented this latest renovation work with that purpose and intent clearly in our minds." (Watanabe)
Extra Note: Site Report
Characteristic rich textures that don't come across in the photos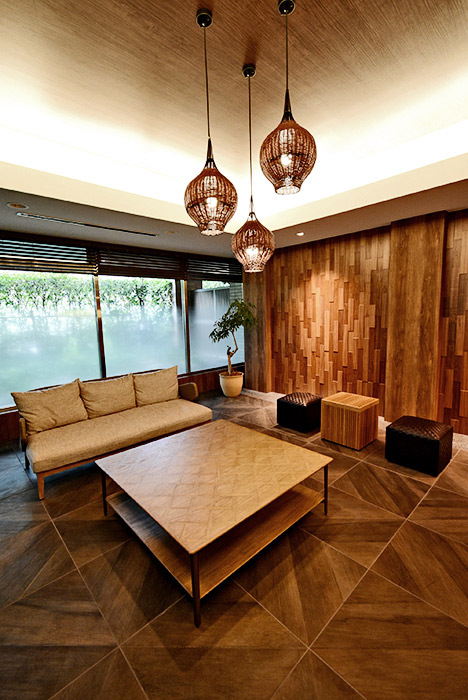 Lounge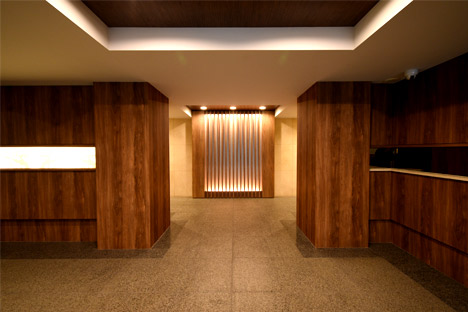 Entrance
We visited the property after the renovation work was complete. This is a quiet neighborhood primarily composed of low-rise buildings away from the noise of Roppongi Crossing. As We pass through the entrance while admiring the shining silver residence sign placed on a chic stone surface, We see the front desk to the right, the residents' entrance in front, and the hall and lounge spread out to the left, and it is this space that looks the most different.
Compared with previous visits, from the moment We entered the renovated space We was struck by the warmth and softness. Extensive use of wood in the space makes optimal use of the shadows cast by the indirect lighting to evoke a strong feeling of depth and perspective.
The lounge beyond the hall has received an especially big upgrade. While it previously resembled the lobby of an office building, the newly renovated space features pendant lights reminiscent of bamboo baskets, recreating the charm of a resort hotel. Complete with low-profile sofas, it is now an exceptionally calming space. In the future work will also be done on the greenery in the lounge to make it even more relaxing and accentuate the sense of nature.
Another interesting aspect is that the pendant lights in the lounge are equipped with speakers. There used to be speakers installed on a wall shelf, but with advances in technology, objects disappear, giving greater freedom to the design of interior spaces. Perhaps it is the sense of sounds floating down from above like a shower, but the sound could be easily heard from every corner even though the volume was not set that high.
The entrance to the residential area employs the same wooden lattice as the front desk, but when We actually went over there, We also experienced the three-dimensional texture of the wall behind it. The small protrusions and depressions on its surface reflect the light, producing a reserved yet glimmering twinkle. While it's difficult to convey this through still photographs, the human eyes are sensitive to picking up on these effects. Similarly, the plaster finishing on the walls of the hallways features a texture that you have to see in-person to truly appreciate.
Unlike the previous solid grey color, the carpet laid in the hallways now features abstract patterns in brown and beige tones. Different color schemes are employed on the first floor and higher floors, with the first floor emphasizing chicness, and upper floors favoring a brighter mood. Darker colored carpeting runs alongside the walls as an accent, lending the space more variety.
Improved car and bicycle parking areas are now brighter and more user-friendly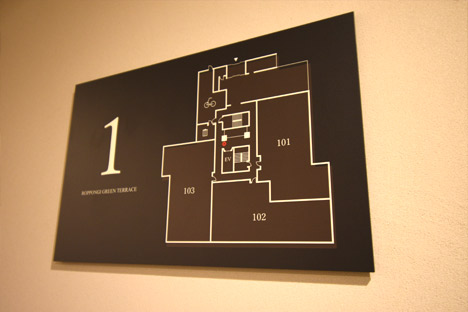 Signage in common area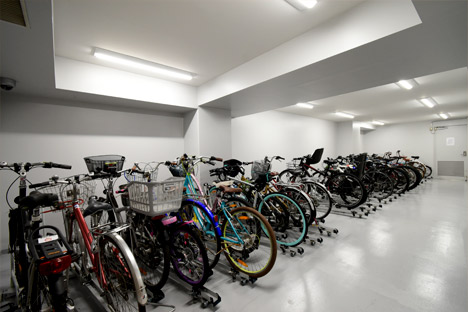 Bicycle parking area
While they are not very prominent locations, the elevator lobby leading to the car parking area and the bicycle parking area were also renovated. The elevator lobby was re-upholstered with brightly-colored floor covering, and the bicycle parking area got new cycle racks to create a more orderly space.
Incidentally the property's car parking facility is located close to the residential units and has been praised for its ease of use. In the case of large properties, parking facilities are often located far away, while some smaller properties may have no parking spaces at all. For prospective tenants who use their vehicles daily, the distance between their unit and car may be one of the points they check.
Additionally, while it is standard for a car parking facility to be inside the security line of a property, a bicycle parking area that also prevents entry without a key is a welcome feature. Recently, those interested in high-priced road bicycles are on the increase, and those kinds of people may pay attention to bicycle parking security when choosing a residence.
Hiroko Nakagawa
For more than two decades, Nakagawa has been involved in editing magazines, books and websites on living-related issues such as purchasing, leasing and building. Nakagawa has lived in Omotesando for many years, and is keenly aware of the comfort of living in central Tokyo.
Nakagawa is the author of an All About Guidebook titled Sumiyasui Machierabi: Shutoken (Finding a livable town: Tokyo metropolitan area).