One Project after Another in a Rare Location! Zooming In on the La Tour Series

One after the other, buildings in the Sumitomo Realty & Development luxury apartment building La Tour Series are being completed in rare locations such as the Shibuya area, where there has been little luxury rental housing despite growing demand, and Higashiyama in Kyoto, which feels especially high grade in the already popular Kyoto. We went and had a look at the vistas, quality spaces, and services that only such rare locations can offer.
This transforms our image of Shibuya!? Two La Tour buildings in Jinnan and Udagawa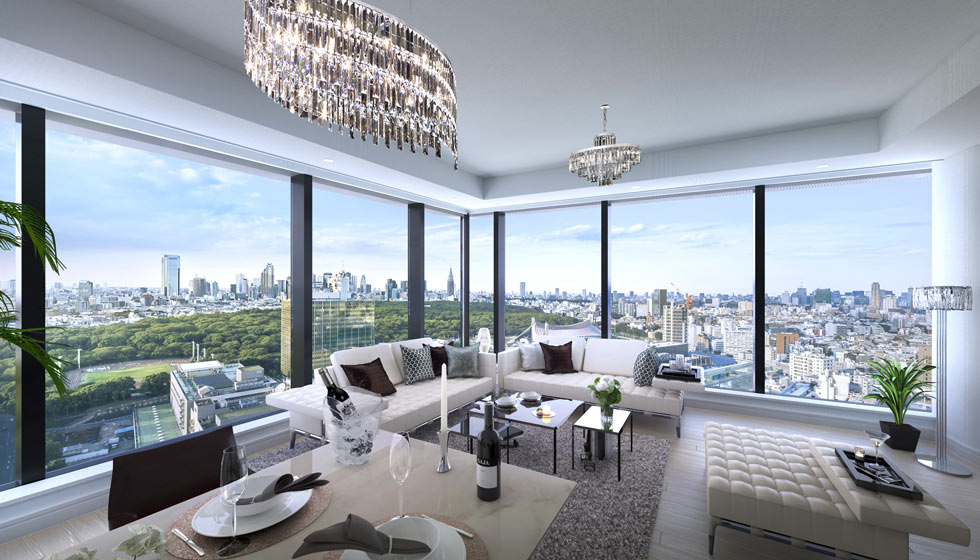 La Tour Shibuya Udagawa
Conceptual drawing of completed two-bedroom B-type apartment with 125 m² occupied area on the 18th floor, facing Yoyogi Park. A panoramic view extends outside the 43.5 m² living room. The bedrooms are 15.0 m² and 19.8 m², and it comes with a bathroom with a view and a spacious bath for relaxation.
Private showings of the two completed properties La Tour Shibuya Jinnan and La Tour Shibuya Udagawa in Jinnan and Udagawa in central Shibuya were held in February 2019. As Shibuya is undergoing the revamping of the century, there has been an accumulation of IT companies and an increase in people wanting to live close to work, but this has been an area unable to provide housing due to the geographical restrictions of being a basin. The high demand is perhaps evident from how three buildings and about 400 apartments, including in Daikanyama, belonging to Sumitomo Realty & Development have had full occupancy for a long time. It is no surprise that the properties appearing this spring are gathering attention.
A view to boast about from the high ground of
La Tour Shibuya Jinnan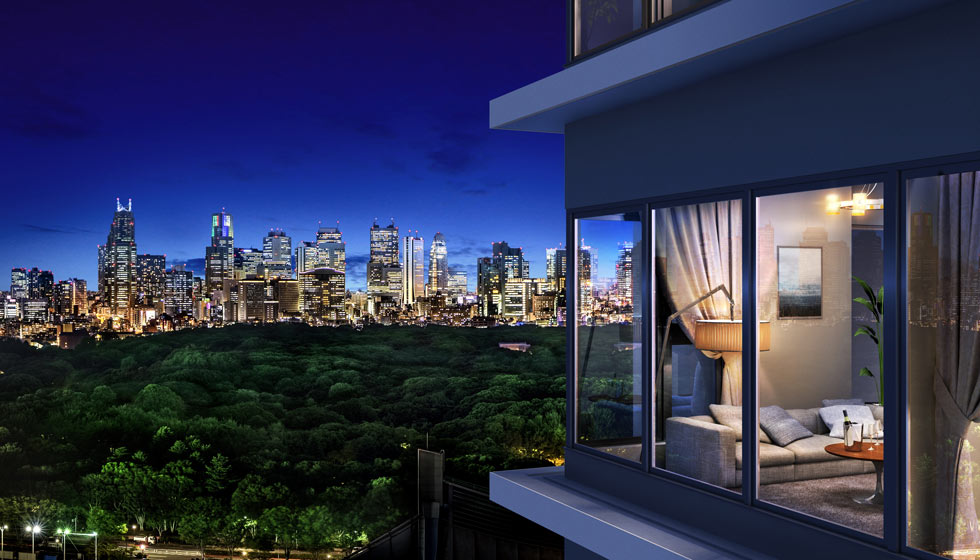 La Tour Shibuya Jinnan
All apartments are corner apartments, and a near-180° view is available thanks to the corner glass. The 1st floor has a maximum of three apartments but often just two, allowing for a strong sense of independence. The daytime views are naturally great, but the night views are equally fascinating. Choosing either the side toward the Shinjuku high-rises or that toward the Shibuya redevelopment area, this will definitely change your perspective.
Let's take a look at the actual properties. Firstly, there's the La Tour Shibuya Jinnan, standing diagonally before the NHK that everybody associates with Shibuya. It seems that a six-floor rental apartment building stood here before, but it was taken down because of concerns about earthquake resistance and other issues, and reborn as a stylish 22-floor high-rise that stands out from its surroundings.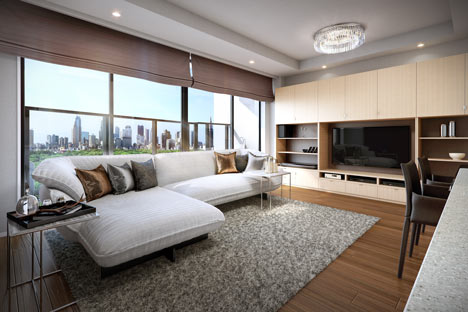 La Tour Shibuya Jinnan
There are ten types of apartments with floor areas of about 75 m² to about 130 m² on the top 22nd floor. There are variations even when the area is the same, allowing you to choose depending on lifestyle and preferences
The private showing was held on the 22nd floor, and what amazed almost everyone entering the apartment was the view. The building stands on high ground on top of a hill going up from the bottom land around Shibuya Station, and on top of that it is a high floor. You can see the NHK and the National Stadium beneath you from the north-facing 130-G-type living and dining room, and next to them extend Yoyogi Park and beyond them the Shinjuku high-rises. From the south-facing 130-H-type you have a full view of the changing surroundings of Shibuya Station. Those who enjoy the changes of nature might go for the north-facing apartment, while those who want to see the day-by-day transformation of Shibuya might go for the south-facing one. The 130-G-type also has a bathroom with a view, so choosing which one is a pleasant dilemma.
Both the apartments on the top floor are two bedrooms with an occupied area of about 130 m². They are special units with a ceiling height of 3.1 m. Most of the other apartments are also two bedrooms with occupied areas starting from around 75 m², with variations depending on floor and size, so you can pick the one that suits your lifestyle.
La Tour Shibuya Jinnan panorama video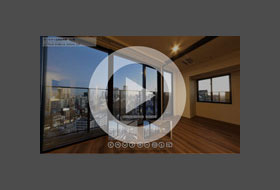 South-facing 75-Fh-type
A two-bedroom 75-Fh-type apartment with an occupied area of 73.68 m² on the 21st floor, facing Shibuya to the south. By the 21.5 m² oblong living room is an 8.6 m² bedroom, and beyond that a 14.4 m² master bedroom, while the kitchen is stand-alone.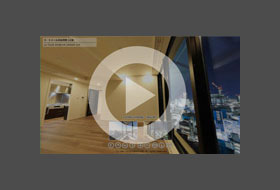 West-facing 90-Dh-type
A two-bedroom 90-Dh-type apartment with an occupied area of 90.70 m² on the 21st floor, facing Yoyogi Park and the NHK to the west. In addition to the 24.8 m² living room with corner glass, there is a 9.1 m² and a 16.5 m² bedroom. The spacious corridor has a counter table.
A gateway to another world in the urban center through the roof garden at
La Tour Shibuya Udagawa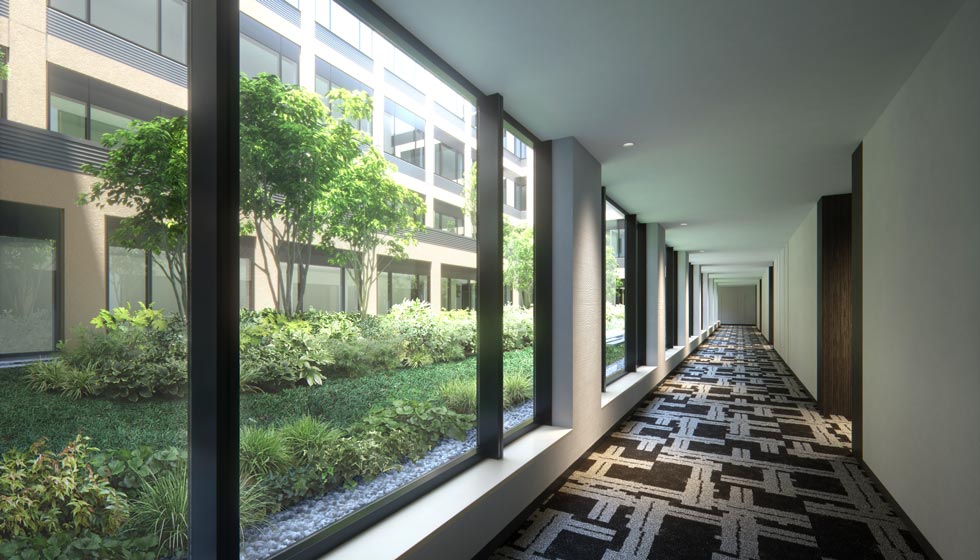 La Tour Shibuya Udagawa
The common-use corridor on the 18th floor gives a you a view of the greenery of the roof garden. The rooftop greening is eco-friendly and should yield a restful space.
The other property is the La Tour Shibuya Udagawa, which is not far from Tokyu Hands and is a 21-floor tower standing where there used to be old studios and similar buildings. The first 17 floors will be used as the main office of an IT company, so the residential part starts on the 18th floor. Compared to Jinnan, the location is busier, but the impression when descending the elevator hall on the 18th floor will make you forget about the hustle and bustle outside. There's a roof garden in the courtyard. The garden is demarcated on all sides by inner corridors in a square configuration with the apartments outside of that, so whenever you leave and return to the apartment, you will definitely get a glimpse of the green. There's a lot of green elsewhere on the grounds as well, so it has a general atmosphere of a hideaway secluded in the city center.
There's a rich range of apartments, from 54.31 m² one-bedrooms to two-bedrooms of a bit less than 130 m². They're suited for a variety of uses, for single or family occupancy, or as a second house. There is great variety with the interiors, with view baths and island kitchens, and we're glad to see many open rooms with corner glass.
Both properties are equipped with 24-hour security managed by humans as well as machines, including a 24-hour concierge service, in addition to emergency generators, so a dimension of safety is added to your busy urban life. The conveniences include standard items like dishwashers with dryer, kitchen waste disposers, ceiling cassette air-conditioners, and garbage collection points on each floor, but Jinnan also has bathroom heating dryers with mist sauna.
La Tour Shibuya Udagawa panorama video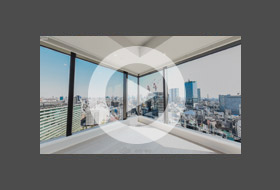 Northeast-facing 125-E-type
A two-bedroom 125-E-type apartment with an occupied area of 124.05 m² on the 18th floor. An impressive panorama extends outside the corner glass of the 58.0 m² LDK. There's also a 20.7 m² and a 15.2 m² bedroom. Island kitchen.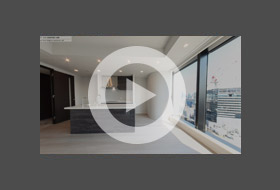 Southeast-facing 100-H-type
A two-bedroom 100-H-type apartment with an occupied area of 100.62 m² on the 18th floor. In addition to the 38.0 m² LDK facing Shibuya Station, there is an 18.8 m² and a 13.2 m² bedroom. Island kitchen.
For the first time outside the capital region. All eyes on La Tour Kyoto Higashiyama
La Tour Kyoto Higashiyama is possibly even rare than the two Shibuya buildings. It's a property located in the Higashiyama area, known as a mansion district and one of the areas in Kyoto nearest Nanzenji Temple and Heian Shrine. This is the first luxury rental housing outside the capital region, but it appears this was long-awaited among some residents of the La Tour properties in Tokyo, so that many will rent second houses here. Considering rising hotel prices and difficulties making reservations, especially for several nights, it is understandable that this option is easier and more comfortable than staying at a hotel if you visit Kyoto two or thrice times a month for work or sightseeing.
The building immediately stands out from the rest as a sense of refinement is emitted by the low-key color tone harmonizing with the surroundings and the added elements of modern Japanese taste. The entrance is a two-floor atrium, and the bamboo seen from the front adds a feeling of Kyoto. Finding a property with a 24-hour concierge at the reception is still uncommon in Kyoto, so this further adds to the rarity.
There's also an intentional absence of delivery lockers as any deliveries while you're out will be received by the concierge and their arrival announced on an electric display by the entrance. It's clear that they don't want to rely on machines, but value human service.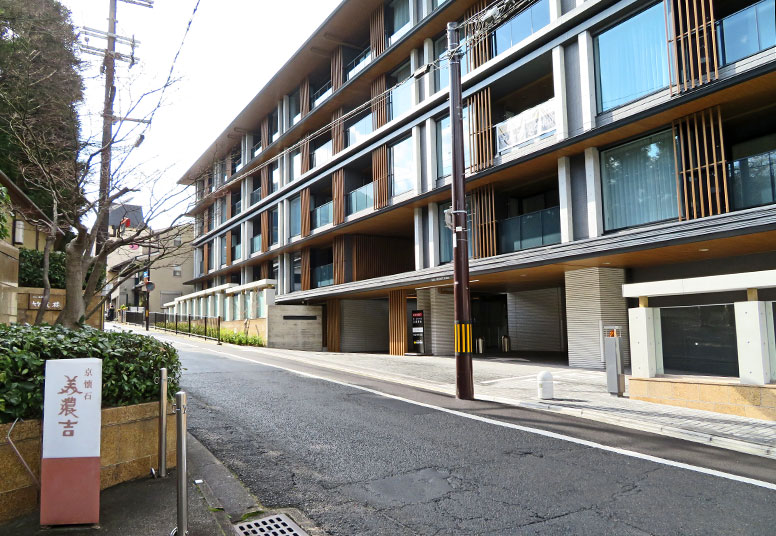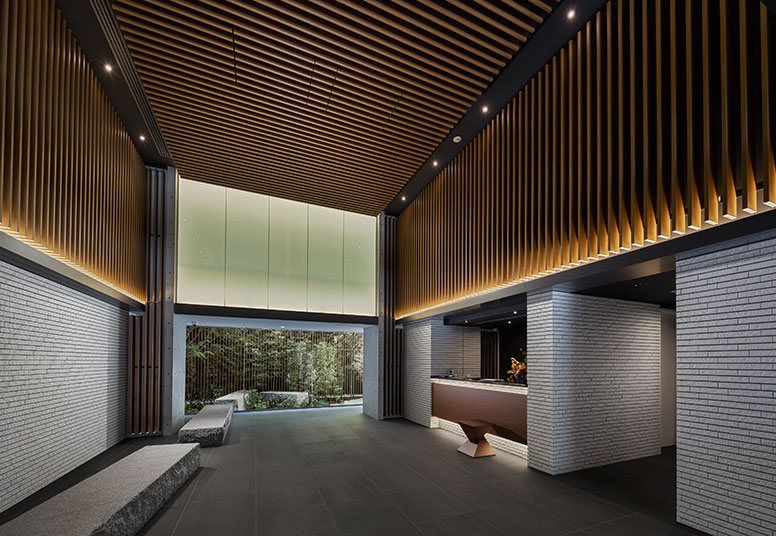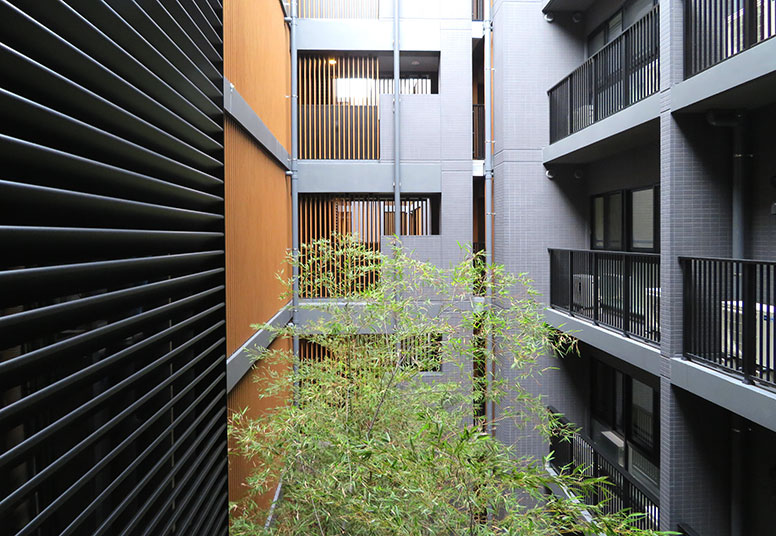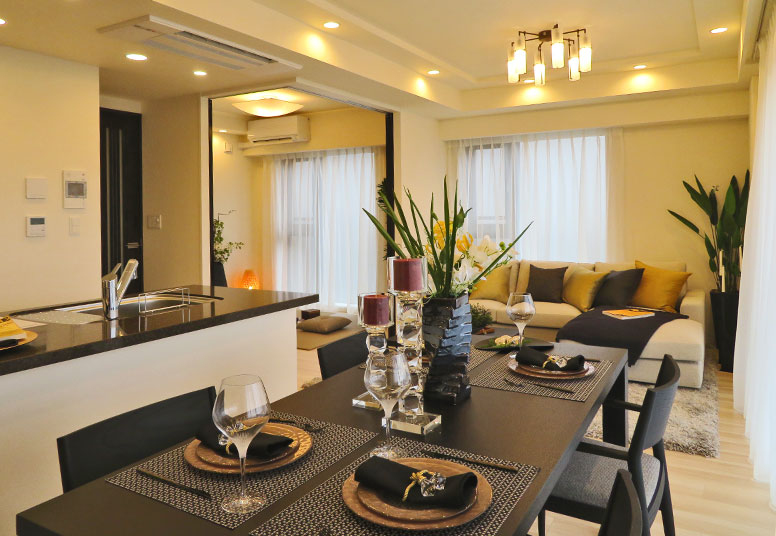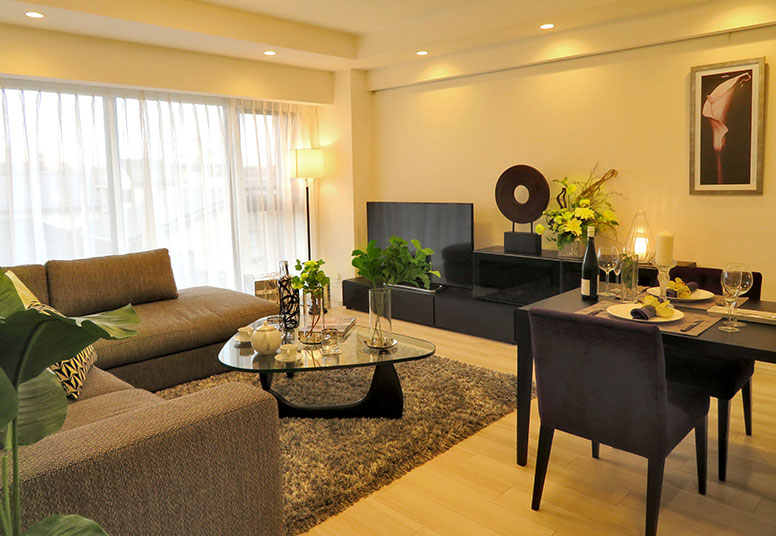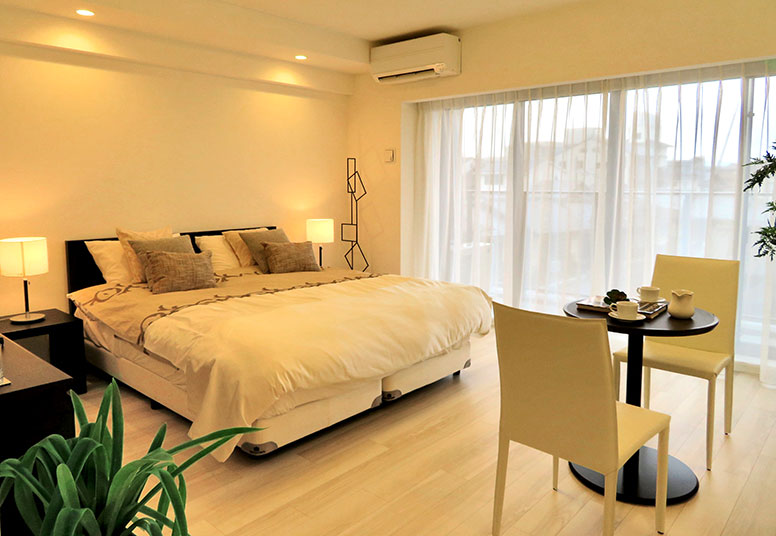 The apartments face east and west on either side of a courtyard. You can see the Gozan no okuribi, a symbol of Kyoto in summer from apartments on the 5th floor or higher on the west side that faces the public road. By contrast, the east is further in and is characterized by tranquility and a sense of independence. Compared to the apartments on the west side that are mostly in the range of 75–110 m², the apartments here are larger in the range of 95–130 m². Moreover, because buildings in Kyoto have strict height restrictions, most properties have ceiling heights of 2.3 m or 2.4 m, but it's 2.5 m here. The sense of openness is very different.
Another feature you won't find with other properties is the special partnership with the traditional Japanese restaurant Minokichi across the street, where getting a reservation is difficult. Apparently they offer private catering and can make lunchboxes—something they normally don't do—if you reserve in advance. That's service you wouldn't get without this proximity.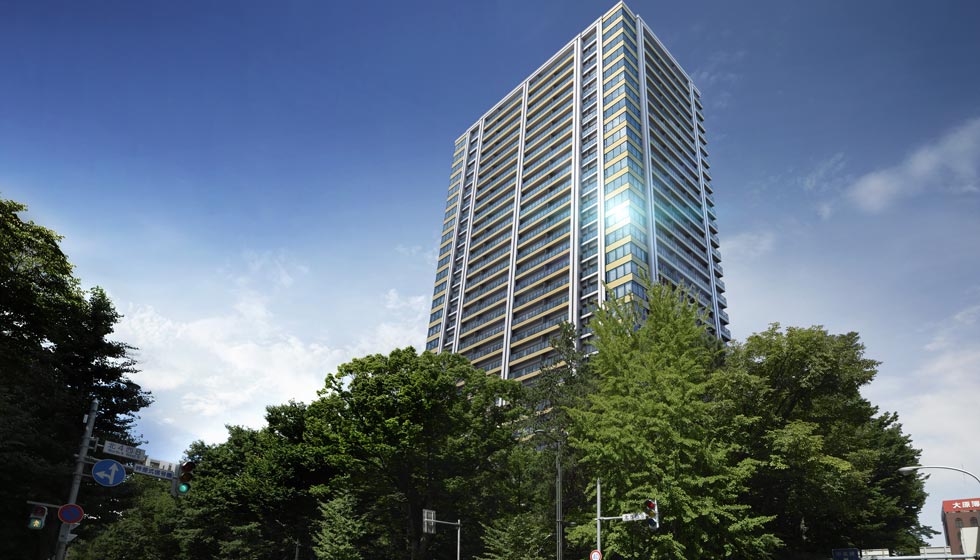 La Tour Sapporo Ito Garden
New residents have been moving into La Tour Sapporo Ito Garden since March. It's ideally located 8 minutes from Sapporo Station and opposite Hokkaido University Botanical Gardens, and special services are provided by the adjacent Keio Plaza Hotel Sapporo and Sapporo Marui Mitsukoshi.
We have now taken a look at three new additions to the La Tour Series. Sumitomo Realty & Development manages about 5,000 apartments of expensive rental housing mainly in the capital region. Of those, about 70% are the 3,400 or so apartments in 25 buildings in the La Tour Series introduced here. In addition to the three buildings in rare locations shown above, the luxury rental housing La Tour Sapporo Ito Garden was completed in February 2019, further enriching the range of options.
La Tour Sapporo Ito Garden

, a 30-floor tower apartment building with 332 apartments, 8 minutes from Sapporo Station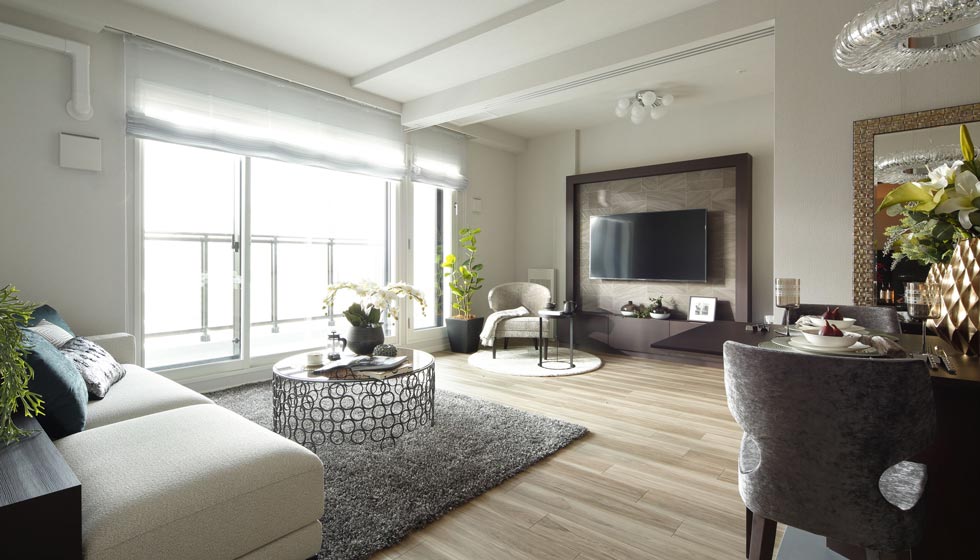 La Tour Sapporo Ito Garden: C-type 3LDK with 80.42 m² on the 8th floor.
An 8-minute walk west from Sapporo Station. La Tour Sapporo Ito Garden is located on a street lined by department stores and hotels. On the opposite side is the extensive Hokkaido University Botanical Gardens, and the building itself is immersed in deep greenery that has long been a popular part of the area. This is why it feels like the air changes when you come walking from the station and reach the neighboring Keio Plaza Hotel Sapporo. Heading into the building from the spacious entranceway, you find an entrance with a two-floor atrium. There's also a 24-hour concierge reception available 365 days a year, a rarity in Sapporo.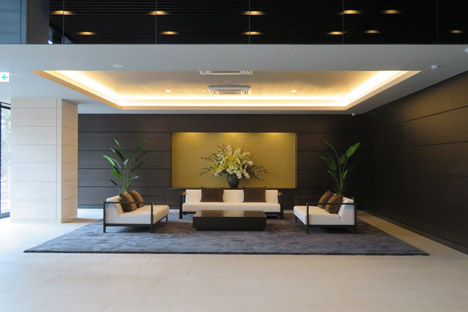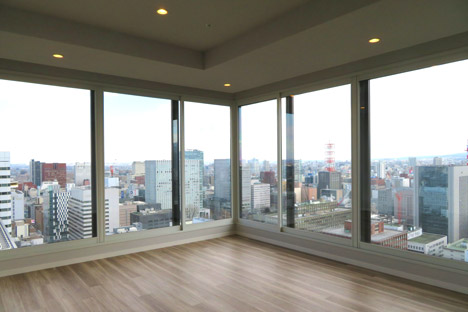 The apartments are 2LDKs and 3LDKs in the range of around 60–156 m², with rents from 160,000 to 850,000 yen. The average monthly rent is 250,000 yen. From the living-room window in the west-facing 3LDK C-type show apartment with 80.42 m² on the 8th floor, you will feel relaxed as you take in the buildings of central Sapporo beyond the nearby greenery, as well as Okurayama Ski Jump Stadium and the sprawling Teine Mountains in the distance. You can also see the railway directly below, a delightful view for the enthusiast.
The view changes depending on floor and direction, and while the higher floors are obviously popular, the lower floors tend to be picked over the middle floors, and the rents are higher there. The reason is the greenery on the grounds and in the botanical garden. It's become famous for its forest-like feel.
Another feature is the service for residents provided through a partnership with Keio Plaza Hotel Sapporo directly opposite. Toyota Rent-A-Lease Shin-Sapporo is located inside the hotel and provides a simple car-share service exclusively for residents, allowing you to easily use their cars without the need for membership registration or paying a monthly fee. When using the rental cars, these will be delivered right to the porch, and you can sign the agreement and return the keys at the entrance. The hotel also delivers hors d'oeuvres and provides a breakfast buffet at about the same rate as for hotel guests, and you get a discount at the fitness club. You also get special offers at the nearby wine shop Enoteca and Sapporo Marui Mitsukoshi (*Each service is subject to detailed conditions).
"At present, about 70% of our tenants are from Hokkaido, while the rest are regular visitors to Hokkaido on business or leisure. The car-rental and breakfast-buffet services are especially popular among those using their apartments as second houses instead of hotels, who might prefer not to own a car or deal with the need to prepare breakfast." (Comment from the Housing Sales Department of Sumitomo Realty & Development)
The building is also praised for its disaster-prevention measures, including the vibration control structure, the emergency generators that can power the emergency elevators and water pumps for about 48 hours, the various items of disaster prevention equipment, and water supply measures. It's also picked by executive-level employees transferring to Sapporo from a corporate BCP perspective. Another deciding factor is that it's walking distance from the office.
When you actually go there, a major appeal is as expected the greenery so close at hand. Unfortunately, our visit was before the cherry blossom season, so we can only imagine what it's like, but the scenery must be absolutely stunning during the seasons of cherry blossoms, fresh verdure, and fall colors. When it comes to location, it's easy to focus exclusively on convenience, but La Tour Sapporo Ito Garden is the kind of housing that teaches us that some appeals are greater still.
Hiroko Nakagawa
For more than two decades, Nakagawa has been involved in editing magazines, books and websites on living-related issues such as purchasing, leasing and building. Nakagawa has lived in Omotesando for many years, and is keenly aware of the comfort of living in central Tokyo.
Nakagawa is the author of an All About Guidebook titled Sumiyasui Machierabi: Shutoken (Finding a livable town: Tokyo metropolitan area).