In-depth report of Tokyo's best serviced apartment by Mori Building

If you move to an unfamiliar country, you may wish to pay attention to reassurance in addition to convenience and safety, which are important in the case of choosing permanent housing. What should you choose in Japan? We recommend the serviced apartments that can be found in Roppongi and many other locations in Minato-ku in central Tokyo. Take a closer look at their advantages.
The basic rule when choosing is to think about the service details
In Japan, serviced apartments are not a common form of housing. Many apartments are advertised as serviced apartments, although they are merely furnished. If you are seeking support that will provide you with reassurance, choose a property that provides concierge services as well.
What services are considered favorable in terms of those available from serviced apartments? Let us take Mori Building Co., Ltd., for example. It operates four serviced apartment properties in Minato-ku. Ever since it launched its first serviced apartments in ARK Hills in 1986, it has been constantly supplying serviced apartments and therefore has unrivalled expertise. Although a large number of serviced apartments that provide services have been built in Japan, only a very limited number of developers continue to supply high quality services.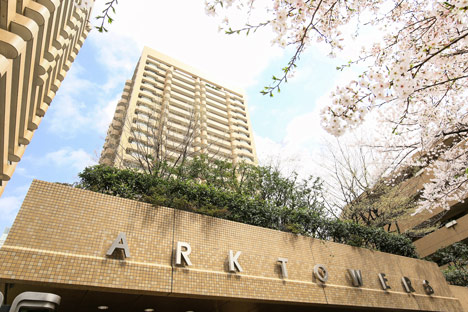 ARK Towers
It is situated in a location with a long history. Its appeal is its calmness. The gorgeous view during the cherry blossom season deserves special mention. A range of events take place in Karajan Place on the premises, such as markets selling fresh vegetables. If you love music, you will be delighted with Suntory Hall.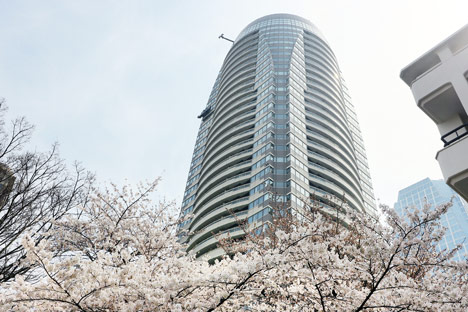 Atago Green Hills Forest Tower
It is characterized by a relaxed atmosphere in which the greenery-rich view of Seishoji Temple can be enjoyed. The night view of Tokyo Tower and the surroundings from the swimming pool and the gym is spectacular. Since Jikei University Hospital is just across the road, this property is ideal for those who are seeking reassurance.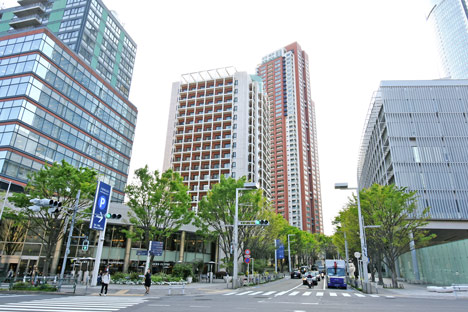 Roppongi Hills Residence D
Its location is ideal for thoroughly enjoying the cutting edge of Tokyo. You can take advantage of a cinema complex, museums, galleries, hotels and several brand boutiques and restaurants as if they were in your own backyard. There are a large number of events. You can enjoy the attractions of Roppongi Hills.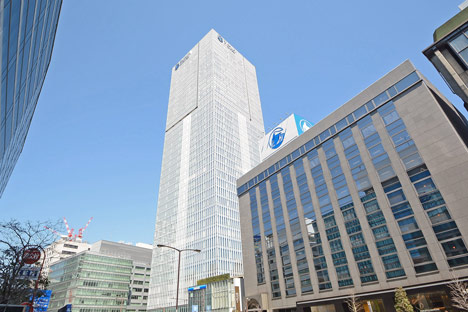 Prudential Tower Residences
The 26th and higher floors of the building are designed for residential use. There are fantastic views from all the units. The luxury of enjoying the view of the vegetation around the Imperial Palace and Togu Palace is unique to the very center of Tokyo. It is not necessary to mention its convenience in terms of transport and life.
Mori Building's services incorporate careful considerations based on years of experience. For example, it takes photos of the occupants after the necessary procedures are completed on the day of their entry. This is not only for security purposes, but also for sharing information on the new occupants among all the concierge staff. They greet the occupants when they go out and return, even late at night or early in the morning. This provides the occupants with the feeling that they are being taken care of.
Particularly impressive is the fact that when you pass by the concierge desk after asking how to reach the rooftop garden, a different concierge from the one you asked earlier speaks to you, asking whether you were able to find the place. It is always possible to just say hello even if they do not remember the face, but it is by no means easy to share the questions asked by the occupants. The staff say that they will of course refrain from talking to occupants who look busy. Their services are considerate, and they keep an appropriate distance.
At the concierge desk of the building, there are bilingual personnel on duty 24 hours a day. If you have a question, you can ask it at any time. Intercoms in all the units are connected to the desk so that you may ask questions while you are there. This is reassuring in a country where your language is not widely spoken.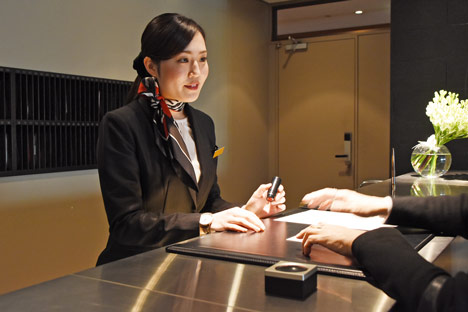 Concierge
The concierge staff share information on the occupants to provide services matched with the wishes of the individual occupants.
Health consultation rooms and spas for keeping physically fit
The health consultation rooms of Roppongi Hills and Atago Green Hills are Mori Building's unique service that is significant in helping you to live without anxiety. In Japan, there are more hospitals and clinics with English language services and more international hospitals for foreigners than before. Some local governments regularly hold consultations for people from overseas. An environment that provides non-Japanese people with easy access to medical treatment and advice is being developed. Medical support services for foreigners such as interpreting services at the time of consulting medical doctors are gradually increasing. Even so, in reality, they cannot obtain medical services as easily as they can in their home countries.
* The column at the end of this article provides some health advice from medical doctors working in the health consultation rooms for those coming to Japan for the first time. You are encouraged to read it as well.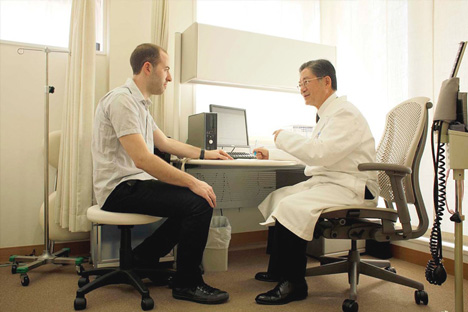 Health Consultation Room
It is trusted by occupants as a readily available home doctor service and as an emergency health service. The absence of language barriers is also an advantage.
In a situation like this, the health consultation rooms allow you to immediately seek advice from medical doctors and nurses that you can call on at any time as an extension of the residential service. Bilingual medical doctors and nurses are stationed in the rooms and are available for consultations on a 24/7 basis. The nurses are not merely interpreters, but are officially licensed. They will therefore provide you with appropriate advice in English suited to your symptoms or health concerns. This provides reassurance to families with children and occupants with illnesses.
Another health service is the spa equipped with a swimming pool, a gym and a studio, which is provided in each of Mori Building's serviced apartment buildings(note: Prudential Tower has only a gym and a studio). The Roppongi Hills Spa is open from half past six in the morning. After exercising, you can enjoy a buffet-style breakfast. At Atago Green Hills Forest Tower and ARK Towers, room service is also available. The spa offers low-calorie dishes that are elaborately devised by dedicated chefs. They will be beneficial if you are conscious about your health. Of course, these facilities are also available in the English language.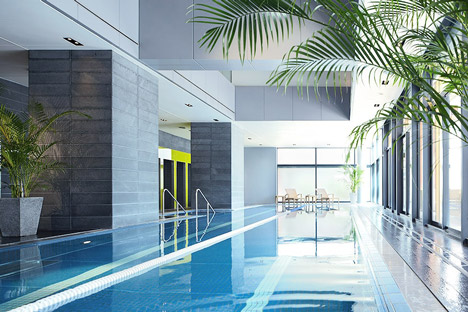 Hills Spa
There is a large deck beside a swimming pool with two 20-meter lanes (on the right-hand side of the photo). After swimming, you can cool off in a natural breeze.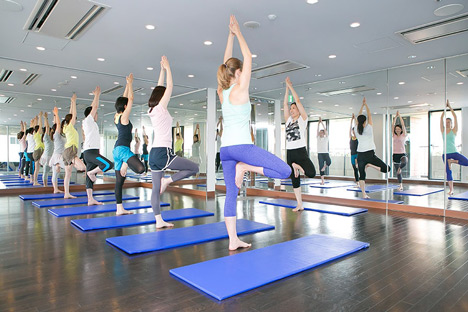 Hills Spa
Both the studio and the gym are spacious. The bathroom is equipped with toiletry items, cosmetic items, machines and other equipment. They are accessible solely to occupants of the serviced apartments and other limited members. As a result, you will never be annoyed by congestion.
It is not good for your health to feel isolated in a place that is unfamiliar to you. Mori Building's serviced apartment and rental residential properties organize events that are open solely to occupants. They will provide you with opportunities for making new friends in a place that is new to you. They are not merely opportunities for developing human relationships, but they also serve as opportunities for interacting with different cultures. You are therefore encouraged to take advantage of them. Other services exclusively for occupants include a program that entitles you to special discounts and services at many different stores and facilities.
A combination between locational convenience in the heart of the city
and the surprising richness of green leaves
We will now shift our attention from reassurance to other aspects of convenience and safety. With respect to convenience, all four serviced apartment buildings are located in Central Tokyo. Public transport stations are scattered throughout the areas within several minutes' walk. Airport shuttle bus services to and from Narita and other airports are available at nearby hotels. They provide easy transport to and from the airports without the need to change.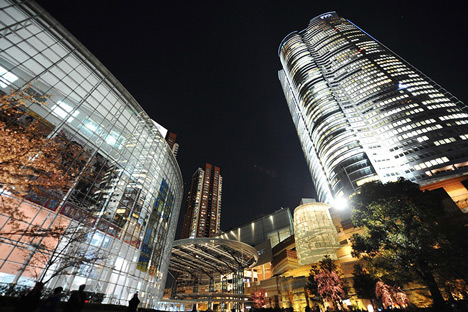 Roppongi Hills
It is fun to enjoy how quiet it is late at night and early in the morning. You can enjoy the view, sounds and atmosphere that very few people experience.
Restaurants and shopping facilities vary from property to property. For instance, at Roppongi Hills, there are a number of restaurants and stores in their respective premises, and almost everything you need can be found there. Minato-ku is one of Japan's few areas renowned for high quality restaurants, including Michelin-starred ones. The range of options is extensive, from the world's top culinary delights to casual food stalls. It will give you great enjoyment. Roppongi Hills is close to Azabujuban, a district with a friendly shitamachi atmosphere where there are some of Japan's longest-standing restaurants and the embassies of several countries. It is a fun place to walk around.
In the vicinity of each serviced apartment building, there are facilities that provide you with artistic and cultural experiences, such as art museums, galleries, theaters, music halls, rock and jazz clubs, movie theaters, large bookstores and historic Buddhist temples and Shinto shrines. The surrounding environment is ideal for people who are interested in these things. The Zen experience at the Seishoji Temple next to Atago Green Forest Tower is particularly recommended. The time you spend there in the tense early morning air is sure to help you better understand Japan.
The richness of green leaves is a common feature of all the properties, although they are located in the heart of the city. One property has cherry trees on its premises, and another has a rose garden. Yet another sees flowers replanted according to the season to create an environment in which you can experience the different seasons. It is a kind of oasis in the midst of your busy days.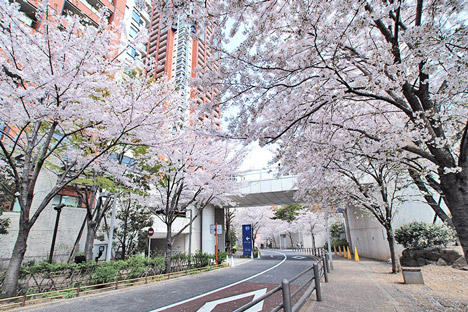 Sakurazaka Slope along Roppongi Hills
It is not known to many people except local residents because there are no stores on the street. The cherry blossoms along the slope that fill the sky provide a breathtaking view.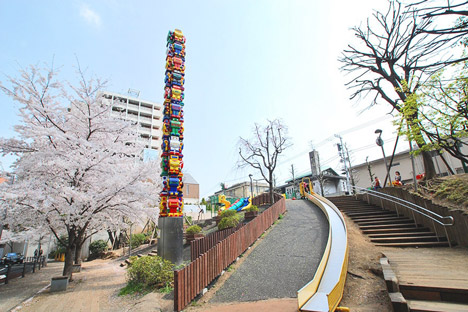 Robo-Robo Park
The park is filled with the lively voices of children. Located on the Sakurazaka Slope, it attracts children from the areas around Roppongi Hills.
Comprehensive equipment
and routine training in preparation for disasters
As you know, Japan is prone to natural disasters. If you are from a country where there are no earthquakes, you may feel uneasy at times. Residential towers in central Tokyo have introduced anti-quake measures best suited to their respective locations. For example, not a single thing in Roppongi Hills fell down or collapsed at the time of the Great East Japan Earthquake in 2011. Rather, people in the surrounding areas rushed to its premises for safety. It is well known that it has as many as 100,000 servings of emergency food stored, which is sufficient not only for the workers and residents in the complex, but also for those evacuating to it. All the properties in Mori Building have a total of 200,000 servings, meaning that it has one of the largest emergency food reserves among private companies. It has a power generation system in the basement. Electric power is always available on the premises, even in the case of utility failure.
The preparations are not confined to equipment. The staff members who support your safety undergo continuous training. At Roppongi Hills, general disaster drills take place in January and September. Apart from these drills, there are first-aid workshops for the staff organized by the Tokyo Fire Department, training on walking between the property and home in preparation for the suspension of public transport services, immediate information gathering after a disaster outbreak and a night duty program as staff training for launching a response action headquarters in the event of a disaster. Accordingly, a range of measures are carried out on a daily basis.
Emergency kit
An emergency kit that will be useful until utility services are restored after an earthquake is provided in the storage space beside the entrance in each unit. The kit contains a flashlight, moist towels and other items. In addition, sets of emergency items have been placed in the storage space in the building and in the elevator cars in preparation for an earthquake.
In addition to these, there are countless other original disaster control measures. Mori Building has a basic policy of providing protection by means of buildings and equipment, and finally through its personnel. This stance is taken not only in the case of an emergency, but also at normal times. This provides residents with a sense of security. As a result, the majority of people who once lived in a Mori Building property return to it even after they move out for some reason. There are quite a few who regularly use serviced apartments.
The rent is the final thing to mention. Although the properties provide comprehensive equipment and services as mentioned earlier, the cost is much lower than staying in a hotel in central Tokyo. This is another major advantage. If you wish to lead a relaxing life as you do at home, serviced apartments are worth considering.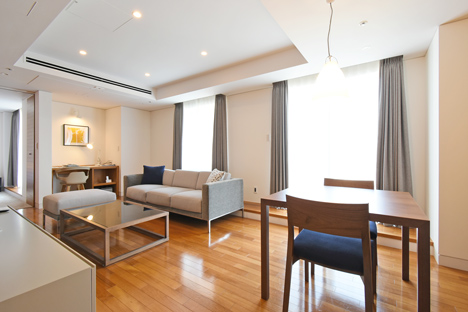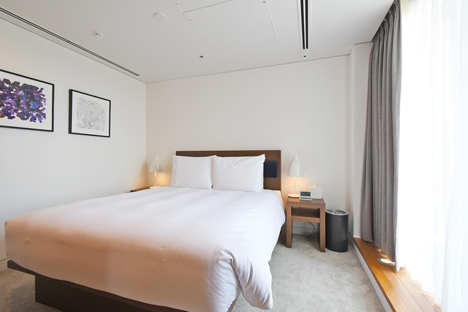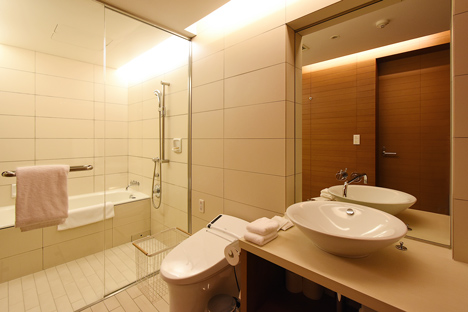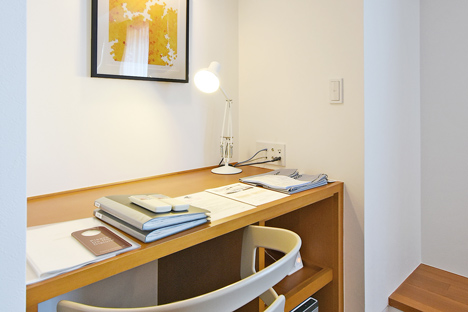 Column :
A medical doctor provides some health tips for the start of your life in Japan
Dr. Tetsuro Hayashi, Manager, Roppongi Hills Health Consultation Room
In Japan, the temperature and humidity change significantly from season to season, although the level of change varies depending on the region. It is necessary to pay attention to poor physical health caused by the seasonal changes. In summer, in particular, there is a high risk of heat stroke and food poisoning due to the high humidity.
In addition, the pollen levels are so high that they may cause hay fever and other types of allergies in some people, although the pollen itself is not directly hazardous to the health. Allergies may possibly result not only from pollen, but also from a change in the living environment. An allergy test for your children before coming to Japan will reassure you. If you have young children, please pay attention to vaccinations as well. The types, frequencies and timings of vaccinations differ between overseas countries and Japan.
If you already have an illness and take medication, you are advised to bring a medical certificate stating your medical history and medication prepared by your medical doctor. This will facilitate your medical treatment in the event of a sudden deterioration in your physical condition, as well as drug prescriptions. Some drugs that you take in your home country may not be approved in Japan.
In preparation for unexpected illnesses or injuries, you are advised to purchase a health insurance policy that covers your stay in Japan. The cover will vary from policy to policy. Please perform a thorough check of the cover in advance.
Inform yourself of the differences from the Western medical treatment system. In the West, it is common practice to first see a family doctor or general practitioner , irrespective of your symptoms, and for them to refer you to a medical specialist as appropriate. In Japan, the patients themselves need to decide which institution and department to visit. The Health Consultation Room plays a similar role to that of the family doctor.
Hiroko Nakagawa
For more than two decades, Nakagawa has been involved in editing magazines, books and websites on living-related issues such as purchasing, leasing and building. Nakagawa has lived in Omotesando for many years, and is keenly aware of the comfort of living in central Tokyo.
Nakagawa is the author of an All About Guidebook titled Sumiyasui Machierabi: Shutoken (Finding a livable town: Tokyo metropolitan area).